Sole Fitness Elliptical Trainer Machines Review 2023
last updated:
Jan 07, 2021
Sole Fitness is a large presence in the fitness market right around the globe. They provide a huge range of cardio training equipment for both commercial and home applications. Beginning as premier treadmill suppliers to the hotel industry, Sole now provides some of the best-rated ellipticals, exercise bikes and treadmills on the market. In this article, we have chosen the top five Sole Fitness elliptical machines on the market so you can determine the perfect model for you.
In a Hurry? The test winner after 26 hrs of research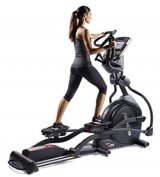 E35 Elliptical Machine
Why is it better?
29-pound flywheel
20-22 inch stride length
16 resistance levels
20
Researched Sources
11k
Total Readers
26
Hours Researching
14
Products Evaluated
Features
Ease of Use
Durability
Adjustability
Effectiveness
By Default
5 Best Sole Fitness Ellipticals
1

. E35 Elliptical Machine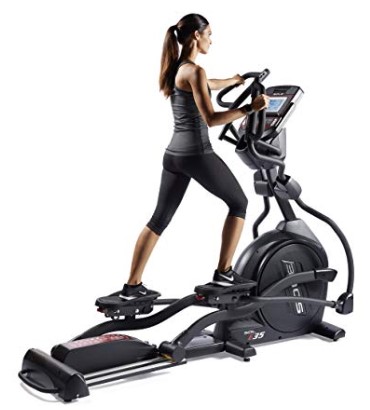 29-pound flywheel
20-22 inch stride length
16 resistance levels
The E35 Elliptical machine gives you a challenging cardio workout. Track your essential training data with the blue, backlit LCD display. It has adjustable pedals and console as well as adjustable stride and incline. The stride length goes to 22-inches. It comes with six standard programs, two custom, and two heart rate programs. It has a pulse grip and chest strap heart rate monitoring.
Read more
The Sole Fitness E35 has multiple adjustable features to fit a variety of body types. It has a large 29-pound flywheel to provide you with a very smooth, natural elliptical cadence. The adjustable stride length goes from 20 to 22 inches, while the adjustable pedals make for a more user-friendly workout. The adjustable incline goes from 0 to 30 degrees and is power-adjustable, allowing you to increase the intensity of your workout at will.
The Sole Fitness E35 is a front-drive elliptical. It allows you to mount the machine from behind very easily. The console has a 7.5 inch LCD screen and provides you with 16 levels of resistance. It also has inbuilt speakers with MP3 compatibility and a headphone jack.
Wireless heart rate capability is found on the handlebars of the E35. With the touch of just one button, you can control and access multiple workouts. You have the option of performing manuals, hills, or fat burn workouts on this heavy-duty machine.
2

. E95 Elliptical Machine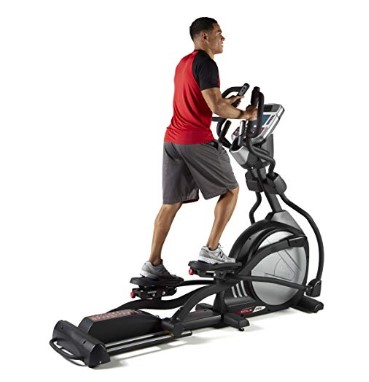 9 inch LCD screen
Wireless heart strap
0-40 degree incline
The E95 Elliptical Machine is gym quality and gives you a natural fluid motion. This machine has a drive system that is super quiet, which works in forward motion and reverse motion. The heavy 34-pound flywheel along with a high gear ratio means a smooth workout. It has 20 different levels of resistance to give you a definite challenge when you workout. The handlebars adjust to offer maximum comfort. The stationary handlebars also have sensors that track your pulse which helps you monitor your heart rate.
Read more
The E95 has been a winner of multiple best buy awards. It comes equipped with a wide range of adjustable and convenient features. The E95 has a trainer that is front-drive which allows you access from the back of the elliptical. The console offers a large 9" LCD display screen. The console can also be adjusted, which means that you can see the screen from every angle. You can also monitor all of the data that is essential for your training.
When you buy the E95, you are getting 20 different levels of resistance that offer a wider variety and range to your workout routine. It also comes with a built-in speaker that is compatible with Apple and MP3. Coming with a power-adjustable incline you get a range of 0 degrees to 40 degrees, which gives you a higher range of overall incline by an extra 10-degrees more than the Sole Fitness E35. Equipped with controls that are built-in the handles you get a more efficient and comfortable workout, which means that you don't have to stop your workout or get distracted to make adjustments.
Not only is it equipped with a sensor that monitors your heart rate that is built directly into the handlebars, but it also has a strap that is wireless, which allows you to get the most precise accuracy of your heart rate while you are training. With pre-programmed workouts, you can easily access the machine by a simple touch of a button.
3

. E98 Light Commercial Elliptical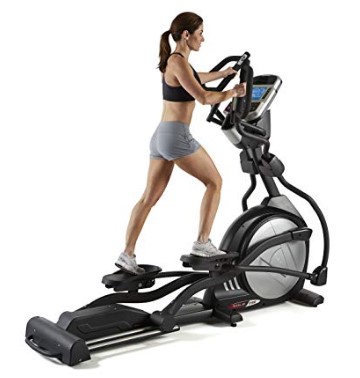 Articulating foot pedals
34-pound flywheel
400-pound max user weight
The Light Commercial E98 Elliptical was originally designed for the commercial environment. It has articulating pedals and a heavy 30-pound flywheel. The E98 has a 20-inch stride, a flywheel which is precisely balanced, and a 9-inch display screen that features 10 challenging programs so you can keep your exercise varied.
Read more
The Sole Fitness E98 is a light commercial elliptical that is designed for light commercial use as well as premium in a home application. It features articulating foot pedals, with a natural 2-degree inward slope to provide the best ergonomic lower body biomechanics. The heavy-duty 34-pound flywheel ensures that you get an incredibly smooth, quiet, and jerk-free elliptical stride motion.
20 electronic resistance levels provide a challenging workout for every member of the family. The computer display is by way of a 10.1-inch commercial grade TFT LCD screen. The maximum user weight on Sole Fitness E98 is 400 pounds. Along with pulse grip heart rate monitoring, you also get a chest strap to allow you to get the most accurate recording of your training heart rate.
A built-in fan, sound system, and water bottle holder are additional features of the E98. The ramp angle is fully adjustable from 0 to 30 degrees. This unit comes with a lifetime frame warranty, 5 years on parts, and two years on labor.
4

. E55 Elliptical Trainer System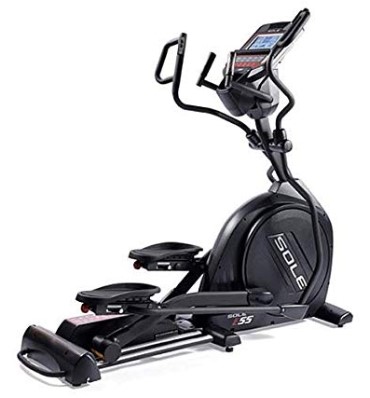 9 inch LCD display
Bluetooth compatible
Comes with warranty
The assembly instructions are hard to read
The E55 is made with a compact design to allow users who do not have a lot of space to still get quality. There is no lack of features regardless of the size. It has a nice sized 9 inch LCD display and 10 position foot pedals. It now also includes Blue tooth capability. You can transfer workout data from the elliptical to your phone or tablet. Then you can track your workout information on the Sole app or compatible fitness app.
Read more
Sole Fitness E55 Elliptical Trainer is a great buy for the price. The Bluetooth functionality lets you transfer your workout data from the elliptical to your smart device. The machine has smooth resistance with an incline and a dual-wheel design. It also features a 9 inch LCD display.
This machine will give you the workout you are looking for in the comfort of your own home. It is designed with great attention to detail and is extremely quiet. It is also very comfortable to use and the compact size helps you enjoy it in any room of your house.
5

. E95S Elliptical with Adjustable Stride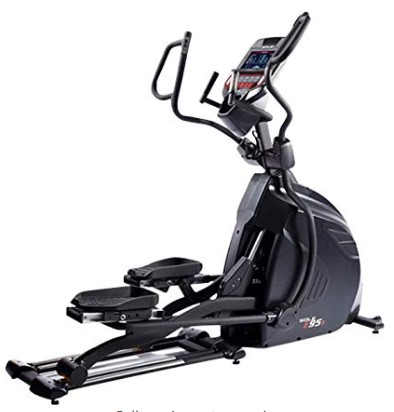 Compatible with Bluetooth and Sole app
Large oversized foot pedals for any size foot
Adjustable stride
No heart monitor in the handgrips
The E95S is relatively new in the elliptical market. It is designed to have multiple users with different heights and strides so it is perfect for a family home. This model works to take a balanced approach. They want to give you the benefits of running as well as elliptical use. If you have a spouse or family who also wants to join in the workout goals, this is the perfect machine for your household.
Read more
The E95S elliptical has an adjustable stride length which will allow you lengthen or shorten your stride. You can have the perfect comfort with the touch of a button.
This machine comes with a heavy-duty flywheel. It also features large oversized foot pedals that can accommodate any size of feet. The large 10 inch TFT LCD display is easy to see while you are working out.
This machine also includes Bluetooth capability. You can track your fitness information on the Sole app or have your data transferred to other fitness apps.
Criteria Used for Evaluation

Features
Sole Fitness has really gone to extra lengths to make sure their elliptical machines have features to fit everyone's needs. Some are designed with an adjustable stride so you can match it with your body type. The taller you are, the larger the stride you will need.
Most also have an adjustable incline so you can vary your workout and challenge yourself, or make it a little harder as your fitness level grows. They also have a varied level of resistance for the same reason.
They all have heavy-duty flywheels which help to make your workout smooth and jerk-free. They have oversized foot pedals so your feet are guaranteed to fit just fine and they will stay in place.
They have handlebars, some which move and some do not. Most of them are covered with high-density foam to keep your hands comfortable. Some of them have pulse monitors in them. All of them are designed to take care of your upper body.
These ellipticals have display consoles that help you keep track of your workouts. They track all of your metrics. A lot of them even have preset workout plans.
They have a lot of special features too. Some of the models have built-in sound systems so you can use Bluetooth to play music from your phone. Some have built-in fans to help you stay cool during your ride and some have drink holders since it is so important to stay hydrated.

Ease of Use
An elliptical will provide you with an intense workout, so if you want motivation to exercise on it the machine needs to be easy to use. These machines accomplish that in many ways. To start with, they have a heavy-duty flywheel that works to give you a smooth cadence and an enjoyable workout. The fact that they are fairly quiet helps as well.
They have an easy to read display which keeps you informed on how your workout is going and helps you stay motivated. It is easy to check your stats. You will also have access to preset workout programs.
The extra-large footplates help make the machine easier to use as well. They fit easily no matter what your shoe size is and are textured so your feet stay in place.
The handlebars are set up to be ergonomic with multiple grips so they will fit your hands at just the right angle. They also have foam on them to keep your hands comfortable during an extended workout and safe from blisters or slipping.
Being Bluetooth compatible also makes your elliptical easier to use. It allows you to play music while you are exercising to make the experience a little more enjoyable. You can also use Bluetooth to connect to the Sole app or another compatible device so you can track your fitness goals and progress from your phone or tablet.

Durability
An elliptical workout is an intense exercise with a lot of machine movement and a piece of equipment that is holding your entire body weight. Because of this, it is important that your machine be durable.
Durable starts with a solid steel frame which is sturdy enough not to rock or tip while you are exercising. Check the welds to be sure they are solid as well and ready to withstand your workout. The hardware should be installed and tight. Be sure to note the weight capacity of the model you are looking at, to be sure it will hold your current weight and your target weight if you are bodybuilding.
The flywheel should be heavy wheel and durable as well. Not only will it last for a while that way, but it will also give you a smoother cadence during your strides.
The handlebars need to be attached to the machine securely and yet still able to move freely or be strong enough that you can grip them for stability, feeling confident they are strong enough to help you help your balance.
The pedals should be sturdy enough for you to stand on with all your weight and be able to push against while they stay steady and support you. They should not creak or move unless you are adjusting them.
The computer console should be scratch-resistant and still easy to read. The computer should be to stand up to lots of use and operate easily.

Adjustability
When you have an elliptical at home, it is nice to have one which is adjustable if you have more than one fitness enthusiast in the house. Sole keeps that in mind with the adjustable stride. The length of the stride will change depending on the height of the user, so everyone can make sure they have the perfect setting.
The elliptical should have a nice variety of adjustable resistance levels as well. You want to start low while you are getting used to the machine and your workout. Then you can slowly build it up from there as your fitness level grows.
The Sole Fitness Ellipticals have adjustable incline as well. This setting will help you add a little more challenge to your workout as you have a little bit of a climb. You can give your legs an even better workout and really build some muscle.
The console is also adjustable, usually with a touch screen or buttons to push. The information should be easy to scroll through to find what you need to keep track of your workout. You should also be able to adjust the computer programs to find the workout you want.

Effectiveness
To be effective, your elliptical needs to be effective. It should give you a thorough, comfortable, and satisfying workout.
You need a stride length that matches your height and your natural stride when walking. These machines accomplish this by making the stride length adjustable. The incline is also adjustable so you can make your workout more effective by adding some challenge to it.
Having different resistance levels also makes the machine more effective. You can vary your workout and also keep adding more resistance as your fitness level builds. This will help you increase your muscle tone and cardio, exactly as this machine is supposed to do.
It can also be effective by offering you little convenience while you are working out. Being Bluetooth compatible helps so you can download your fitness metrics to the Sole app. Having a built-in sound system works to make your experience much more pleasant as having your music lets you focus. It is convenient to have in hand controls so you can easily maneuver through the exercises. It is also nice to have a built-in fan to cool you off and a cup holder to keep your drink handy so you stay hydrated.
Expert Interviews & Opinions
Most Important Criteria
(According to our experts opinion)
Experts Opinion
Editors Opinion
Users Opinion
By Default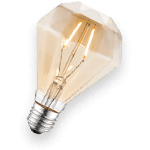 Learn The Console
The consoles on the Sole Fitness ellipticals have a massive amount of information in a small space and by pushing a few buttons you can get even more. Before you start your workout routine, take a moment to read the directions, and learn about what information is available and how to read it. You will get a lot more out of your exercise.
Different Strokes
All of the Sole Fitness Ellipticals have their benefits with magnetic drives to give you quiet operation. Which one you will want to focus on depends on your own priorities. The E25 is the cheapest one if you are on a tight budget. The E35 is probably considered the best buy. The E55 is the best choice if your main limitation is space. Hopefully, this article will help you with your comparison shopping.
Other Factors to Consider

Comfort
It is important to have good comfort during your workout. You will get this with the smooth cadence of these ellipticals. The footplates are large so you know your foot is going to fit easily. There is nice strong foam on the handlebars to keep your hands comfortable. The console is ready to read and understand as well.
There are also some extra comfort features like a built-in sound system and speakers. Some of the models have a built-in fan to keep you cool and a drink holder so you can be sure to stay hydrated.
Frequently Asked Questions
q:

Is an elliptical better than a treadmill?

a:

Both give you a good cardio workout and will help you burn calories. The elliptical is good because it is less jarring on your joints. The treadmill is good because it is a more natural movement your body is used to while the elliptical takes a little getting used to.
q:

How long should I work out on an elliptical?

a:

If you want to prevent weight gain and improve your heart health you should workout about 150 minutes per week. That means about 30 minutes a day five days a week.
q:

Is an elliptical good for older users?

a:

Ellipticals give you a nice a low-impact workout while it exercises your upper and lower body. It is forgiving to aging joints and still gives you a good aerobic workout so you can burn calories and lose weight.
q:

Do elliptical machines build muscle?

a:

If you are looking to gain muscle, the elliptical can help. It does not allow you to build muscle as quickly as weight training, it can help strengthen muscle groups through your whole body.
q:

What muscles does it work going backwards?

a:

When you go backward on the elliptical, you are able to work your hamstrings on the back of your thighs and your hip extensors as well.
Subscribe to our newsletter