Life Fitness Multi Adjustable Bench Review 2019
updated January 1, 2019
When it comes to design the Multi-Adjustable Bench from Life Fitness is the Ferrari of workout benches. Sleek, subtle curves accent the kinetic profile that somehow seems to make sense and beckons you to have a seat and get to work. The visual appeal of this bench is so strong it makes one wonder if the bench can live up, performance-wise.
Below we'll take a close look at the Multi-Adjustable Bench and find out what works and what, if anything, doesn't.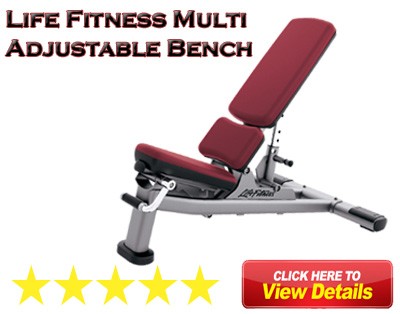 Life Fitness Multi-Adjustable Bench Review


The Life Fitness Adjustable Bench is the culmination of some 20 years of industry experience for Life Fitness, a company that has made it its mission to fuse aesthetics with functionality. Here's a look at some of the critical things to consider when determining if the Multi-Adjustable bench is right for you.
Versatility – The company's single pin adjustment mechanism lets you simultaneously adjust both the seating platform and the backrest to any of seven different positions. The bench lends itself to all manner of lifting routine, and when coupled to the Life Fitness Power Rack, Squat Rack or Power Cage can quickly negate your need for an expensive fitness club membership.
Build Quality – Much has been made of the high-end design cues of the Life Fitness Adjustable Bench, but enough is probably not said about the way all those design elements dovetail seamlessly with engineering concerns to produce a bench that feels incredibly solid. The 11 gauge rounded steel tubing is powder coated to resist scratches, and no detail has been overlooked even in the most mundane areas like the non-absorbent, thermo rubber hand grips.
Appearance – As we stated earlier, the Multi-Adjustable bench is a pleasure to behold. It's confident, alluring, and yes, sexy lines still manage to evoke effortless function. Granted you don't have an array of color choices, but in this case, it doesn't matter. The design focus here is all about lines, forms, and their relationship to one another.
Performance – The Life Fitness Adjustable Bench lends itself to regular use. It's ultra-low profile, and its ability to easily integrate with the company's lifting racks and cages means you're not likely to find yourself unable to perform any particular routine.
Setup – The Multi adjustable bench sets up reasonably easy. Directions are comprehensive and clear, and everything fits together logically and intuitively; as you might expect from a bench that undergoes such intense design and engineering focus.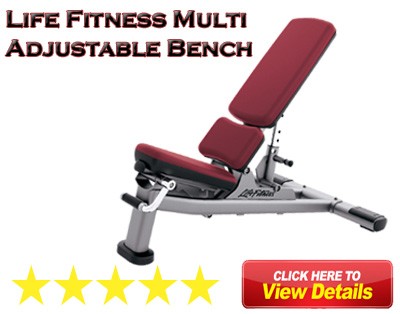 The high-quality construction also promises longevity, and while I have not owned my pair of Adidas Adipower weightlifting shoes long enough to know for sure yet, I would be astonished if they don't turn out to be one of the most durable pairs that I have owned.
Other noteworthy features include:
Molded foam cushions contoured for max comfort
Rubber feet provide a stable footprint under all conditions
Discreet handle/wheel system for ease of mobility
Ten years limited warranty
Some Final Thoughts About Life Fitness Multi Adjustable Bench
At $895 the Life Fitness Multi-Adjustable Bench is not the least expensive bench on the market, but that price doesn't seem out of line either when you spend a few minutes in the presence of this design marvel. Part of what you're paying for is the looks, no doubt, but the Life Fitness Adjustable Bench goes way beyond mere looks and may wind up being the only workout bench you'll ever need.
Get a good idea of just how attractive and functional this bench is by checking out this video.
Conclusion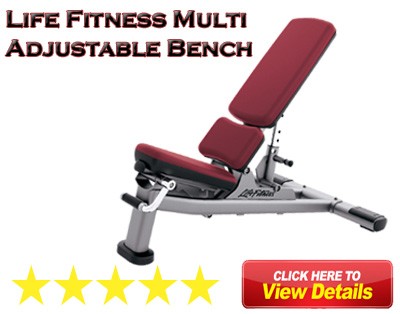 It's rare indeed to find a piece of mechanical equipment that seamlessly fuses engineering considerations with aesthetics, but this bench is one of those products. The uncompromising craftsmanship evident throughout the Life Fitness Multi-Adjustable Bench makes it a joy to use.
The bottom line is that you can concentrate on the job at hand and not have to worry if your bench will be able to follow you into the world of new personal bests.
If you are looking for some more weight benches of severe lifters, it is recommended to check out the Hammer Strength Adjustable Bench and Powertec weight benches. They are also featured in this guide for top weight benches in the market today.


My name is Jim Roose. I'm a former competitive powerlifter and gym owner. I've bought millions of dollars of fitness equipment over the last 20 years. This site is my way of giving back to the fitness community that's done so much for me. Every article on here is carefully researched and written by me. Leave a comment if you have any questions.