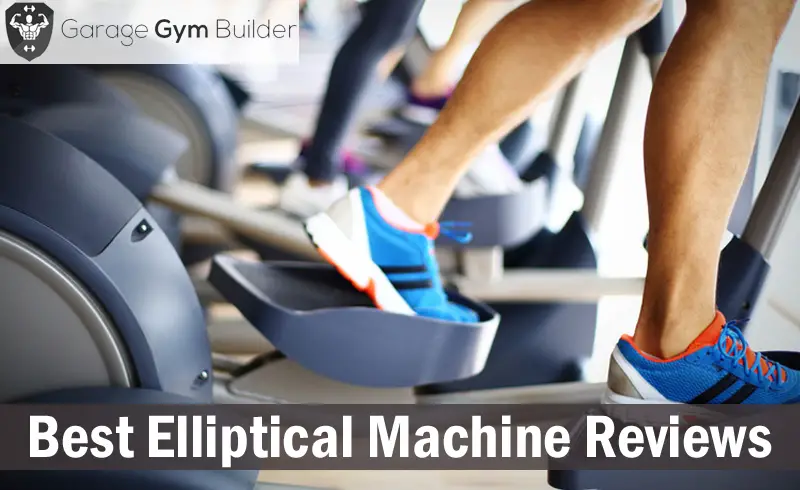 Best Cross Trainer/Elliptical Machine Reviews 2018
In this post we will be talking about a popular piece of workout equipment known as an elliptical machine. An elliptical machine is a fantastic piece of equipment for low impact cardiovascular exercise. We have outlined the benefits, as well as proper technique below. However, if you are just here for the best elliptical machine reviews you can find that below:
A Quick Overview of the Top 10 Elliptical Machines For Home Use

The best elliptical trainer of 2018 is the NordicTrack C 7.5, which provides you with a 20 pound inertia weighted flywheel, 22 resistance level and is iFit enabled. We we also very impressed with the Kettler Elliptical Trainer, which features a frictionless magnetic brake system, an infrared ear-lobe clip and comes with a lifetime frame warranty.
Our third best elliptical machine for home is the AFG 5.3AE, which gives a very smooth motion due to its 30 pound flywheel and provides 20 levels of power incline.
To make it easy for you to compare the best cross trainers on the market, we've rated each of the Top 10 on the basis of price and durability, and then given each one an overall rating out of 5. In the following section, we provide in-depth reviews of each product.​
| Product | Product Name | Price | Durability | Overall | Product Link |
| --- | --- | --- | --- | --- | --- |
| | | 4.75/5 | 4.75/5 | 4.75/5 | |
| | | 4.5/5 | 4.75/5 | 4.5/5 | |
| | | 4.5/5 | 4.5/5 | 4.5/5 | |
| | | 4.75/5 | 4.5/5 | 4.5/5 | |
| | | 4.5/5 | 4.25/5 | 4.25/5 | |
| | | 5/5 | 4.25/5 | 4.5/5 | |
| | | 4.75/5 | 4.25/5 | 4.5/5 | |
| | | 4.75/5 | 4.5/5 | 4.5/5 | |
| | | 4.75/5 | 4/5 | 4.25/5 | |
| | | 4.75/5 | 4.25/5 | 4.5/5 | |
The Top Rated Elliptical Machines Up Close
The NordicTrack C 7.5 provides you with a 20 pound inertia enhanced flywheel to provide a very smooth, fluid range of movement. 22 digital resistance levels provide you with an amazing array of workout options by adjusting both the incline and the resistance level. There are 26 workout apps built into the computer system, providing you with a huge array of training options.
The NordicTrack C 7.5 is a front drive elliptical, meaning that you get adjustable stride and incline. The quick responsive controls make it easy to switch between functions. This trainer is very sturdy and stylish. It includes an integrated bracket that holds your tablet as you train. This unit is iFit enabled to provide you with Google Map training routes.
PROS
20 pound flywheel
26 workout apps
iFit enabled
CONS
Difficult to put together
The Kettler Elliptical Trainer is a sturdy cross trainer that is packed with features to provide you with a top quality cardio workout. The backlit LCD display provides a high resolution readout of your key workout data. A programmable computer provides you with 10 great workout programmes, including a heart rate program. It measure your heart rate three ways, including telemetric hand grips and an infra-red ear-lobe clip.
The Kettler Trainer gives you a 16 inch elliptical stride length, with the foot plates traveling 19 inches. A frictionless, magnetic motorized brake system provides a very smooth movement arc. There are 15 variable resistance levels, providing challenging workouts for beginner, intermediate users and pro athlete. This trainer comes with a lifetime frame warranty.
PROS
Powerful LCD display
Frictionless magnetic brake system
Lifetime frame warranty
CONS
Not ideal for tall people
The AFG 5.3AE provides a powerful 30 pound flywheel to provide you to give you a very smooth, natural range of motion. You also get 20 levels of variable resistance which is operated from a central control. There are also 20 levels of power incline. The large 20 inch stride is longer than what you get from most home gym ellipticals. A dozen exercise programs give you all the workouts options you need.
The AFG 5.3AE provides you with an extremely low-impact flat elliptical glide path. Heavy duty framing and a powder coated finish give you confidence that this trainer will provide durability and robustness. This is a very stylish looking unit, that is compact and functional.
PROS
30 pound flywheel
20 levels of power incline
20 inch stride
The Schwinn 430 Elliptical trainer has a high speed inertia weighted perimeter flywheel. It also provides you with 22 workout programs, including two user settings that allow you to create your own programs. You also get in-built goal tracking to keep you motivated and on-track. The high spec computer system provides you with 20 resistance levels that are aligned to your ability level.
The dual track LCD display of the Schwinn 430 Elliptical trainer allows you to view 13 display settings at any one time. This is a very sturdy unit that looks great. It has a USB charging port and data exchange and i presented in a compact, stylish look. Schwinn connect goal tracking allows you to export all of your training data.
PROS
22 workout programs
20 resistance levels
Dual track LCD
The Stamina In Motion Elliptical Trainer is a compact, lightweight mini trainer that is ideal for use at the office or while you are watching TV. Although it has no upright supports, it provides you with a great mechanism for a seated elliptical experience. The foot pedal only chasis is extremely lightweight and compact, so that you can unobtrusively place it under your desk or kitchen table.
The Stamina In Motion Trainer has a very low impact design that reduces pressure on the joints, making this a perfect choice for people with knee and back problems. A centrally located electronic monitor tracks your strides, workout time and calories burnt. An adjustable tension knob provides a smooth variable resistance.
PROS
Compact, lightweight and versatile
Low impact
Adjustable tension knob
CONS
Not suitable for tall people
The Sunny SF E-905 provides a smooth, fluid magnetic resistance with a micro-tension controller. This trainer features larger than normal, anti slip foot pads for a more comfortable fit. It also has movable arms to provide you with an upper body workout. A hand pulse monitoring system provides you with heart rate readouts. This is a very robust, sturdy unit which has a maximum weight of 220 pounds.
The Sunny E-905 comes with a multi-function workout computer. The LCD display gives you critical training information on your vital workout stats. You get 8 tension levels to allow you to progress your workouts. This is a compact, manageable elliptical that weighs in at a lightweight 68 pounds.
PROS
8 tension levels
Large, anti slip foot pads
Micro tension controller
The Nautilus E 614 elliptical trainer includes a high speed, high inertia flywheel to power the unit in a very smooth manner. The 20 inch stride length allows you to burn more calories. You get 22 workout programs, allowing you to work at any level of fitness.
You also get 2 user profiles. 20 resistance levels also allow anyone to work at their required intensity level.​
The Nautilus E 614 comes with a dual track LCD display that presents all of your vital training data, including an elliptical calorie counter. You are able to export all of your workout stats to the Nautilusconnect website for later analysis. There is also a charging USB port. This trainer alo features a high quality acoustic chambered speaker system.
PROS
20 inch stride length
22 workout programs
20 resistance levels
The Octane Q35X is a premium grade elliptical trainer provides you with a zero impact motion. It features a heavy duty inertia weighted flywheel for the smoothest range of motion. A low pivot point on the handle-bars allow for greater upper body recruitment. The handle-bars also feature heart rate sensors to allow you to monitor your pulse as you train.
The large LCD monitor provides you with a full range of training programs. Octane uniquely offer their CROSS CiRCUIT program, providing you with a blend of cardio and strength programs for total development. Octane Q35X has a short footprint, making it easier to get on and off the machine. The compact design allows it to fit into most areas, including those with low ceilings.
PROS
CROSS CiRCUIT Program
Zero impact
Short footprint
The Precor EFX 576i provides you with the greatest stride width of any machine that we've seen, with between 21.2 and 24.7 inches on each stride. You can also increase your intensity by inclining the angle between 15 and 40 degrees. You get 20 levels of variable resistance, along with 14 pre-set programmes, a fitness test and a customizable workout. A hand held heart rate monitor gives accurate pulse recording.
The Precor EFX 576i has a heavy duty frame that is capable of handling a max user weight of 350 pounds. It features a unique 6 phase generator system that greatly reduces friction and wear, making the action glide free and smooth. The two part powder coating process gives you a rust resistant finish.
PROS
350 pound max user weight
Long stride length
20 resistance levels
The ProForm Hybrid Trainer is a combination between an elliptical bike and a cross trainer. Unlike most hybrid machines, it is a very sturdy unit, with a 350 pound user weight limit. The inertia enhanced flywheel provides you with a smooth stride. However, the elliptical stride is limited to 15 inches. The pedals are oversized for ease of use and comfort. EKG grip pulse allows you to monitor your pulse rate.
The elliptical cycling function of the ProForm Hybrid is very smooth. It offers a very good level of lower back support. You get 16 digital resistance levels, along with 16 training apps. This machine comes with an impressive 5 year warranty on the frame, with 90 days on parts and labor.
PROS
350 pound max user weight
Oversized foot pedals
5 year warranty
CONS
Elliptical stride limited to 15 inches
Other Good Elliptical Machines To Check Out

SOLE E95 – One of the elliptical machines considered to be highly recommended for home use. According to the reviews stated by the customers who used this machine, it is definitely worth to consider. It's got four out of five stars of positive feedback on both Sears and Amazon websites. The Sole Fitness E95 comes with a good selection of elliptical machine techniques you can choose from, like the fat burn, heart rate and interval ones. The SOLE brand has amazing warranty offers, and the E95 model is no exception. Its electronics and other parts are covered for at least 5 years, while its frame and motor are covered for life. It has a maximum weight of 400 pounds, ensuring the owner that it is capable of standing up by itself even with the most intensive workout. This machine is not the cheapest one you can find in the market, and it may cost more than what you want to spend. But never forget that this machine comes to value, and most of its customers never regretted buying this elliptical machine for their home.
---
Sole Fitness E35 Elliptical Machine - This has earned the best home use an elliptical machine because it offers surprising features, not to mention that it comes at a very affordable price! It has several programs readily available on board which is designed to help anyone to achieve their fitness goals. Its weight loss and heart programs are amazing if you also put your effort into getting a better shape of your body, plus putting up an interval training is also a good option to have – a really useful choice if you are someone who likes to mix things altogether. Like many other machines, this one has decent warranties, which includes lifetime frame warranties, five years on electronics and parts; and two years on labor.
How To Choose The Best Elliptical Machine?
If you are serious about buying your own elliptical machine and place it in your home, you should consider a couple of things first. The most obvious reason would be how much you are willing to spend on a single elliptical machine. If you have no qualms about how much the best elliptical machine, there is in the market, you move on to what kind of workouts you are trying to achieve and what it is going to be used for.
If you tend to use the machine intensely and almost everyday, you need to buy a high quality and extra durable machine. You should also consider putting up warranties on your machine, too, as this will save you money by paying more in the event your machine gets broken one day. One of the most overlooked factors that buyers never consider is the available space for their new machine. You can find new models today that fold like the treadmills do, which could be a better option for those households that do not have enough room to spare.
In order to decide which of the elliptical machines are right for you, you need to look at each of its features and the workout programs that are very important to you as this will help you get to the perfect elliptical machine.
Elliptical Machine Benefits & Workouts

The elliptical machine benefits you will get is that you will be able to tone your body, according to how you wish it should look like. Almost all elliptical machines have its own elliptical machine techniques to work out with, but you must never forget to record all your sessions with it. The machines mentioned above have specified that it comes with programs that will help guide you to achieve the kind of toned body you wish to have.
The elliptical machine is the most used and misused piece of equipment in the gym. If all you are going to do just steadily focuses on a twenty to thirty minute workout, you are only missing out the most amazing potention the machine has to offer. If you keep doing the same workout each day, your body will become accustomed to it. The more your body adapts, the lesser your body burns calories instead of improving it.
Mixing up elliptical machine workouts will make you burn more of your stored calories and at the same time gain the fitness you always wanted to achieve faster than before. The best workouts you can do with your elliptical machine include High-intensity Short Intervals, Hill Climber, Mile Repeats, and The Ladder.