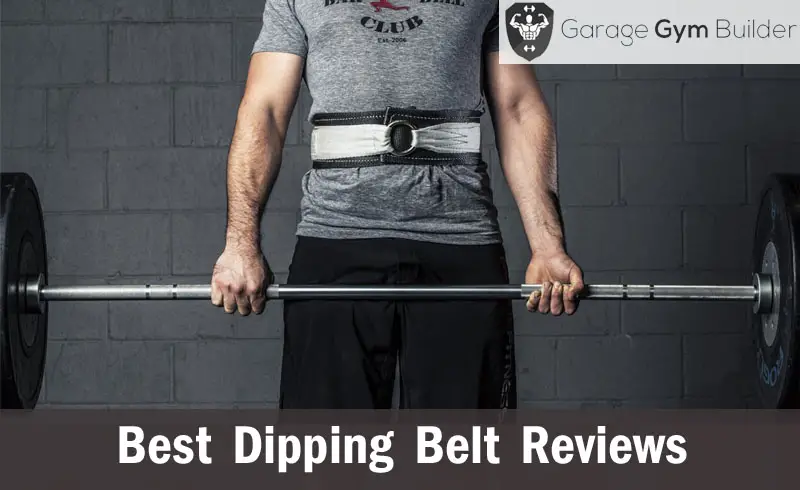 Best Dipping Belt Reviews 2018
Dips are a fantastic bodyweight exercise that can pack muscle onto your frame, boosting your upper body power. They are limited, though, by your body weight. To take your dips to the next level, you have to add extra resistance. That means you'll need a heavy duty, reliable dipping belt. In this article, we've collected together the best dip belts available today, reviewing them in detail, so you can make the right buying choice.
A Snapshot of the Top Dipping Belts
The best dip belt that we encountered is the Rogue CrossFit Games model. This incredibly rugged belt features heavy duty carabiners, d-clamps and and 30 inch ¼ thick chain link. We were also impressed with the E-Z Dip Combo belt,with it's patented dumbbell loading system and high spec belt buckle.
Our third favorite was the Iron Bull Advanced weighted dipping belt, which provides multiple anchors to allow you to use it for a range of purposes. The 100% nylon construction make it both very strong and very lightweight.
Top 10 Dipping Belts
We've rated the top 10 dip belts in terms of their price and durability, and then given them an overall score out of 5. This will make is easy for you to compare your favorites. In the following section, we've got full reviews of each product.
The Top 10 Dipping Belts In-Depth
The Rogue dipping belt is the heavy duty model used at the CrossFit Games. It features quarter inch chain link, large d-shaped carabiners and a reinforced nylon fit belt body. This allows you attach heavy poundage with the utmost confidence. The total chain length is 30 inches, providing plenty of room to attach either a dumbbell or a plate. The straight gate locking carabiners provide the utmost strength of enclosure.
The high spec belt is built in the USA at Rogue's Ohio plant. The Rogue dipping belt is four inches wide to provide maximum core stability. It is rated to an incredible 29,400 pounds. That means that the Rogue belt is built like a tank – it's as rugged as it gets!
¼ inch thick chain link
Sturdy reinforced nylon body
Very solidly built
Nylon is not that comfortable to wear
The Iron Bull Advanced is a multifunction weight training aid that combines dips, a pull up belt, a squat belt and a sled harness in one device. It is also a very effective weight lifting belt. The unit is made from 100% nylon, providing excellent grip, great temperature control and maximum strength. The Iron Bull belt is able to support a huge amount of weight, yet it is surprisingly lightweight.
Iron Bull Advanced have fitted this belt with three separate anchors to allow for a huge range of applications. The body has reinforced stitching throughout. At four inches in width, the belt offers plenty of core support. High quality carabiners provide secure attachments for both plates and dumbbells.
Super string, 100% nylon construction
3 separate anchors
Top quality carabiners
Missing a 4th anchor to balance the load
The E-Z Dip Combo belt features a patented dumbbell loading system that will secure a dumbbell in place faster and more efficiently than almost anything else on the market. It also has a speed loading plate system. The no drop hook design is easier on your body, while allowing you to keep pace with your Crossfit workout. The weights, once attached, will fit very securely, without dropping or swinging from side to side.
The E-Z Dip belt with chain is fitted with a genuine airplane style belt buckle. This provides an incredibly quick and easy on-off system. Integrated hip pads are added for extra fit and comfort. This unit comes with a lifetime replacement guarantee.
Airplane style belt buckle
Patented dumbbell loading system
No drop hook design
The Brute Belt is constructed from military grade materials. It features an extra heavy duty strap which is able to hold up to six 45 pound plates with ease. A couple of heavy duty carabiners make for easy attachment of plates. The strap is 40 inches in length, allowing you to place the plates exactly where you want them.
The Brute Belt features built in padding to provide extra lower back support. Anti slip lining also ensures that the belt will not slip down your hips as the weight increases. There are eight loops around the extent of the unit, allowing for a huge variety of exercises, including squats, pull ups and dips. Despite its rugged design, the Brute weighs just one pound!
Heavy military grade materials
Heavy duty carabiners
Eight belt loops
The Harbinger polypropylene design features a contoured construction to provide the best fit possible. Polypropylene is both incredibly strong and lightweight, providing a comfortable wearing unit that can handle a lot of weight. It has a 30 inch steel chain with ¼ inch chain links to provide the strength you need to support 45 pound plates. An easy clip carabiner makes it a quick and painless process to add weight.
The webbing on the Harbinger polypropylene is double stitched and tightly packed to provide extra support when you are carrying heavy weight. It provides a good level of back support and has extra padding around the lumbar region. Overall, this unit provides good value for money.
Lightweight, yet strong polypropylene construction
1/4 inch chain links
Double stitched webbing
Carabiners could be more durable
The Faswin Belt is constructed from extremely hardy polypropylene. It features large, thick d-clamps and 32 inches of solid steel chain link. The chain is fully adjustable. Quick snap carabiners allow you to quickly and securely add weight plates to the unit. The body widens in the back to provide maximum protection to the lower lumbar region during the weight loaded descent into the dip.
The Faswin Belt is very good value, considering the quality and durability that it affords. The chain is longer than many competitors, allowing you to load multiple weight plates. The unit has been extensively tested for strength and endurance, so you can be confident that it will be able to handle whatever weight you add to it.
Good value
Tough polypropylene construction
Quick snap carabiners
The Yes4All weight belt with chain is constructed from a durable EVA material that has been contoured to provide the most form hugging fit. This unit will secure itself to your core, without any slipping, even when you load extra heavy weight. The solid steel chain is 37 inches in length to allow you to pack on multiple weight plates.
The d-hooks that attach the chain link to the buckle of the Yes4All weight belt are very durable, allowing for a maximum weight of 551 pounds. This is a one size fits all design that will fit any body type securely. It features thick padding round the center middle of the unit to increase comfort and provide lower lumbar protection.
Lightweight, durable construction
One size fits all
Thick center padding

The Grizzly leather dip / pull up combo provides an extra wide body that is constructed from multi-ply leather. It is up to eight inches in width to completely cover the entire core area and so provide maximum protection to the vulnerable lower back when you are dipping heavy weight. Solid d-rings attach to steel chain links.
Carabiners feature at the end of the Grizzly Leather Dip's chains to allow for a quick way to secure weight plates to the chain links. This beast is capable of holding up to 750 pounds of extra resistance. The extra long chain will prevent the weights from banging into your crotch. The Grizzly is fully adjustable to provide a custom fit for any body shape or size.
Extra belt width
Multi-ply leather construction
Holds up to 750 pounds
Back pad is slightly uncomfortable
The RIM Sports Dip Belt is made from a quality cotton material that has been infused with advanced moisture wicking technology. This in contrast to most dip belts which are constructed from faux leather which has a tendency to dig into your skin. The quality chain that is attached to this belt is 8 inches longer than you find on most competitor belts, providing you with more lifting options. This ensures not only that you are able to pack all the plates on that you need, but also that the weights will not bang into your crotch as you are performing your exercise.
The RIMSports Dip belt has some padding to provide extra comfort around the lower lumbar region. The chain is positioned so that it will not swing when you are performing dips or pull ups. RIMSports offer this product at a very competitive price point.
Extra long chain
Moisture wicking
Comfortable fit
D-Rings could be stronger
The Fire Team Fit Dip Belt is made very durable and resilient materials to ensure that it can handle the heaviest of workouts, time after time. It has double reinforced stitching, along with a long, adjustable heavy duty chain. The 44 inch chain is one of the longest on the market, and has a weight capacity of 300 pounds. This belt is made from flexible neoprene. Unlike thick leather belts, it will not chafe or rub against the skin. The chain attaches comfortably over the belt in order to avoid the hassle of pinching.
The easy clip on system allows you to quickly and easily change the number of plates on the chains.
Durable and resilient materials
44 inch chain
300-pound weight capacity
No rubbing or chafing
Many people have experienced delivery problems
Ready for some weighted dips inspiration? Check out this clip highlighting the world record for 100 pound weighted dips in one minute! . . .
Conclusion
Our favorite dipping belt is the Rogue belt. This is the official CrossFit games belt, and features a very heavy duty construction, with ¼ inch thick chain link and high spec attachments. The E-Z Dip combo belt, is our second favorite, with it's patented dumbbell loading system and no drop hook design.
Rounding out our top 3 is the Iron Bull Advanced dip belt, with multiple anchor points for more versatile use and strong, lightweight construction.