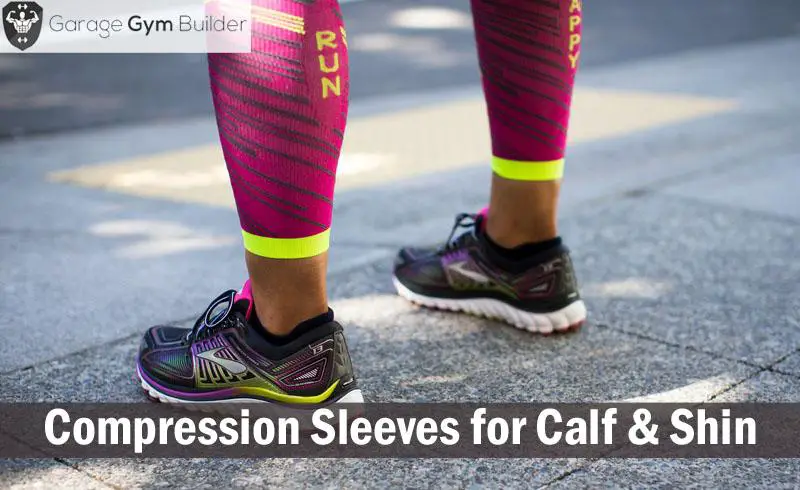 Best Compression Sleeves For Calve and Shin Splints Review 2018
Compression sleeves bring you relief and allow you to keep going when your calves and shins tell you to stop. They work on the basis of graduated compression, so that there is more compression at the ankle and a loosening up as it moves up the leg. The calf compression sleeve benefit of this is that it helps to resist the effect of gravity and is great for shin splints, calf cramps and achilles tendonitis.
​Finding the Best Compression Sleeves
To measure for calf compression sleeves, you should sit in a chair with your legs at a ninety degree angle. You can then measure the distance from one finger below to the bend in your knee to the floor. The measurements can then be put next to a sizing chart to help you find the perfect fit for you regarding compression sleeves.
The right fit is crucial so that you can take advantage of the compression that the socks, stockings, or sleeves can provide you. There are also advantages if you choose to wear a compression sleeve over a compression sock.
With compression sleeves, you are still able to wear your favorite pair of socks with them. Calf compression sleeves can also aid in your performance as well as your post recovery.
In this article we focus in on the Top 10 compression sleeves on the market today.
The Top Compression Sleeves

The best compression sleeve is the Emerge Calf Compression sleeve that provides great comfort and flexibility. Our second favorite is the Nike Pro Combat Hyperstrong compression sleeve, with its ariaprene and mesh fabric design for enhanced breathability and compression.
​Our bronze medal compression sleeve is the Copper Compression Knee Sleeve, which features 88% copper nylon, along with superior sweat wicking.
To make it easy for you to compare and contrast the best compression sleeves, we've rated them on the basis of price and durability. Then we've given each one an overall rating out of 5. We provide an in depth review of each product later in this article.
| Product | Product Name | Price | Durability | Overall | Product Link |
| --- | --- | --- | --- | --- | --- |
| | | 4.75/5 | 5/5 | 4.75/5 | |
| | | 4.5/5 | 4.5/5 | 4.5/5 | |
| | | 4.5/5 | 4.5/5 | 4.5/5 | |
| | | 4.25/5 | 4.25/5 | 4.25/5 | |
| | | 4.75/5 | 4.25/5 | 4.5/5 | |
| | | 3.75/5 | 4.5/5 | 4.25/5 | |
| | | 4.25/5 | 4.25/5 | 4.25/5 | |
| | | 4/5 | 4.25/5 | 4.25/5 | |
| | | 4/5 | 4/5 | 4/5 | |
| | | 4.25/5 | 4/5 | 4/5 | |
​What Is Graduated Compression?
Graduated compression stockings, compression leg sleeves, and compression socks help to promote the circulation in your legs and they can apply a certain amount of pressure near the ankle that then gradually is applied less and less as the pressure moves up the leg. Compression therapy is good for leg swelling and discomfort and helps provide much-needed support to the legs and veins regarding circulation.
What Are Shin Splints?
Shin splints are pain that can be caused if you overuse your legs and shinbone which is the front bone located in the lower leg. Shin splints most often plagues runners because of the excessive use they put on their shins while they are running and training.
People who are at a higher risk of developing shin splints are women, people with flat feet, athletes, and even dancers. Also, sports like tennis, soccer, and basketball in which the athlete needs to be able to run and then stop short and then stop and start are also susceptible to developing shin splints.
Some symptoms of shin splints include a dull ache in the front part of your lower leg, pain on either side of the shin bone especially if it happens during exercise, muscle pain and muscle soreness, swelling in your legs, or a numbness and weakness in your feet. It is always best to see a doctor if you experience any of these symptoms so they can suggest common treatment methods for you if you are suffering from shin splints.
A compression garment, elevation, ice packs, and over the counter medication are most commonly what is recommended to help treat shin splints.
The Top 10 Up Close

Emerge Calf Compression sleeves are a full length lower leg protector that features a graduated compression fit; this boosts blood circulation to fast track recovery and healing by getting oxygen to the cells faster.
Emerge compression sleeves are constructed from professional grade 70 Denier Investa Lycra and feature medical circular 360 degree knit construction. All of this results in an extremely resilient, form fitting compression sleeve that does a great job of relieving and preventing shin splints and swelling.
The Emerge Calf Compression sleeves feature an SPF 50 sun protection factor of 50, along with extreme moisture management for maximum comfort.
These compression sleeves, which also come with a 100% lifetime guarantee, are the most comfortable, form fitting, and effective calf compression sleeves that we have ever come across.
PROS
Very Resilient and form fitting
Graduated compression
SPF 50 Sun Protection
​The Nike Pro Combat Hyperstrong Compression sleeve is constructed of 36% nylon, 24% polyester, 18% TPE, 12% silicone and 10% spandex. The lightweight Ariaprene material keeps the muscles of the calf warm while providing maximum joint support. There is mesh fabric that is strategically embedded into the design of this compression sleeve to provide breathability, and prevent excess heat release. The contoured design of this compression sleeve also enhances movement, allowing you to run and jump freely.
​The Nike Pro Combat Hyperstrong compression sleeve provides you with a very comfortable fit that is easy to get on and off. An elastic binding, which is reinforced with a silicone grip, enhances the fit. This compression sleeve is abrasion resistant and sweat resistant and is also a very stylish looking and extremely functional compression sleeve.
PROS
Ariaprene material
Mesh fabric
Elastic binding
​The Copper Compression Recovery Knee Brace is a copper infused knee and calf compression sleeve. Unlike may imitators which only have small amounts of copper in the fabric, this compression sleeve is made from 88% copper nylon. The manufacturers are confident that you will not find another compression sleeve with more copper content. They are very easy to slip on and provides a great fit for all body shapes.
The combination of copper and compression works within minutes to alleviate pain and free up stiffness. It provides a high level of compression across the entire sleeve and features an elastic band at the top to allow you to roll the sleeve down as required.
This copper fit compression sleeve also has wicking properties to alleviate sweat build up.​
PROS
88% copper nylon
Easy to fit
Sweat wicking properties
​The McDavid Compression Calf Sleeve is made from an exclusive five needle stitch design which provides a flatter, cleaner, and stronger seam that will not cause any irritation. The outer heavy-duty nylon fabric gives you enhanced strength and durability. It also means that this compression sleeve will stay up longer, even when you're running and jumping. This compression sleeve is latex free, so as to be safe for you and the environment.
​The McDavid compression sleeve is contoured for easy pull on. It is guaranteed to provide Level One Primary Protection. A four way stretch material provides maximum fit and enhanced performance. The compression sleeve is fully reversible and features a heavy duty nylon outer.
PROS
5 needle stitch design
Four way stretch material
Fully reversible
​2XU compression calf guards are full length lower leg compression sleeves. They are constructed from 70 Denier Invista Lycra to deliver consistent pressure. They also feature a graduated compression fit, with the greater pressure being based around the ankle.
​Extreme moisture management technology prevents sweating and discomfort while wearing these compression sleeves. SPF50 sun protection gives you maximum burn protection. The muscle containment technology used with the 2XU compression calf guards dramatically reduces vibration and oscillation, reducing muscle fatigue.
The 2XU is a very breathable and lightweight compression sleeve that slips on and off very easily. Flatlock seams reduce chafing and irritation, while the high filament makeup of the yarn enhances dryness to wick away sweat from the skin to the exterior of the fabric.
PROS
Breathable and Flexible
Moisture Management Technology
Muscle Containment Technology
CONS
Top elastic a little tight
​Adidas Compression Calf Sleeves are made of a soft, stretchy material that easily slips on and off. They feature ClimaCool technology to provide a sweat wicking function and keep your lower legs cool and comfortable while wearing the compression sleeve. They cover the entire lower leg, with the rate of compression decreasing from the ankle to the upper calf.
​This neoprene calf compression sleeve is not overly tight or too loose and provides just the right level of fit to support the calves and shins. They come in a range of colors and feature the distinctive Adidas logo to match your other Adidas sportswear. Be aware, however, that these compression sleeves are sold as singles, rather than pairs.
PROS
Soft, stretchy material
Sweat wicking feature
Comfortable to wear
Gabor Fitness Graduated Compression sleeves are made from 80% nylon and 20% lycra. They are fitted with premium stitched reflector safety strips to keep you safe at night. These full-length compression sleeves are very easy to fit on and off.
Gabor Fitness also extremely comfortable to wear due to having a breathable fabric design that enhances blood circulation. Moisture wicking technology reduces sweat build up.
Gabor compression sleeves provide graduated compression, with lighter compression at the top of the calf muscle. These leg sleeves are ideal for basketball, running and athletic training.
Gabor compression sleeves are offered at a great price point - half the price of many competing models. They are available in six colors and come with a money back guarantee.
PROS
Reflector safety strips
Breathable and lightweight
Graduated compression
CONS
A little smaller than size chart measurements
​The Calf Compression sleeves from Run Forever are made from the highest quality, durable materials to provide you with a strong, reliable calf comforter. These compression sleeves have been meticulously measured to ensure that you get the perfect fit. While very breathable, they are also rigid enough to stay up during prolonged exercise. They provide the level of resistance required to give the extra calf the support that you need.
​The Run Forever Sports compression sleeve provides you with graduated compression of between 15 and 20mm Hg from the ankle up to the top of the calf. This will help to alleviate pain and swelling in the calf area. Run Forever Sports offer a lifetime satisfaction guarantee on this product.
PROS
Breathable yet rigid
Graduated compression
Lifetime guarantee
CONS
Not for long distance runners
​The Thirty48 compression sleeve is made with Catalyst AF design, providing superior airflow to help increase circulation. The synthetic blended fabric is 87% nylon and 13% spandex. This is a great blend to ensure that the compression sleeve stays tight over the long term. These compression sleeves also come with a handy heel tab to make it even easier to put them on.
​The Thirty48 sleeves are available in two different compression levels allowing you to match your specific requirements – the red, black, and blue sleeves provides 20-30 MMHG compression, while the other colors offer 15-22 MMHG.
Each compression sleeve features graduating compression of light, moderate and firm, running from the upper calf to the ankle; this provides better blood flow and overall support.
PROS
Enhanced airflow
Heel tab
Graduating compression
​Zensah compression leg sleeves are full length lower body compression sleeves that are made from 90% nylon and 10% spandex. Unlike most flat fabric compression sleeves, the Zensah features chevron ribbing in a v shaped pattern. The unique chevron ribbing provides similar relief to kinesiology tape and is especially beneficially for treating shin splints. These compression sleeves have been designed by professional athletes so you can have the utmost confidence that they will provide the relief you need.
​Zensah compression leg sleeves are made in the USA. They are machine washable and very easy to slip on and off. They feature dual pin point compression to the front and back of the sleeve which can increase blood flow and offers more support to the wearer.
PROS
Chevron ribbing
Targets shin splints
Made in the USA
Check out our review of the Best Compression Socks on the market
Conclusion
The best calf compression sleeves for running and general relief are the Emerge Calf Compression sleeves in terms of price and durability. We were also very impressed with the Nike Pro Combat Hyperstrong compression sleeves which feature high performing ariaprene material, mesh fabric and an elastic binding to keep the sleeve in place.
Rounding out our top 3 calf and shin compression sleeves is the Copper Compression Knee Sleeve, with its 88% copper nylon, sweat wicking properties and easy fit.
Looking for high quality knee sleeves​? Check out our latest review now.

---