Best Treadmill for Home Under 500 in 2021
last updated:
May 18, 2021
When shopping for fitness equipment, saving money often means sacrificing durability. If you want to walk or run but don't want to give your bank account too much of a hit, we have found some of the best affordable treadmills under 500 bucks.
If you're stuck at home and the weather isn't cooperating to get outside, walking on a treadmill gives you the same benefits to your heart and health as walking down the sidewalk. Many features that tend to make these machines more expensive are just fancy bells and whistles that you don't really need to get that heart pumping.
In this guide, we have compiled a list of some of our very favorite treadmills to help you find the best treadmill for home under 500. Keep your body and strong and your bank account full!
In a Hurry? The test winner after 7 hrs of research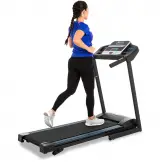 XTERRA Fitness TR150
Why is it better?
Trusted brand
Foldable
16-inch belt
In a
Hurry? Editors choice: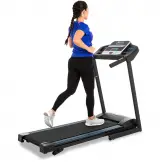 Test Winner: XTERRA Fitness TR150

2
Researched Sources
910
Reviews Considered
7
Hours Researching
10
Products Evaluated
Ease of Use
Value
Advanced Features
Size
Comfort
By Default
10 Best Affordable Treadmills Under $500
Criteria Used for Evaluation

Ease of Use
Keeping things simple is important to stay active.
Complicated machines provided quality of life benefits, but they can often be so complicated that you don't even want to bother lacing up your sneakers to workout. Also, complicated machines often take a long time to put together, These were two things that we kept in mind when selecting products for our list.
To ensure that each product was simple to assemble, we made sure that we combed through hundreds of user reviews to weed out devices that were a nightmare to assemble. If we found that there was an overwhelming number of users that felt that the machines were just too difficult to put together, we moved on to another product.
It is important that these devices are put together correctly for a number of reasons. First of all, it helps to extend the life of your device. If the belt, for instance, fits a little loose, it means that dirt and debris are more likely to collect under the belt.
If the handlebars aren't tightened correctly, it also means that the entire device may develop an annoying wobble when you start to pick up the pace. Be sure to read the instruction booklet to its entirety and take the time to tighten every single bolt!
If you feel that you just don't have the skill required to assemble it the right way, many brands offer professional installation to ensure that they are put together correctly. These services come at an additional cost, but may end up saving you more money in the long run!

Value
Of course, value is one of the most important things that we considered when selecting products for this list.
If money is tight, it doesn't mean that you need to scrimp on the quality of materials used and stability. While we wanted to keep the cost low, we also made sure that the machines that we selected were strong and stable and won't break down only after a few miles.
One of the ways that we ensured that the machines for our list were of great quality was to stick to tried and trusted name brands. Products that hail from brands such as Merax, XTERRA, and Sunny Health and Fitness are some of the best brands that don't sacrifice quality for cost.
To keep the value low, it also meant that some of the advanced features found on commercial models were missing. Features such as Bluetooth connectivity, built-in speakers, fans, and powerful motors are found on more expensive machines. However, these features will not help you burn more calories or build bigger muscles, they only help with the quality of life. If you can live without these features, you can save quite a bit of cash!

Advanced Features
To save money, it doesn't mean that all advanced features have to be omitted!
We wanted to select machines that were functional and durable, but some features don't have to bite the dust. Below, we wanted to go into a little bit of detail about features that we felt were the most important to keep your fitness goals a reality.
Heart rate monitor: They key to shedding pounds and keeping your heart healthy is to ensure that your heart rate stays within 55-80 percent of your max heart rate. Without a handy heart rate monitor, there is no easy way to tell if you are in that sweet spot. With a built-in monitor, it makes your life just a little bit easier.
On most models, there are metal plates positioned on the short handlebars that detect your heart rate and display it on the LCD screen. It is important to keep in mind that on more affordable designs, the monitor isn't an exact science. Sometimes it's read a little high, sometimes it reads a little low. As long as you have a general idea, it works well enough to monitor your progress.
Incline: For most models, there are incline options available. When you adjust the pitch of the belt, it targets specific muscle groups that wouldn't light up when walking on a flat surface. ON the more affordable models, incline adjustment is done by hand and has a max peak of around 10 degrees.

Size
Size is an important thing to consider for a few reasons.
There are a few things to consider when opting for a smaller model. Smaller options often save space by crafting a belt that is a little more narrow and shallow that full-size options. While this will save you quite a bit of space, it has a few drawbacks.
Belts that measure to be under 16 inches wide will impact your natural gait. If you are small and petite, this may not affect you at all. For those that have a larger frame, you may need to make some adjustments. When you walk, you may notice that your feet clip the sides of the belt as you run. You may feel that you need to change up your stride to accommodate the belt, which make feel awkward at first.
If you intend on using these machines for walking only, the width of the belt won't be as much of an issue compared to those using it for running. If you want to jog, we suggest selecting a design that has a belt that measures over 16 inches wide, especially if you have a larger frame.

Comfort
There are a few important features to keep an eye on that makes for a comfortable ride.
Walking on a hard belt doesn't have to feel like walking on an unforgiving sidewalk. Some of the designs out there on the market offer smart features to make your travels just slightly more comfortable.
Shock absorbers: This feature is typically only found in the higher-end models, but there are some more affordable options that also utilize this technology. IT works by creating a bit of a spring to the belt with each and every step. It is important to note that this feature often costs a little bit more, and it makes your deck heavier and bulky when compared to some of the other designs.
Padded belt: If you like the idea of shock absorption but don't want the extra bulk and cost of springy docks, innovations in the belt are your next best options. Many of the brands out there on the market offer belts that are layered with materials such as EVA foam that provide a smooth and comfortable ride that is a little easier on your joints and lower back.
Expert Interviews & Opinions
Most Important Criteria
(According to our experts opinion)
Experts Opinion
Editors Opinion
Users Opinion
By Default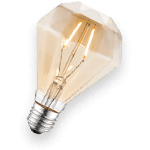 Lace-up those sneakers!
Working out from home can be tough, we know. It's hard to muster the motivation to fit in a good workout when there is no one around to motivate you. Plus, the voice in your head to binge another show often has a louder and more convincing tone than the one trying to get you to workout. That's why the simple act of lacing up your sneakers can actually be enough to shift your focus into workout mode. If you just aren't feeling a workout today, try putting on your workout shoes and seeing how you feel after that.
Wearable fitness gear
Many of the more affordable machines are often stripped of some of the important tools to keep you motivated. However, spending a little extra money on wearable tech designed to track your movements is a great way to stay motivated and keep tabs on your progress. Gear such as FitBits can track distance traveled, steps, heart rate, and even calories burned throughout the course of the entire day, not just the time spent on the machine.
Walk vs run
Some may tell you that running burned more calories than running. While that may be true, there is an argument to be made for walking instead of running. If you walk for just 30 minutes a day, it actually helps to strengthen your heart, boost your metabolism, and boost your mood. Sure, running burns more calories and works up quite a sweat, but it can be very taxing on your joints over time. If your body feels like it is wrung out, take a day off and just go for a nice, leisurely walk!
Other Factors to Consider

Power Source
Many brands offer motorized units or powerless options. As always, each model comes with its distinct advantages and disadvantages. At the end of the day, it all boils down to a matter of personal preference. We wanted to go into some of the pros and cons of each option so that you can make an informed choice as to what works best for your needs.
Motorized units allow the user to adjust the speed of the belt with the press of a button. Many of these designs host a large LCD screen that keeps tabs on all of your progress such as heart rate, calories burned, speed, and distance traveled.
The downside to motorized options is that they are often big and bulky, and take up a lot more room in your home gym. While some designs allow the option to be folded, they are still quite heavy to move around, and most users opt not to utilize the foldable feature at all due to the weight of the unit.
Powerless options do not offer users the speed that powered designs provide. However, they are often a lot more small and compact and won't take up that much room in your home. They are also very lightweight, so moving them from room to room is a cinch. Plus, powerless designs are a fraction of the price of their powered counterparts, and often only cost the same amount as a pair of good trainers.
The downside to powerless designs is that they are powered by your legs, and nothing more. They are cocked at a slight angle to allow for easy movement, and the belt only moves as fast as your legs can move it. They also do not come equipped with an LCD screen to track your progress and calories burned.
Frequently Asked Questions
q:

What are some of the benefits of owning a treadmill?

a:

To keep your heart healthy and your muscles active, walking at least 30 minutes a day can help you achieve these goals. Sometimes, hitting those step goals is incredibly difficult for a myriad of reasons.

If you are stuck indoors and cannot get out to do your daily errands, you lose steps. If your gym is undergoing maintenance and you can't work out, you lose steps. If it is raining cats and dogs and you don't own an umbrella, you lose steps.

By investing in an affordable treadmill, you can ensure that you hit your daily step count for the day even when it seems like the universe is doing everything in its power to keep you parked on the sofa! Plus, with so many affordable options available there is no reason you cannot add one of these machines to your home to ensure that you stay active while the world idles.
q:

Can I still get a great workout without a motor?

a:

There are two different designs out there on the market: those with a motor and those without. So, how can you burn calories and build muscle without the help of a motor to adjust the speed?

When you are out running on the road, do you have motorized sneakers that help you adjust your speed? No, you don't! The same principle applies to non-motorized options. Your legs become the motor for these machines, which means you can only run as fast as your legs will allow you to run.

So, to answer your question: yes. You can burn just as many calories without a motor as you could with a motor. It's just important to keep in mind that non-powered models are always cocked at a slight angle to make it easier to keep that belt moving. This means that it will feel like you are always walking up a slight incline.
q:

Do I still need to wear shoes?

a:

Plenty of runners hit the trails without shoes, so you can too, right? Wrong! Running barefoot may seem appealing, especially when you are at home, but it is important that you resist the urge. Wearing shoes has way more benefits than simply avoiding stepping on pointy rocks out on the road.

A good pair of trainers provides your foot with excellent arch support as well as shock absorption that comforts your joints. This is important now more than ever because many of these machines offer very little shock absorption on the belt. This means that the surface you are running in is incredibly hard and unforgiving, much like a sidewalk.

By lacing up those sneakers before going for a run or walk will not only get you in the right headspace for a workout, but they also help to keep your joints comfortable and your feet supported.
q:

How often do I need to clean it?

a:

The answer to this question depends upon the guidelines set out in your machine's instruction booklet. Some require to be cleaned monthly, while others only need to be cleaned a few times a year.

We like to err on the side of caution. Although these machines are the more affordable bunch, they still require maintenance to reduce the risk of them breaking down on you. One of the most common problems that we see with these machines is that the belt slowly loses the will to live and starts to make noise and get a little jerky.

The reason that your belt starts to misbehave over time is that you haven't taken the time to remove it from the stand and clean debris that collects under the belt. Sure, it's important to wipe down the top of the belt from time to time, but under the belt is way more important.

Cleaning under the belt is a little time consuming, and requires the use of tools to loosen the belt from the base. Once it is loosened, simply wipe the underside down with a wet cloth to clear away any debris. If you do this a few times a year, your machine is sure to run just as smoothly on year 3 as it did on day 1.
q:

Can I still use it if I'm recovering from an injury?

a:

Yes! Although, depending upon your injury be sure to consult with your doctor first. The good news here is that simply walking and building your strength after an injury is one of the best things you can do to expedite the process and get your back to your fighting best!

For most injuries, rest is beneficial for the first few days as your body starts to repair. However, after those first few days of rest, it is important to get back up on your feet! Low impact exercises such as walking and swimming are some of the best things you can do to recover from an injury.

Pools are expensive, and so are gym memberships that include access to the club pool. However, as you have seen, there are quite a few quality treadmills on the market that are incredibly affordable and won't take up that much room in your home.
q:

How can I stay motivated?

a:

We know that it's hard to stay motivated to work out when you are home alone or don't have any accountability partners to keep you on track. There are a few options, however, to ensure that you stick to your workout plan even on the days where it sounds like the worst thing in the world.

Downloading a workout app to your phone not only tracks your progress as you workout so you can where you are succeeding and failing, but it also helps you stay connected. Apps such as iFit put you in contact with a personal trainer to develop workout programs just for you.

Apps such as MapMyRun use your social media accounts to track the progress of your friends as well. Once you finish a workout, be sure to log in and see how you compare to some of your other friends that are staying active as well!
Subscribe to our newsletter