Gold's Gym Pull Up Bar Review 2019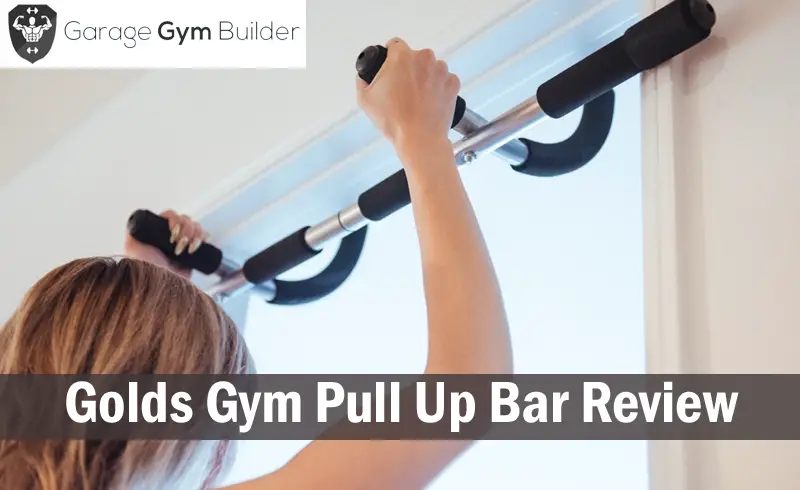 Gold's Gym Pull Up Bar Review 2019
garagegymbuilder.com
updated January 1, 2019
If you could only choose two exercises to train your entire body for best effect, what would they be? In a recent survey, fitness professionals from around the globe were asked that very question. The top two moves were, not surprisingly, the squat and the pull up.
For those of us who have made the decision to train at home, the message is clear; squats and pull ups simply need to form the core of what we do. That means you need to invest in a decent squat rack and you need a sturdy, reliable, kick ass pull up bar. To find the squat rack that will do the business for you, check out our squat rack review here.
When it comes to pull ups, many are frustrated with the lackluster performance of the plethora of doorway pull up bars that have proliferated the bargain basement stores and websites over recent times. That's why, when it comes to something as important as pull ups, you need a reputable name that you can place your confidence in. And when it comes to the fitness industry, it doesn't get any more reputable than Gold's Gym.
Yes, Gold's Gym have put out a doorway pull up bar. Does it live up to the legacy of Joe Gold? Let's put it to the test and find out with our Gold's Gym Pull up review.
Things To Consider Before Buying a Doorway Pull Up Bar
Stability -

Of all the home pull up bar options, the doorway pull up bar is the least stable. But that doesn't mean that you need to expect a wobbly experience. Doorway pull up bar technology has come a long way. You should expect a bar that is rigid and stable under your body weight. Accept nothing less.

Maximum Weight -

The industry standard for a doorway pull up bar is 300 pounds. That should allow you to lift your body weight with allowance for extra weight plates when you get stronger.

Attachment Method -

Unless you've got a telescopic door way pull up bar which fits into the door gap, you will have a unit that sits on top of the rear doorway trim. Make sure that the trim on your door is wide enough to accommodate the size of the plate on the bar.

Door trim disturbance -

 The last thing you want is a damaged doorway, especially if you are renting your property (that's a recipe for losing your deposit!). Check reviews to see how much, if any, scratching or indentations users have had to put up with.

Grip variation -

 A bar that offers more than the basic straight bar grip will allow you to work your muscles in a variety of ways. Some bars allow you to use a hammer grip, as well as a neutral, reverse and angled grip.

Bar thickness -

A variation in the thickness of the bar will allow you to work your forearms far more effectively than a constant grip.
The Gold's Gym Doorway Pull Up Bar consists of a straight bar with angled ends . The bar is attached to a couple of curved handles connected by a cross bar. The "J" shape of the unit allows you to actually push and pull on the wall at the same time. This provides an incredibly sturdy fit, allowing the bar to support up to 250 pounds.
The durable construction of the Gold's Gym Pull Up Bar will see through years of hardcore training (the unit comes with a 10 year warranty). The bar, along with the protruding curved handles, provides for a whole raft of different exercises, including neutral grip, extra wide grip and reverse grip. Check out this clip of a guy doing 25 different types of pull up on the Gold's Gym Pull Up Bar
From end to end the longest bar measures 36 inches. Allowing for a two inch overlap on each side, that means that your maximum door width is 32 inches. The neutral grip handles are 16 inches apart, meaning that the minimum door width allowable is 18 inches. As the crossbar rests upon the top of the door frame, you need to ensure that the frame is straight and at least an inch thick.
The Gold's Gym Pull Up Bar takes about 7 minutes to assemble out of the box. Once you've put it together you can place it on the door or take it down in just a matter of seconds. Foam rubber hand grips cover all hand positions to reduce sweat slip. There are also rubber pads at all doorway contact points to prevent scuffing or scratching.
Gold's Gym Pull Up Bar Pros and Cons​
Very sturdy and rigid when properly positioned in doorway
Multi grip options for a variety of pull up options
Quick assembly and clear instruction guide
Foam grip handles at all gripping points
Rubber pads at all doorway contact points
10 year warranty
Only provides for 250 pound max weight (as opposed to 300 pounds)
The bar is not adjustable
Does not provide for extra wide pull ups beyond the width of the doorway
Curved design

provides for extra rigidity and sturdiness - the combined effect of the push / pull motion of your body provides extra lock in on the bar, allowing for a more sturdy, rigid fit on the doorway.

Multi grip options

- take a look at the video in the section above and you'll see a total of 25 different variations of pull ups that can be done on the Gold's Gym Pull Up Bar - that is impressive!

Quick assembly

, clear instruction guide.

Durable foam grip handles

at all gripping points - you don't want your grip to fail before your muscles do and the provision of quality foam grips will help to make sure this doesn't happen.

Rubber pads

at all doorway contact points - this ensures that there will be absolutely no scuff marks or scratches on your doorway surrounds.
The Ultimate Body Press Wall Mounted Pull Up Bar offers a solid, reliable and extremely sturdy wall mounted pull up option. The angled ergonomic grips and range of grip options provide flexibility and comfort.
It gives a decent wall clearance and allows for extra movements such as dips and accessory moves with gymnastic rings.




---
The Iron Gym Extreme door pull up bar is packed with features that allow you to extend your workout beyond the basics of pull ups and chin ups. It comes completely disassembled, but assembly is quick and easy. The unit is also a breeze to put up and remove from your door frame.
The bar offers an extra wide pull up as well as grips to allow for a variety of angles to work lats from every conceivable angle. There's also a narrow grip option to put the focus on your biceps. It even offers a couple of hammer grip options to target the delts and forearms. This provides a truly impressive number of training options in the one device.
The Iron Gym Extreme door frame pull up bar has a maximum load capacity of 300 pounds. The unit comes with a safety pin to hold the bar in place when not being used.
---
The Perfect Fitness Bar fits a standard door frame from 27" to 35" wide. There are three contact points to ensure that the bar is totally secure. The parallel L-shaped bars are connected to a cross-bar which has a metal stay on it that sits atop the door frame moulding. The L-shaped bars are bolted to the pull up bar itself. The bar has cushioned supports on each end which push into the sides of the door frame to provide extra support when performing the exercise.
The Perfect Fitness Bar features thicker than standard steel tubing to provide for a superior level of stability when exercising. It has a variety of mounting positions to ensure that it fits your door perfectly. The back bar can also be adjusted to provide more ground clearance for taller people. The wide foam pads give an even weight distribution to provide more stability and give longer life to your door trim. The protruding foam gives you a tremendous variety of wide grip options when performing your pull ups. The foam padding in the Perfect Bar actually extends across the entire length of the bar. The extended lateral bars also allow you to perform palms facing each other pull ups as well as leg lifts and raises to work the muscles of the core.
The versatility of the Perfect Bar is another major plus for this product. When not attached to the door, it can be used to perform elevated push ups, sit ups and dips.
Any product carrying the Gold's Gym label had better be good to live up to that esteemed name. Fortunately, the Gold's Gym Pull Up Bar delivers. It is a robust, sturdy bar that will give you years of confident pull up and chin up service. It has a range of multi grip options, and the rubber pads at each doorway contact point will ensure that there are no nasty scuff marks on your door surrounds.



Love the outdoor? Why not check on this article about travel pull up bar or this article about doorway pull up bar review.

My name is Jim Roose. I'm a former competitive power lifter and gym owner. I've bought millions of dollars of fitness equipment over the last 20 years. This site is my way of giving back to the fitness community that's done so much for me. Every article on here is carefully researched and written by me. Leave a comment if you have any questions.