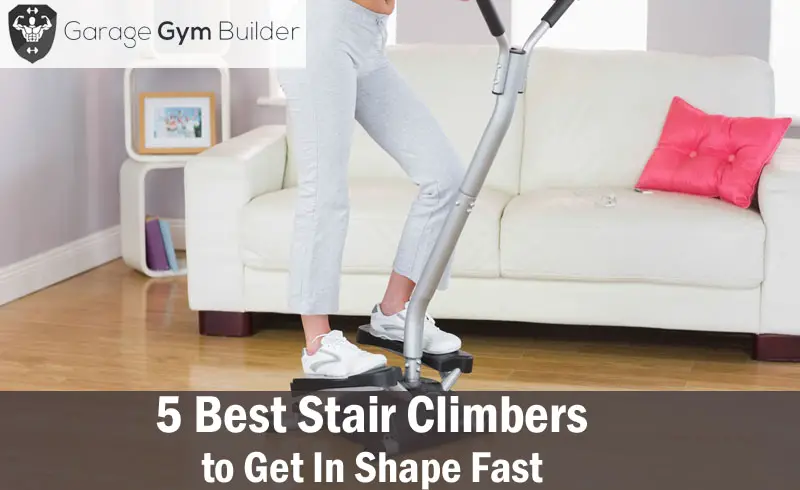 The 5 Best Stair Climbers to Get In Shape Fast
In this article, our focus is on the Stair Climber. This unique exerciser will work your body in a whole new way. We're about to break down the top 5 stair climbers in the market right now with our step climber reviews.
Then we'll share with you with body shaping benefits of investing in a stair climber machine.
But, first, here's a preview of our top 5 stair climbers:
Our favorite, which we considered the best stair climber machine, is the Sunny Fitness Folding Climbing Stepper. For a budget price, this Climber provides you with a smooth action, a solid frame and 12 different resistance levels.
We also loved the Maxi Vertical and Total Body Climbers, though they do not offer variable resistance. Rounding out our top 5 are the Conquer Vertical Climber and the Multi-Sport 2200 Stair Climber.
Stair Climber Reviews
The Maxi Climber has an adjustable, steel frame that allows you to perform a stair climbing motion safely and securely. It allows for a full range of motion, meaning that you get better muscles activation and aerobic output.
Because the Maxi Climber uses your bodyweight as the resistance (it is not motorized), you get more of a combined cardio - resistance workout than if you were using a commercial climber.The Maxi Climber is compact and foldable for easy storage.
Adjustable height for all body types

Non-stick grip handles

Compact and foldable

On-board timer
CONS
Limited console feedback

Cannot increase resistance
Summary
The Maxi Climber provides a challenging, stable workout that will definitely target your butt and thighs. It is solid, compact and adjustable. However, it does not allow for a change of resistance and the console readout is very limited.
Overall the Maxi Climber is a well priced, well made piece of equipment that will give you a quality workout.
The Sunny Fitness Folding Climber Stepper is a fan favorite, due to it's low impact, low cost and quality construction. The Sunny Climber comes with an impressive 12 resistance levels. This makes it extremely versatile, able to be used by all ages and abilities.
With independent stepping cylinders, you get a realistic, smooth and quiet stepping action on Sunny Fitness Folding Climber Stepper machine. The display monitor is quite simple, but clearly provides all of the information you need.
You can assemble the Sunny Climber in under 10 minutes.
12 resistance levels

Independent hydraulics

Smooth climbing action

Easy set up

Sturdy design
CONS
Holes may not align properly for assembly

Summary
The Sunny Climber is a solidly constructed cardio machine that provides you with an extremely impressive variable resistance range. The climbing action is fluid and the machine gives a good range of motion. Easy set-up and compact design make this machine a winner.
The durable metal framework and sleek design of the Conquer make it look impressive. When you start using it, your realize that those looks are backed up by quality performance. You get a very natural climbing motion and the unit is tall enough to give you a full range of movement.
Unfortunately, the Conquer climber does not come with variable resistance. However, it does provide a counter to allow you to take note of calories burned and time elapsed.
The handle bars are ergonomically designed for comfort and movement efficiency.
Steel frame

Ergonomic handle bars

Smooth operation
Summary
The Conquer Vertical Climber is a budget priced cardio machine that effectively emulates the stair climbing action. It is an attractive looking, slim line and compact model that will fit well in any setting.
It does not have variable resistance, however, which limits it's ability to continue providing an intense workout.
The Maxi Climber Total Body Workout machine is a beefed up version of the Maxi Climber vertical Climber. If features an extra set of handle grips and a slightly greater range of motion.
Maxi stair climber machine is marketed as a total body workout because it gives you more arm and shoulder activation than most other Climber on the market. As a result, it also burns more calories, allowing you to lose fat faster.
Double handles

Extended range of motion

Solid steel construction

Works arms and shoulders
Summary
The Maxi Climber Total Body Workout will provide you with the most complete body training session of all the models we have reviewed. It's a great option for bringing your arms, shoulders and chest more into the action.
However, it is limited by the lack of variable resistance. This means that,, once your strength level adjusts to the challenge, there is no way to get a ongoing progressive resistance.
The Multi-Sport ST-2200 Stair Climber is a more pricey, robust and bigger cardio machine that the other climbers in our review round-up. It provides you with a very solid, stable base and is constructed from heavy duty steel. It uses the Eddy Current Brake Resistance system to provide a very smooth, natural climbing action.
The Multi-Sport ST-2200 comes with a large LCD console that provides you with 6 pre-set workout programs. You also get readouts of all of your vital workout statistics. Hand-rail heart monitors provide for a constant real-time pulse readout.
Solid and durable

6 pre-set workouts

Heart-rate monitoring

Eddy Current Brake Resistance system

Smooth operation
Summary
The Multi-Sport ST-2200 Stair Climber is a solid, reliable stair climber that will provide a very smooth, quiet and natural climbing action. It comes with 6 pre-set programs, has a large LCD monitor and features the Eddy Current Brake Resistance system to ensure that the mechanism performs.
If you can afford it, this is machine will make a great addition to your home gym.
Why Buy a Stair Climber?
The Step Climber is a piece of cardio exercise equipment that looks like a mini revolving elevator, or a step ladder. That's because it is designed to simulate the action of climbing a flight of stairs.
​What's so great about that?
The stair climbing action directly activates every single muscle that women traditionally have problems toning and shaping. They directly work the glutes (butt muscles), hips, hamstrings and the sides of the waist. They also give you a great calf workout.
Compare this to the stair stepper​
With the stair climber the action involves vertical movement - your leg are going up and down. But with the stepper, you are moving your legs vertically - backwards and forwards. This will work the thighs but won't give you a lot of activation in the glutes and hamstrings.
The Stair Climber also provides you with an excellent cardiovascular workout. You'll find that the climbing action takes a lot more work than the stair stepping motion does. You'll increase your heart rate and oxygen uptake.
A lot of motorized air step climbers allow you to vary the resistance of the stairs. This provides you with the ability to increase the intensity of your workout over time.
More than a stair stepper, a stair climber, also known as a mountain climber exercise machine, allows you to effectively combine cardio and resistance training. Some climbers have a dependent pedal mechanism whereby you push down on one pedal to lift the other. This is not as effective as a machine with independent pedal action, which effectively makes each leg do its own work.
So, just how effective is working out on a vertical climber exercise machine?​
In a Canadian study, which was published in the February 15, 2009, issue of the New York Times. 17 subjects were tested over a variety of exercises. The results showed that stair climbing was twice as effective as brisk walking and 50% more intensive than either walking up a steep incline of weight lifting.
On a step climber machine, you will burn an average of 600 calories per hour.​
3 Tips to Get the Most From Your Stair Climber
Maintain an upright body at all time when using the stair climber. Make sure that your hips are over your knees as you climb. Keep your arms pumping as you step.
Push down into the heel with each step that you take. Doing this will give you far greater activation of the glutes and hamstrings, rather than making your calves do all the work. Do not, however, take the step either all the way down on the descent or all the way up on the ascent. Doing so will cause too much sway in your pelvis - that's not good.
Maintain your mind body connection at all times. You attention should be directed toward squeezing and contracting your glutes with each step that you climb.
Conclusion
​When it comes to stair exercise cardio equipment there's a lot of confusion. You've got stair steppers, step climbers, mini steppers, and air walkers. Figuring out which is which is hard work so you should focus on which type of training that suit you best.
Stair Climbing gives your body a unique training experience. A climber exercise machine will target your trouble spots to tone, shape and strengthen. At the same time it will give you a cardiovascular fitness boot and burn a ton of calories. You may also want to know more about moves that help maximize your stair stepper and the complete guide about stair steppers with latest reviews for the most wanted products here.

Use our Top 5 Stair Climber guide to find the perfect Climber to suit your fitness needs.​