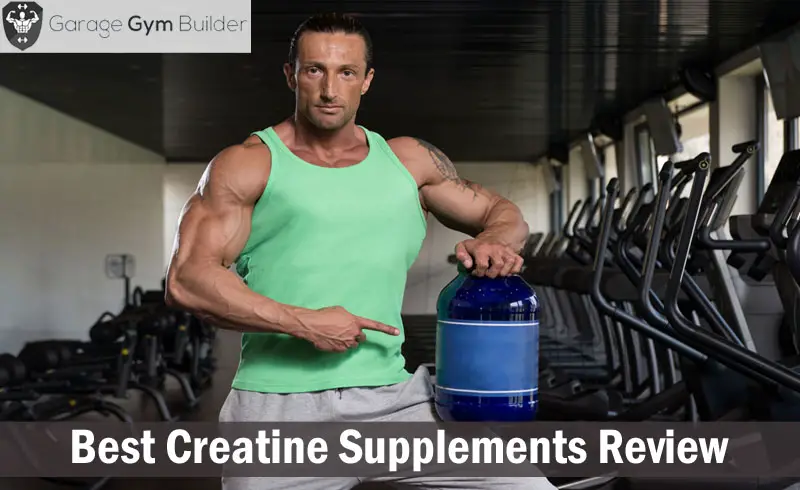 Best Creatine Supplements Review 2017
When it comes to supplementation to get bigger and stronger nothing comes close to creatine. It is the most studied bodybuilding supplement on the planet, and they all agree that creatine is the single best nutritional supplement that exists.
Creatine's power lies in its ability to turn ADP back into ATP, which is the energy system that the muscles use push weight. The more ATP in the muscle cell, the more reps you can perform. This directly increases the tension on the muscle, which is the key to muscle growth. In this article we bring you the 10 best creatine brands on the 2018 market.
The Best Creatine Brands at a Glance

The best creatine on the current market is Optimum Nutrition Creatine Powder, which provides you with 5 grams of CreaPure creatine per serving, and is great for stacking. The second best creatine for men is Cellucor Core Performance which delivers micronized protein at 5 grams per dose and has added Cinnulin PF for enhanced uptake.
Our third best creatine supplement for 2018 is MusclePharm Creatine, which gives you a combination of 5 types of creatine, and added cinnulin for faster absorption into the muscle cell.
To make it easier for you to compare and contrast the best products of 2017, we've rated each of them on the basis of price and effectiveness. We then give each one an overall rating out of 5.
| Product | Product Name | Price | Durability | Overall | Product Link |
| --- | --- | --- | --- | --- | --- |
| | | 4.5/5 | 4.75/5 | 4.75/5 | |
| | | 4.5/5 | 4.5/5 | 4.5/5 | |
| | | 4.5/5 | 4.25/5 | 4.25/5 | |
| | | 4.5/5 | 4.25/5 | 4.25/5 | |
| | | 4.0/5 | 4.25/5 | 4.25/5 | |
| | | 4.0/5 | 4.25/5 | 4.0/5 | |
| | | 4.25/5 | 4.25/5 | 4.25/5 | |
| | | 5.0/5 | 4.25/5 | 4.5/5 | |
| | | 4.5/5 | 4.25/5 | 4.5/5 | |
| | | 4.25/5 | 4.25/5 | 4.25/5 | |
The Top 10 Up Close

Optimum Nutrition Creatine Powder delivers a full daily maintenance level of creatine monohydrate to the system. It gives you 5 grams per dose. The quality of the supplement is extremely high, being sourced from the German manufacturer CreaPure. You get your creatine in the form an odorless, tasteless powder. This makes it ideal for stacking with other products. You can mix it with water, milk or even add to your favorite protein shake.
Optimum Nutrition Creatine Powder doesn't give you the gritty taste and texture that you get with many competing products. It mixes very well and can be blended with a shaker bottle. There are no fillers or additives in this product.
PROS
5 grams per dose
CreaPure
Ideal for stacking
Cellucor Core Performance Creatine contains micronized protein that provides tiny particles designed to be absorbed more quickly. As well as 5 grams of micronized creatine monohydrate, you also get Betaine anhydrous, which it is claimed can boost the effectiveness of the supplement. While there is no scientific backing for this claim, betaine will reduce post exercise muscle soreness.
Cinnulin PF has been added to this creatine product. Cinnulin allows for a quicker uptake of the supplement into the muscle cell. The patented Creasorb phosphate delivery system is designed to get the nutrients into your muscle cells even further. Cellucor should be taken with an initial loading phase of 4-5 days.
PROS
Micronized
5 grams per dose
Added cinnulin PF for enhanced uptake
MusclePharm Creatine is a popular brand of creatine that couples monohydrate with hydrochloride (Creatine HCL). Muscle Pharm claim that creatine HCL is required in much smaller dosages. That's why you do not need to load on this product, as is common with other creatine brands. Along with monohydrate and HCL, this product includes Creatine AAB, DiCreatine Malate, and Creatine Nitrate. None of these versions have been shown to be more effective than the monohydrate version.
Muscle Pharm Creatine includes cinnulin which has been added to increase the absorption rate of creatine into the muscle cell. Each dose of 3 scoops will provide you with 5 grams of the supplement. With this product, you get 5 blends of creatine, with added cinnulin, at a very good price.
PROS
5 different types
5 grams total per dose
Added cinnulin for better absorption
CONS
4 of the 5 creatines have no scientific backing
Dymatize Micronized Creatine provides you with nothing but pure, high grade creatine. Each dose delivers 5 grams of micronized creatine, designed with much smaller particles that are able to be absorbed into the muscle cell much more quickly. Of all the types of creatine on the market, the monohydrate version has been shown in many clinical studies to be the most effective form for muscle size and strength. There are no fillers or artificial flavors.
Dymatize Micronized Creatine is a competitively priced product that will delay your workout fatigue, allowing you to work harder for longer. The ingredients are strictly laboratory tested for quality and purity. You will not get the traditional bloating that comes with some creatine products when you use Dymatize Micronized Creatine.
PROS
Micronized creatine
5 grams of creatine per dose
No fillers
EFX Kre-Alkalyn Creatine uses kre-alkalyn as opposed to the more commonly used monohydrate version of this supplement. Kre-Alkalyn acts as a buffer to prevent toxic byproducts such as creatinine from affecting you. This is claimed to allow you to get maximum effect from the supplement you are taking into your body. With each capsule of this product, you get 750 mg of creatine. The product includes white, green and black tea extract to boost the metabolism.
EFX Kre-Alkalyn Creatine has no fillers or artificial additives. You get pure, simple creatine along with tea extract. It contains a pH balance which provides maximum utility. There is no loading phase required when you use this product, with no resultant bloating or stomach upset.
PROS
Kre-alkyn form prevents bloating
750mg of creatine per tablet
Tea extract included
CONS
Kre-Alkalyn not scientifically proven
BodyTech 100% Creatine is pure creatine monohydrate. You get 181 servings per container, but no scoop. This is a powder and each dose requires a 5 gram serving. There is no loading phase required with this muscle building product. There are no fillers, colors or additives with this product. That means that it is unflavored, producing a rather bland taste. This makes it good to stack with other products, such as your post workout protein shake.
Bodytech 100% Creatine mixes well with both water and milk. It will not clump or leave a gritty after taste. This product will saturate your muscles very quickly, delivering a boost in strength and muscle gains. This is a very cost effective muscle building product.
PROS
Good value
No additives
5 grams of creatine per serve
Con-Cret Creatine HCL is a micronized form of creatine hydrochloride. It is designed to fast track creatine into your muscle cells. Unlike most cimpeting products on the market, the microdosing means that this product is dosed on workout intensity and body-weight. In addition there is no need for a 4-5 day loading phase, which is required on many competing brands. In addition, you don't need to worry about cycling off this product.
Con-Cret Creatine HCL's unique blend of microdosing and HCL delivery system means that you won't suffer the normal side effects that come with this supplement, such as bloating and stomach upset. This product also has superior solubility and plasma uptake. You will definitely increase your strength, endurance and recovery with Con-Cret.
PROS
Micronized for faster absorption
The original HCL product
No loading required
CONS
No scientific backing for HCL version
The micronized creatine put out by Bulk Supplements is one of the most cost effective muscle building deals on the market. It provides you with 99.9% monohydrate powder that has been lab tested to be of the best quality available. There are no fillers or artificial additives included - just clean, energy producing product to max out your training gains.
Because the creatine is micronized into tiny particles, it will deliver energy to your muscle cells faster than most other brands. That means you'll be able to push your set harder for longer. This is a vegan and gluten friendly product. The powder is very fine and mixes extremely easily, even in a shaker bottle. You won't have to put up with any residue.
PROS
99.9% pure product
Micronized for faster uptake
Very well priced
CONS
Difficult to reseal the bag
MET-Rx Creatine 4200 consists of 100% creatine monohydrate in a high pressure liquid chromatography form (HPLC). This process involves putting the monohydrate through a chromatography machine in order to break the particles down into their smallest molecules possible. This is designed to produce the fastest possible absorption rates. The other ingredients in this product are gelatin, silica and vegetable magnesium sterate. The product comes in the form of a flavorless tablet.
MET-Rx Creatine 4200 has the benefit of fast absorption into the muscle cell. This means that it goes to work quickly, enabling you to achieve more strength and power during your workout. You will also experience more overall training energy and faster post workout recovery.
PROS
HPLC form for faster absorption
5 grams per serving
Capsule form
CONS
Need to take 6 capsules each day
Confused about supplements? Check out our Best Workout Supplements Review 2017 to discover the best supplements to get real results fast.
BPI Sports Best Creatine Powder combines six forms of creatine to provide you with the most complete blend you'll find anywhere. To this has been added the strength and power enhancing benefits of betaine. This unique blend means that you'll be able to generate more strength, power and training energy in the gym. Unlike nearly every other product out there, you get a range of great flavors with this product.
BPI Sports Best Creatine Powder does not include any artificial flavors or colorings. The six forms of creatine included are monohydrate, magnapower, akg, anhydrous, phosphate and pH buffered alkaline. There is no loading and bloating on this product.
Looking for the best beta alanine to stack with your creatine? Check out our Best Beta Alanine Supplements for Working Out Review 2017 to help you find what you're after.​
PROS
6 different forms
Betaine
Great tasting flavors
Don't miss: 13 PB2 Peanut Powder Recipes for the Perfect Post-Workout Snack 2017
Find out what the full benefits of creatine are and discover just how this amazing product will allow you to build muscle faster with this great video clip . . .
Conclusion
The best creatine for muscle growth on the 2018 market is Optimum Nutrition Creatine Powder, which delivers 5 grams per serve of the highest grade product on the planet. The second best supplement to take to max out your training is Cellucor Core Performance, which provides 5 grams of micronized creatine per 5gram dose, fortified with Cinnulin F for faster absorption.
The third best product available on the current market is MusclePharm Creatine, delivering a blend of 5 different creatine types with added cinnulin to get the creatine into your muscles faster.
---