Best Creatine Supplements Review
last updated
Jul 25, 2019
When it comes to supplementation to get bigger and stronger nothing comes close to creatine. It is the most studied bodybuilding supplement on the planet, and they all agree that creatine is the single best nutritional supplement that exists.
Creatine's power lies in its ability to turn ADP back into ATP, which is the energy system that the muscles use push weight. The more ATP in the muscle cell, the more reps you can perform. This directly increases the tension on the muscle, which is the key to muscle growth. In this article we bring you the 10 best creatine brands on the 2019 market.
In a Hurry? The test winner after 20 hours of research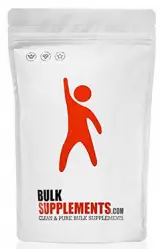 BulkSupplements Micronized
Why is it better?
99.9% Pure Product
Micronized For Faster Uptake
Very Well Priced
Lab-tested Quality
Vegan Friendly
In a
Hurry? Editors choice: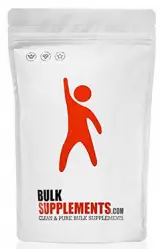 Test Winner: BulkSupplements Micronized

45
Researched Sources
9k
Reviews Considered
18
Hours Researching
15
Products Evaluated
Use
Effectiveness
Side Effects
Durability
Materials
By Default
Top 10 Picks
1

. BulkSupplements Micronized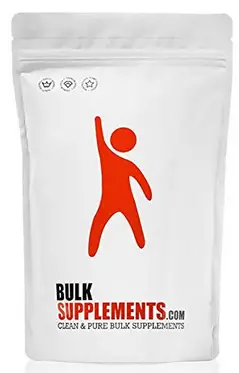 99.9% Pure Product
Micronized For Faster Uptake
Very Well Priced
Lab-tested Quality
Vegan Friendly
The micronized creatine put out by Bulk Supplements is one of the most cost effective muscle building deals on the market. It provides you with 99.9% monohydrate powder that has been lab tested to be of the best quality available. There are no fillers or artificial additives included - just clean, energy producing product to max out your training gains.
Read more
Because the creatine is micronized into tiny particles, it will deliver energy to your muscle cells faster than most other brands. That means you'll be able to push your set harder for longer. This is a vegan and gluten friendly product. The powder is very fine and mixes extremely easily, even in a shaker bottle. You won't have to put up with any residue.
2

. Optimum Nutrition Micronized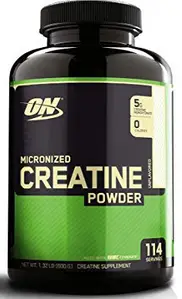 5 Grams Per Dose
CreaPure
Ideal For Stacking
Enhances Energy Levels
Optimum Nutrition Creatine Powder delivers a full daily maintenance level of creatine monohydrate to the system. It gives you 5 grams per dose. The quality of the supplement is extremely high, being sourced from the German manufacturer CreaPure.
Read more
You get your creatine in the form an odorless, tasteless powder. This makes it ideal for stacking with other products. You can mix it with water, milk or even add to your favorite protein shake. Optimum Nutrition Creatine Powder doesn't give you the gritty taste and texture that you get with many competing products. It mixes very well and can be blended with a shaker bottle. There are no fillers or additives in this product.
3

. Cellucore Core Performance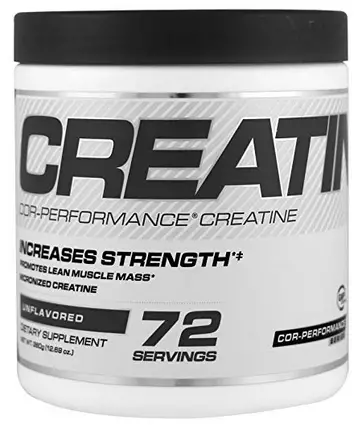 Micronized
5 Grams Per Dose
Added Cinnulin PF
Improved Water Solubility
Cellucor Core Performance Creatine contains micronized protein that provides tiny particles designed to be absorbed more quickly. As well as 5 grams of micronized creatine monohydrate, you also get Betaine anhydrous, which it is claimed can boost the effectiveness of the supplement. While there is no scientific backing for this claim, betaine will reduce post exercise muscle soreness.
Read more
Cinnulin PF has been added to this creatine product. Cinnulin allows for a quicker uptake of the supplement into the muscle cell. The patented Creasorb phosphate delivery system is designed to get the nutrients into your muscle cells even further. Cellucor should be taken with an initial loading phase of 4-5 days.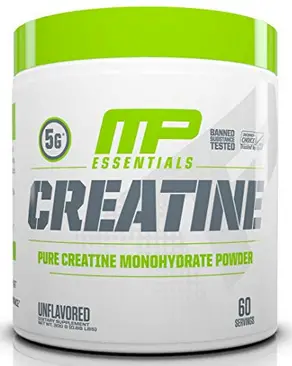 5 Different Types
5 Grams Total Per Dose
Cinnulin For Better Absorption
Unflavored
Has Poor Scientific Backing
MusclePharm Creatine is a popular brand of creatine that couples monohydrate with hydrochloride (Creatine HCL). Muscle Pharm claim that creatine HCL is required in much smaller dosages. That's why you do not need to load on this product, as is common with other creatine brands.
Read more
Along with monohydrate and HCL, this product includes Creatine AAB, DiCreatine Malate, and Creatine Nitrate. None of these versions have been shown to be more effective than the monohydrate version. Muscle Pharm Creatine includes cinnulin which has been added to increase the absorption rate of creatine into the muscle cell. Each dose of 3 scoops will provide you with 5 grams of the supplement. With this product, you get 5 blends of creatine, with added cinnulin, at a very good price.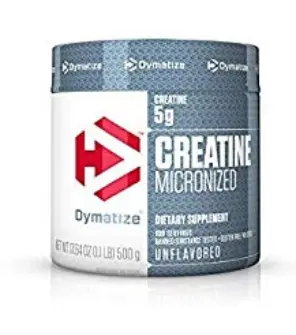 Micronized Creatine
5 Grams Per Dose
No Fillers
Mixes Easily
Dymatize Micronized Creatine provides you with nothing but pure, high grade creatine. Each dose delivers 5 grams of micronized creatine, designed with much smaller particles that are able to be absorbed into the muscle cell much more quickly.
Read more
Of all the types of creatine on the market, the monohydrate version has been shown in many clinical studies to be the most effective form for muscle size and strength. There are no fillers or artificial flavors. Dymatize Micronized Creatine is a competitively priced product that will delay your workout fatigue, allowing you to work harder for longer. The ingredients are strictly laboratory tested for quality and purity. You will not get the traditional bloating that comes with some creatine products when you use Dymatize Micronized Creatine.
6

. EFX Sports Kre-Alkalyn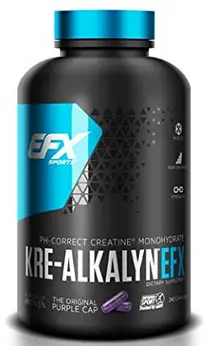 Kre-alkalyn Prevents Bloating
Tablet Form
750mg Creatine Per Tablet
Tea Extract Included
Not Scientifically Proven
EFX Kre-Alkalyn Creatine uses kre-alkalyn as opposed to the more commonly used monohydrate version of this supplement. Kre-Alkalyn acts as a buffer to prevent toxic byproducts such as creatinine from affecting you.
Read more
This is claimed to allow you to get maximum effect from the supplement you are taking into your body. With each capsule of this product, you get 750 mg of creatine. The product includes white, green and black tea extract to boost the metabolism. EFX Kre-Alkalyn Creatine has no fillers or artificial additives. You get pure, simple creatine along with tea extract. It contains a pH balance which provides maximum utility. There is no loading phase required when you use this product, with no resultant bloating or stomach upset.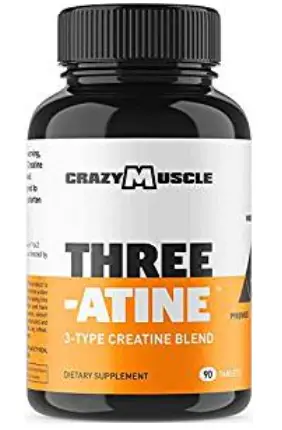 Tablet Form
3 Blends Of Creatine
100% Absorption
No Need To Cycle
Crazy Muscle provide their creatine monohydrate in tablet form.The blend actually provides you with 3 types of creatine; 96% monohydrate, 1% creatine alpha ketoglutarate, 3% creatine pyruvate. Each tablet delivers 1667 mg of creatine to your system.
Read more
The recommended dosage of 3 capsules will provide you with 5 grams. There is loading phase required with this creatine product, which has a 100% absorption rate. Having the supplement in tablet form also does away with the need for having to mix up your creatine in a shaker bottle before each use. You get 90 tablets per bottle (a one month's supply).
8

. Promera Sports CON-CRET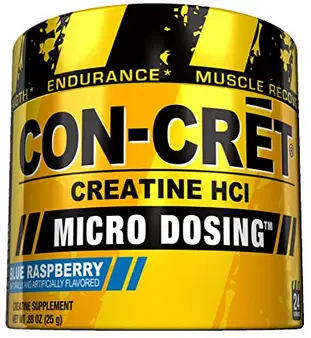 Faster Absorption
The Original HCL Product
No Loading Required
Blue Raspberry Supplement
HCL Version Not Scientifically Proven
Con-Cret Creatine HCL is a micronized form of creatine hydrochloride. It is designed to fast track creatine into your muscle cells. Unlike most competing products on the market, the microdosing means that this product is dosed on workout intensity and body-weight.
Read more
In addition there is no need for a 4-5 day loading phase, which is required on many competing brands. In addition, you don't need to worry about cycling off this product. Con-Cret Creatine HCL's unique blend of microdosing and HCL delivery system means that you won't suffer the normal side effects that come with this supplement, such as bloating and stomach upset. This product also has superior solubility and plasma uptake. You will definitely increase your strength, endurance and recovery with Con-Cret.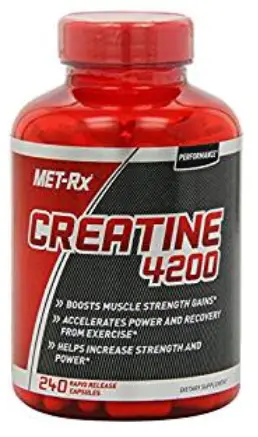 HPLC Form
5 Grams Per Serving
Capsule Form
4200 Mg Of Pure Creatine
MET-Rx Creatine 4200 consists of 100% creatine monohydrate in a high pressure liquid chromatography form (HPLC). This process involves putting the monohydrate through a chromatography machine in order to break the particles down into their smallest molecules possible. This is designed to produce the fastest possible absorption rates.
Read more
The other ingredients in this product are gelatin, silica and vegetable magnesium stearate. The product comes in the form of a flavorless tablet. MET-Rx Creatine 4200 has the benefit of fast absorption into the muscle cell. This means that it goes to work quickly, enabling you to achieve more strength and power during your workout. You will also experience more overall training energy and faster post workout recovery.
10

. BPI Sports Watermelon Cooler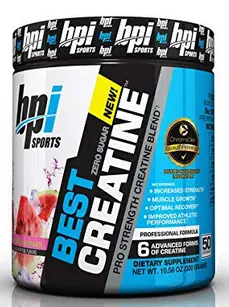 6 Different Forms
Betaine
Great Tasting Flavors
Optimal Recovery
BPI Sports Best Creatine Powder combines six forms of creatine to provide you with the most complete blend you'll find anywhere. To this has been added the strength and power enhancing benefits of betaine. This unique blend means that you'll be able to generate more strength, power and training energy in the gym.
Read more
Unlike nearly every other product out there, you get a range of great flavors with this product. BPI Sports Best Creatine Powder does not include any artificial flavors or colorings. The six forms of creatine included are monohydrate, magnapower, akg, anhydrous, phosphate and pH buffered alkaline. There is no loading and bloating on this product.
Criteria Used for Evaluation


Use
If you just warmed up to the idea of creatine and want to start using it, chances are that you don't actually know how to use it. Maybe you've been using it for quite a while, but not in the right way! Well, we're here to tell you just how and when you should take your creatine supplements to feel the most benefits.
When to take creatine is a hot topic in the fitness community. This is because there's a lot of science behind it that when timed correctly, it can influence growth and recovery rates, two very important factors when it comes to exercising. Also, it makes sense to get the most bang out of your buck. Most creatine users take it at three different points during the day : before the workout, after the workout, and whenever.
The people who take creatine before working out base their claim on one simple thing - the more creatine you take, the more ATP you will get, which is like fuel for our bodies. This means that you will have more power when you exercise. More power means more weight lifted, and the more weight you lift the more your muscles will grow.
On the other hand, we have people who take creatine after they cool down from working out. They base their claims on the fatigue of muscles after a good session at the gym, and how the muscles simply crave nutrients. So, they will just suck up all the creatine you throw at them, especially when combined with protein and carbs.
And last but not least, the people who take their supplements whenever they want. They believe that both of the reasons we just mentioned for taking creatine before or after you exercise are not scientifically backed up. Basically, they say that you shouldn't worry about your timing.
Scientists have researched creatine before, and they do believe that taking creatine after you workout seems to be the most effective, but there is still more research needed to make the studies conclusive. So, your best bet is to just take it whenever you feel like it! There isn't actually any way to take creatine correctly, you just have to drink it. You've probably been doing it right the whole time!


Effectiveness
If you've taken creatine before, then you must know how effective it truly is, but if you still do not see what's so special about it, we're here to explain.
Creatine is the unrivaled champion when it comes to increasing muscle mass and strength. Creatine is probably the most loved supplement in the fitness and bodybuilding community and is something they can't exercise without. Research shows that when you take creatine, your strength and lean muscle gains can double, as opposed to exercising without creatine.
Now let's see how creatine exactly does that. The very first thing we have to consider is ATP. ATP, or adenosine triphosphate, is the basic energy form in the cells of our bodies. This energy is what drives our bodies, and it plays a major role in muscle function and metabolism. Sadly, you only have enough ATP stored for about 8-10 seconds of intense exercising. After that, your body must again work its butt off to produce more ATP to keep you going. This essentially means that you spend more ATP than your body can produce when you do high-intensity exercises. This is the reason why you can maintain full running speed for only a few seconds - simply you do not have energy to keep going, so you have to slow down. Creatine supplements work by increasing the stores of phosphocreatine in our bodies, used to create new ATP during these particular exercises. Even if you just do a 6-day load, followed by a 2 gram per day maintenance dose, your muscle phosphocreatine stores will increase. In short, creatine gives you more energy to work with, before you feel the effects of fatigue.
This is not the only benefit creatine provides you with. Creatine can improve the function of your muscle cells in other ways as well. One way creatine helps your muscle cells is by increasing their water content, also known as cell swelling, or cell volumization. It can also increase the levels of IGF-1, an important hormone for muscle growth. All of this creates the pathway for several processes that will create new protein, that will then create new muscle mass. Creatine doesn't only help your muscles grow; it also reduces the muscle breakdown after a strenuous exercise session, so you're left with even more muscle. To summarize it all up, creatine causes a lot of changes within the muscle cells, which then signalize your body to create new protein and more muscle mass.
No matter if you are a beginner or a pro, adding creatine to your fitness regime will do you wonders. It's the single most effective supplement for muscle growth, so why not give it a try?


Side Effects
Like we mentioned before, creatine is the number one sports supplement, and there are many reasons why it takes that spot. Despite all of this, there are people who are afraid to take it because of their health. Some people claim that it causes weight gain, kidney damage, liver problems, cramping and digestive issues. Other people say that creatine is an anabolic steroid, unsuitable for women and teenagers, or that it should only be used by pros and athletes.
The International Society of Sports Nutrition regards this supplement as a very safe one, praising it for it's benefits. Some doctors even use creatine to treat certain disorders, such as diabetes, neuromuscular conditions and muscle loss. Now let's see whether creatine can cause dehydration or cramps. It's a fact that creatine will effect your bodies stored-water, since it increases the amount of water you have in your cells (muscle). This fact is probably the one behind the thought that creatine enables dehydration. But this change in stored liquid is small, and there is no evidence that supports the theory that creatine causes dehydration. Actually, a three-year study based on college fitness enthusiasts concluded that the people who took creatine had fewer incidents of dehydration, cramping and even muscle injuries compared to those not taking creatine. One study even tested creatine in hot weather, known to cause cramping and dehydration, and found that creatine had no role to play here. There was even one research conducted on patients undergoing hemodialysis, a medical treatment known for causing cramps. The creatine they took actually reduced the occurrence of cramping by as much as 60%!
Creatine has also been blamed for weight gain. After just one week of a high-dose load (20 grams/day), the weight increased by 2-6 pounds. But this weight gain is contributed to the increased water content in your muscles, and the standard daily dose should not exceed six grams per day, so the "weight gain" won't even be so drastic. Your body weight will also increase the more you use creatine, but this is because of muscle growth, not body fat increase. This is the very reason why people take creatine in the first place, so the weight gain is nothing bad.
And now, the more serious stuff - liver and kidney damage. Creatine can slightly raise the levels of creatinine found in the blood. Creatinine is the measurement taken to diagnose liver or kidney problems. But just because creatine raises creatinine levels doesn't mean that it's bad for your kidneys or liver. There are a lot of studies that suggest creatine does not harm your liver or kidneys, even in the long run. But if you suffer from any kind of kidney or liver disease, approach creatine with care and consult your physician before taking it.
The only real problem with creatine are the digestive issues. Creatine has been known to cause diarrhea. But this only happens if the recommended daily dose is exceeded, which is about 5-6 grams a day, and no more. Just by taking 10 grams a day, the risk of having diarrhea increased by almost 40%. It's possible that the fillers, additives, or even contaminants found in the supplement cause those digestive issues, so we cannot attribute them to creatine directly. So you must make sure that you buy a trusted, high-quality product, and you will not experience digestive issues.


Durability
Creatine usually comes in the form of a powder or pills, stored in big jars and bottles. There will be times when we do not manage to spend all of that creatine before the expiry data, but you shouldn't be too worried about it. The expiration date marks when the supplement will start losing its potency, not the date it turns spoiled. So do not throw away your creatine when it expires! But if you do decide to drink creatine after it expires, you might not know how potent it is, so the effects might not be so great, and you will find yourself needing more and more the more time goes by.
There are other things that can happen when your creatine starts to approach that fated day. Your powder can start to form clumps, both small and big, and it can even completely harden. Creatine, and any other supplement in the form of a powder, has ingredients known as hygroscopic ingredients, meaning that when the temperature range is normal, they will attract water and keep it there. If your supplement becomes clumpy, it could just mean that it has all-natural ingredients. Ingredients like artificial sweeteners and colors are dry, keeping the powder moisture-free and not clumpy. If you want to avoid the clumpiness, do not throw away the silica-gel packet you probably received with your creatine powder. If you didn't a silica gel packet, you can always just go out and get some. Keep the packet in your powder at all times, and it will absorb all of that moisture and keep your powder powder-y. You can also give stirring and shaking your creatine from time to time a try. If you do not use it or shake it for a longer period of time, it will become clumpy. Keep your bottle or jar in a cool and dry place, like the fridge - avoid the kitchen counter and the bathroom. If your powder is already clumpy, do not rush to throw it out! You can try breaking it up with a knife, or a fork, or with whatever you feel like is good for that task - or you can just throw it in the blender. Make sure that the creatine has returned to the powder state. If not, you risk ingesting the clumps which could potentially hold a dos larger than recommended, causing digestive issues!


Materials
Your body naturally creates creatine - it's an organic compound essential to your muscles. It's made in your kidneys, and then the finishing touches are reserved for the liver, with the help of three amino acids: arginine, methionine and glycine. These amino acids are then converted into phosphocreatine and phosphate, and are then stored into your skeletal muscles to be later used as energy. But the problem lies in the small amount of creatine your body produces, and the amount it excretes on a daily basis. This is why many athletes and fitness enthusiasts choose to take creatine as a supplement. You can also find creatine in natural sources, likemeat and fish. The creatine found in these foods is the same type produced by our bodies. Yet, if you get creatine from your food only, the levels can still stay low, so supplementing creatine into your routine can be very beneficial.
Artificial creatine is created outside the body, of course, out of cyanamide and sarcosine. These ingredients are combined in a reactor, with a few more ingredients there acting as catalyst compounds. Sarcosine is very similar to salt, and you shouldn't think of cyanamide as cyanide! They just share a few letters, that's all. Once these elements find their way into the reactor, they are heated and pressured to create creatine crystals. When in the reactor, the centrifuge process will remove any unwanted particles, and then they will be vacuum dried to ensure purity. Creatine crystals are then milled into powder, so you can easily mix them with water, juice, or whatever you want. Creatine monohydrate is milled to be a super fine powder, meaning that it will be easily dissolved when mixed with liquid. It will also be absorbed into the muscles easier.
Expert Interviews & Opinions
Most Important Criteria
(According to our experts opinion)
Experts Opinion
Editors Opinion
Users Opinion
By Default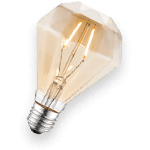 Interactions With Medicine
Taking creatine with other medication can actually cause some side effects, so if you are taking it while drinking other meds tread carefully, and consult your physician. You should also avoid it if you're pregnant! There are a lot of drugs that can interact with creatine, increasing the risk of liver and kidney damage. High doses of creatine (much higher than recommended) can harm your kidneys, and when you combine this with drugs that can possibly harm your kidneys, you put yourself under a lot of risk. Drugs that can potentially harm your kidneys are nonsteroidal anti-inflammatory drugs, or NSAIDs, like ibuprofen (Advil and others) or naproxen sodium (Aleve), cyclosporine and many more. Caffeine and ephedra can potentiate or decrease the effectiveness of creatine, potentially causing harm. Caffeine decreases the effects of creatine, while adding ephedra to the mix can actually cause a lot of problems, serious ones, like strokes! So read the ingredient label carefully, and make sure that your doctor knows you plan on taking creatine.
Potency
You are advised to consider potency carefully, it is not about going straight for the highest potency and getting faster results, Creatine is to gradually saturate the body, build up in muscles to be effective in conjunction with serious training.
Go on the net, research potency levels, if you are a new starter, understand that you start at a low potency level and you gradually build up, this way you will stay on track with the level of potency which will match your current level of building up muscles.
Other Factors to Consider


Bottom Line
Creatine is an excellent supplement, and is definitely one of the most favored supplements in the fitness community, if not the most favored one. It will increase your energy levels, make your muscles bigger, and help them grow stronger much faster. It's important that you do not exceed the recommended daily dose, and that you have loading and maintenance phases to let your body rest. There are no serious side effects of creatine, unless you take other meds that can interact with it, or if you suffer from any kind of disease that is not combined well with creatine. We hope our guide has helped you understand creatine better, and that you managed to find just what you've been looking for!
Frequently Asked Questions
q:

When should I take creatine?

a:

Many people have different opinions on when you should take your creatine for maximum benefits. Some people say that it's best taken before you exercise, since you give your muscles the fuel and energy they need to keep you going. Others believe that you should take it after you workout, because your muscles are deprived from energy and simply crave it, so when you throw it at them they will just suck it up, especially when combined with carbs or protein. And of course, some people just take it whenever they want. The general consensus is that the time you take it does not matter that much, but you can take it either before or after working out, and experience the same benefits.
q:

Is creatine safe?

a:

Many people fear creatine. They've heard horror stories and read terrifying articles about people with damaged kidneys and livers. Or maybe they're afraid of the less severe side effects attributed to creatine, like diarrhea or weight gain. Well, we're here to tell you that you shouldn't fear these side effects, unless you take any meds that interact with creatine, or if your liver and kidneys are already damaged. You will experience weight gain, but that will be the water levels in your muscles, and overall muscle mass increase. So do not fear creatine, give it a chance!
q:

Do I need to drink more water when I take creatine?

a:

A lot of people generally do not drink enough water, so the short answer to this question is yes. Creatine will increase the levels of water in the muscle cells, causing something known as cell swelling. This is why your body needs even more water to function properly when you take creatine. Creatine alone will not make you dehydrated, but it will draw water away from other organs, so make sure that you drink enough water. You should drink 16-18 oz of water more for every five grams of creatine you take!
q:

How much creatine should I take?

a:

This all depends on which phase you are in. There are two phases you should do when taking creatine - the loading phase and the maintenance phase. When you load, a daily dose of 20 grams is what you're going to be needing, divided into three or four separate doses. You should do this for one week. But you can also skip the loading phase, if you do not want to experience the gastric distress some users report. You can just take one measure daily, which is five to six grams, and just go on with that. This is known as the maintenance phase, and it can last as much as you want it to!
q:

With what should I take creatine?

a:

Usually, creatine should be taken with a drink. That drink should most probably be a high-sugar content drink, like juice. This is because the hormone insulin controls the creatine uptake of your body. When you drink a high-carbohydrate drink like grape juice the insulin spikes, increasing creatine absorption by as much as 60%! But if you do take it daily, this amounts to a lot of juice and sugar on a daily basis. Your best option is to consult your doctor so he or she can let you know what the best way to take creatine is for you.