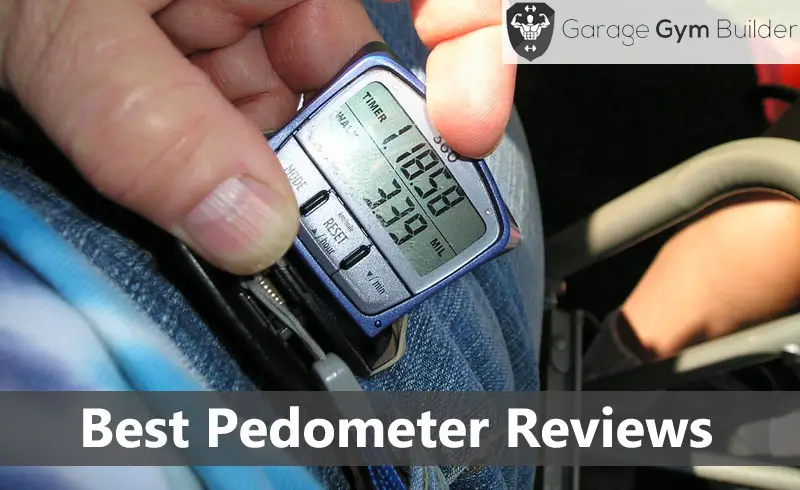 Best Pedometer Reviews 2017
What we call a fitness / activity tracker today began life a number of decades ago as the humble pedometer. And, for all the advances in tech gadgetry, sometimes you just need the basics. If you're not interesting tracking your REM sleep or your exercise heart rate, then this article is for you. That's because we are about to forget all the high tech bells and whistles and go in search of the best basic pedometer on 2017.
What is a Pedometer?
A pedometer is a portable device that is capable of measuring the number of steps a person takes. It does this by monitoring the motion of either the hands or the hips. Modern pedometers are able to account for variation in stride distance to allow for a more accurate measure of steps taken.
Pedometers may be worn on the belt or on the wrist. They are kept on all day in order to accumulate the daily steps taken. Pedometers are useful tools that act as motivators to encourage people to meet a daily stepping goal.
​The often used bench-mark goal to achieve per day is 10,000 steps. This equates to 8 kilometers ( 5 miles). Walking at an average pace for 30 minutes will achieve an average of 3,500 steps. This means that a person will have to walk for about an hour and a half at a moderate pace in order to achieve the 10,000 step goal.
Why are Pedometer Goals Based on 10,000 Steps?
Most pedometers will give you a default step goal of 10,000 steps. It's a reasonable question to ask where this number came from. Is there some magic fat loss set point that you reach when you hit the 10000 step marker?
​The 10,000 step goal originated with Japanese makers of pedometers who used it in their marketing campaigns to get people to buy their product. There was no scientific rationale behind the number; it just seemed like a realistic daily goal.
​Since then, however researchers have taken up the challenge and looked into what constitutes a healthy daily movement goal. And what number did they come up with?
​10,000 steps.
​Now the American Heart Association uses the 10,000 step bench-mark as a recommendation to improve a person's health and lower the risk of heart disease. The Surgeon General of the United States recommends that every person engage in a minimum of 30 minutes of exercise per day. 10,000 steps will achieve that and more. Unless a person has an extremely active lifestyle, it will require some considerable effort to achieve the 10,000 step (5 mile) during the course of the day. It may entail starting to walk to work or going for an after dinner walk in the evening.
​In 2010 a study was conducted to evaluate the beneficial effects of the 10,000 steps per day goal. Results showed that achieving this goal will lower your body mass index, reduce waist size, provide more energy, and lower the risk of type 2 diabetes and heart disease.
Which is the Best Pedometer?
​In order to help you to make a wise buying decision we have scoured the fitness marketplace to bring you the 10 top rated pedometers of 2017. We'll count them down from 10th top pedometer to the number one best walking pedometer on the market today.
The Striive Smart has stylish design that resembles a mini Smartphone. Its full color two-inch touch screen makes it easy to visualize and track your progress. This device works up to one week on a single charge. It also includes a motivating fitness based game. However customer service is not very responsive.
The OZO Fitness SC2 is a reliable and accurate pedometer that contains a 3D sensor to track your steps daily. This is a compact, simple and easy to use unit. It features a large display screen with a clock as well as your step count. This makes it great for the elderly and for children.A 7-day memory is built into this device, so you can store your data for the week.
However, it will reset at midnight each night, allowing for a fresh step count the following day. This slim-line device is silent and unobtrusive, allowing you to keep a daily count of your steps, distance, speed, pace and activity. The distance traveled can be shown in either kilometers or miles.
PROS
Compact device

7-day memory

Distance in kms and miles

CONS
A little difficult to set up

The CSX 3D Walking pedometer offers a multi-functional design. It measures daily step counts and uses its built-in beep indicator to let you know when you've reached your fitness goal. However, the LCD display is a bit hard to read. It comes with a demonstration video and is relatively easy to wear. However, the device is prone to randomly re-setting without warning.
At number seven on our list of the best step counters of 2017, the 3D Trisport delivers incredibly advanced tri-access technology that allows it to record your physical activity with high accuracy regardless of its position or location. This device maintains 30 days of memory. It also comes with a free pdf ebook. One negative is that the unit is a little too heavy to wear around the neck.
The X2 Innovations pocket comes in at number 6 on our list of the best rated pedometers of 2017. It fits right in the palm of your hand, or in your pocket. Its discreet design keeps track of your fitness goals without attracting unwanted attention. The device is sturdy and attractive and easily clips onto a belt. It does, however, have awkward rear button placements.
FitBit make their entrance at number five on our best step tracker list. Capable of connecting wirelessly to your computer or Smartphone, the FitBit Zip makes it easy to set goals and check you fitness data. You can share your stats with your friends and set up competitions. Unfortunately, the battery life isn't all that great. This top rated pedometer does have an intuitive and responsive touch display which is easy to use. The case that the pedometer comes in, however, is poorly designed.
The Omron is capable of recording a seven day history of your stepper activity. This allows you to review an entire week's worth of exercise at any one time. This device will also display aerobic pace walking as a separate measurement. It has a large, easy to read display and a one year limited warranty. You should be aware that when you replace the battery all the settings are wiped.
At number three on our list of the best pedometers for walking is the iTro Prostyle 3. This device delivers built-in 3D sensor technology. It also has ten step error auto correction capability. This ensures the most accurate activity readings possible. It will also reset itself at midnight each day. The ProStyle can be placed in a pocket, bag or sock. It features a progress bar toward your goal for daily motivation. This pedometer comes with a one year money back guarantee.
The 3D TriFit Pedometer activity tracker is a stylish slim-line device that accurately tracks your fitness activity. In contrast to many competing brans, the 3D TriFit gives you the ability to freeze your step count whenever you engage in periods of inactivity, such as sitting down. You get an accurate count of your steps taken, distance traveled, speed, calories burned, and duration of activity. Distances are shown in both miles and kms.
The 3D TriFit Pedometer provides you with a 7-day memory storage of your fitness diagnostics so you can compare your performance. The device resets at midnight, allowing for a fresh count each day. Always-On Screen technology outs the unit to sleep when no movement is detected in order to preserve battery life.
PROS
Freeze function

7-day memory

Preserves battery life

FitBit makes its second appearance on our list to claim the top spot with the FitBit One Activity Tracker. The FitBit One is capable of monitoring your steps, distance traveled, calories burned and stairs climbed. It's convenient silent alarm will wake you up without disturbing anyone else around you. This small pedomoeter is water resistant and auto syncs to computers and Smartphones. It comes with a rechargeable built-in battery. The FitBit One is our best rated pedometer of 2017.
If you are interested in checking the best of the more high tech ports and fitness gadgets that are currently on the market, be sure to check out our investigation of the top coolest fitness gadgets and technology for getting in shape.
The Best Wrist Pedometer Review
The Best Pedometer watch that we have come across is the Garmin VivoFit Fitness band. The Vivofit has a move bar that motivates you to be active throughout the day by displaying a red move bar after one hour of inactivity. Additional segments light up every fifteen minutes of inactivity. You simply need to walk for a couple of minutes to reset the device.
The VivoFit is a 24/7 wearable device. It is stylish, comfortable and water resistant. This is a wristband that is always on and ready to perform. It has an amazingly long battery life. In fact, you will probably get a full year's use out the device before you have to buy another battery.
The VivoFit wristband pedometer has an easy to read display. Vivofit is also smart. It learns your activity level and will set you a personalized goal every morning. It also records the calories burned throughout the day, and takes into account your basal metabolic rate.
​The VivoFit distance tracking watch even monitors your sleep. Simply set the sleep mode when you go to sleep to track the quality of your slumber.
The Best Pedometer Apps for iOS and Android
​If you have a Smartphone you don't have to purchase a pedometer to track your daily step count. Simply download a quality app and you're all set. Of course, you will have to take your phone with you when you go walking, but you're probably going to do that anyway, right? Here are the top 4 apps that are available right now.
Accupedo
Accupedo claims to be the most accurate pedometer app on the market - and their user reviews seem to back that claim up. You can choose your own themes. It features daily logs, history charts, and step editing features. You can track your progress by opening a widget and you simply press down in the day in your history chart to edit steps.
​The Accupedo has easy information viewing. It provides, time, calories burned and speed information. You can also pause Acupedo if you do not want your steps to be counted. Whem paused, Acupedo will not use any battery life.
Endomondo
Endomondo will track a huge range of physical activities from walking and running to playing basketball and lifting weights. As well as tracking your stats during your training sessions, it will provide you with a full analysis after your training is complete.
STEPS
STEPS is an excellent pedometer app for iOS and Android users. The app uses the gyroscope and acceloremeter from your smart phone as a pedometer. It will display the history of how many steps you have taken over the previous week. It will also tell you how long to took you to travel that distance and how many miles it was.
​For a 99 cent upgrade, the app will also track calories. The app allows you to set daily goals. You can also share your steps data with your social media contacts in order to set up challenges.
Runtastic
Runtastic allows you to track your favorite fitness activities, keep a close eye on your activity details and allow friends to follow you in real time with live tracking and cheering. You can also review your route and activity stats and even adds photos and notes to your activity.
Conclusion
There has never been a better selection of training options for the exerciser intent on tracking their step count. Whether it's a basic step counter, a more advanced activity tracker, a wrist watch type device or an app to pair with your Smartphone, you are sure to find the right device. Use this article as your guide to finding the best pedometer to suit your needs.
​If you're after an accurate calorie counter, be sure to read our in depth review of the best calorie counter watches and this article for best fitness trackers of 2017.