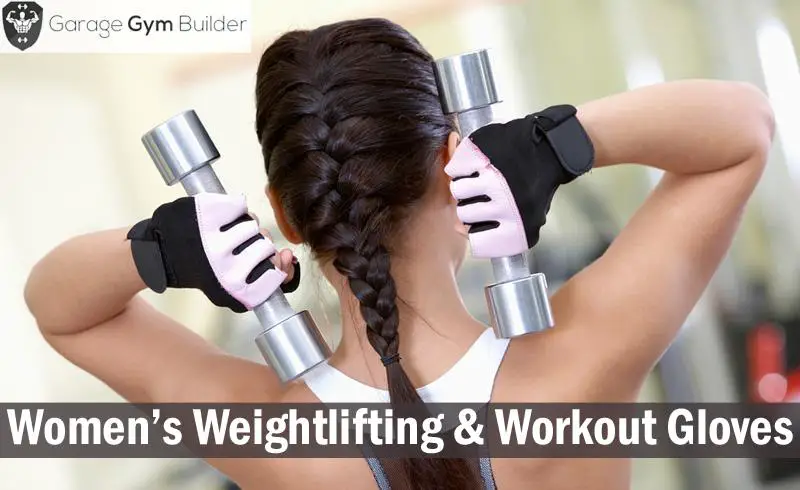 Best Women's Weightlifting and Workout Gloves 2018
The last thing you want as a woman is to smash up your hands every time you rep out at the gym. Yet, blisters, calluses and abrasions are part of the territory when you're serious about working out. That's why you need a quality pair of workout gloves to get you through your workout. As well as protecting your hands, they'll also strengthen your grip, allowing you to hold on for longer.
In this article, we bring you the 9 best weightlifting and workout gloves for women.
A Quick Look at the Top Women' Gloves

The best workout glove for women is the Harbinger Women's weightlifting glove, with its soft gel cushioning, firm wrist wraps and leather construction. Our second top performer is the Nike Women's Fundamental training glove, which provides unique stitch grooving, adjustable straps and padded leather palms. Our bronze medal women's glove is the Meister Women's Fit Grip, which has a very secure non slip grip, great breathability and very comfortable Amara leather.
In order for you to easily compare and contrast the top 9 women's workout gloves, we've rated them on the basis of price and durability and then given an overall rating out of 5. In the following section, we will give an in depth review of each product.
Harbinger Women's Flex Fit weightlifting gloves provide you with a flexible cushioned palm to provide maximum comfort as you grip the bar. The wrist enclosure is also flexible, allowing you to get the perfect custom fit. The unique Tech gel cushioning system provides you with gel support in strategic locations that will make your lifts more secure and comfortable.
The leather palm pads on the Harbinger female workout glove provides extra protection to the hands to make sure that you don't suffer from abrasions and calluses. These gloves come in 3 sizes and are available in a cool purple color. You will love the superior comfort and firm grip that you get when you work out in these weightlifting gloves.
Flexible cushioned palm
Gel cushioning
Leather palm pads
Not suitable for people with long fingers
The Nike Women's Fundamental training glove is a half finger synthetic glove. It has a padded leather palm which provides a high level of protection to the hand while enforcing the strength of your grip. The fabric on the rest of the glove is 65% polyester, 20% nylon and 15% lycra. An adjustable velcro wrist strap provides extra wrist support while allow for a custom fit.
The Nike Women's Fundamental Weightlifting Gloves is a one piece design model, meaning that there is no annoying stitching to cause abrasions on your skin. The stitch flex grooves that are built into the glove make sure that you get extra padding in the right areas. These gloves are great for Crossfit training and plyometrics.
Padded leather palm
Adjustable velcro strap
Stitch flex grooves
Not suitable for heavy weight lifting
The Meister Women's Fit Grip glove is designed especially to fit a woman's hands. It features a non-slip grip and has extra padding on all areas of the palm that come in contact with a bar when you're working out. These gloves have a very good moisture wicking ability, allowing them to stay sweat free while you're training. The mesh on the back of the gloves ensures that they are fully breathable and light.
The Meister Fit Grip women's gym gloves are made from a combination of Amara leather and mesh. They come with easy pull on tabs for the fingers and wrists. These are a great help in getting the gloves off after your workout is done. The black and pink design looks awesome.
Non slip grip
Extra padding
Amara leather
The Contraband Pink Lady 5137 has a vented mesh top that allows your hands to breathe while you are training. It also features quick removal finger tabs, ensuring the the gloves will never get stuck on your hand. Grip lock padding technology give you a silicone rubber beading on the palm of the glove. This gives you a high traction surface that will give you extra gripping power on the bar.
The Contraband ladies weightlifting glove has a very soft interior, that allows you to hold on for longer. The material used on these pink workout gloves has the ability to direct sweat away from the skin, preventing sweat related hand slippage. This product comes with a 12 month manufacturer's warranty.
Vented mesh top
Grip lock padded technology
Very oft interior
The 2 Fitness Women's training glove has an integrated 45cm long wrist wrap. This provides you with the best wrist protection of any gloves we have come across. It also provides you with a superior level of custom fit. The palm is filled with a microfiber material and silica gel anti-lip particles that provide you with a high level of foam padding. This gives a great deal of padding to provide a lot of support.
The 2 Fitness Women's training glove is constructed from terry cloth, providing a very lightweight, comfortable material against your skin. There are breathable panels between the finger panels to keep your hands aerated. They are available in 3 colors and come with a money back guarantee.
45cm long wrist wrap
Microfiber palm material
Breathable panels
Not suitable for pull ups
The MRX weightlifting glove for women is an excellent choice for Crossfit training. It is constructed of Amara leather, proving strength, durability and a very smooth feel against the skin. The backing of the glove features mesh to allow for the maximum amount of breathability. You get extra padding on the palm for greater grip comfort and control. The cool stretch technology allows you to achieve a high level of flexibility through the fingers.
The MRX ladies glove comes with handy pull tabs that make it easy to get the glove on and off. It can be washed and dried in your machine. These cute and comfy gloves will protect your hands while allowing for a comfortable grip while you are doing Olympic moves.
Amara leather
Mesh backing
Extra palm padding
The Fox Fierce Women's Weightlifting glove is a half finger model that is extremely breathable and flexible. It provides padding and extra grip in strategic places to make your palms more comfortable. It also comes with easy pull off tabs that make it easy for you to take them on and off. Made from a combination of leather and synthetic materials, these gloves are extremely durable as well as being super comfortable.
The Fox Fierce Women's workout glove comes with a free training booklet. You also get a no questions asked, 100% money back 12 month warranty. These gloves are very firm fitting, making them ideal for your Crossfit WOD.
Pull off tabs
Extra padding
Free booklet
The BOODUN Women's weightlifting glove comes with a 45cm long wrist strap, allowing you to securely wrap your wrists. It is constructed of high quality lycra. The half finger length of the glove provides a good level of support for your fingers. The back of the glove features stretch back mesh. This not only increases flexibility, but also provides breathability through the whole hand area.
The BOODUN women's workout glove has a silicon and foam gel padding on the palm and fingers to provide you with maximum comfort as you're gripping the bar. There is alo a terry cloth wipe on the thumb to allow you to wipe away sweat. This is a very good choice when you are going heavy on weight exercises.
The RDX Women's Weightlifting glove features unique finger loops to enhance comfort and flexibility. The front of the glove features high grade Amara leather, while the back features Coolmax lycra to provide you with a good deal of breathability. An anatomical pad system allows you to strengthen your grip. There are motion zones over the knuckles of this glove to promote natural hand movement.
The RDX ladies training glove has web zones between the fingers that provide you with a superior level of breathability. They comes in three colors - blue, black and pink. These gloves are machine washable and carry a money back guarantee.
Finger web zones
Amara leather
Coolmax lycra
---