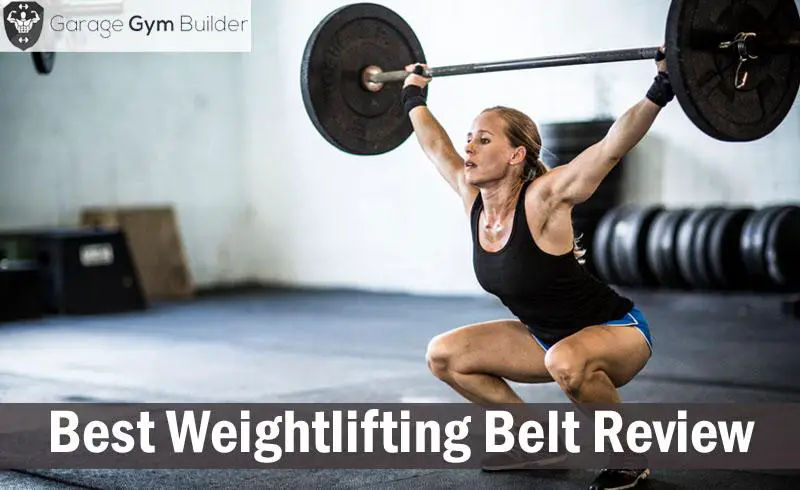 Best Weightlifting Belt Review 2017
When you're ready to gets serious about lifting weights, it's time to step up to a weightlifting belt. Not only will the right belt allow you to lift more weight, it will provide your spine with a lot of support, to make it more stable under heavy weight. You'll be able to squat, deadlift and perform overhead power moves more safely. In this article we identify the best weightlifting belts on the market right now.
A Quick Look at the Top Weightlifting Belts
The best powerlifting belt that we have found is the Grip Power Pads lever model, which provides four inches of uniform thickness and is hand-made from premium natural leather. We are also very impressed by the Dark Iron Fitness genuine cowhide leather belt, which is also four inches around and has an adjustable, non-slip fit. Rounding out our top 3 is the Rogue Ohio, with each individual belt being hand crafted to Rogue's exacting specifications.
To allow you to easily compare and contrast the best weightlifting belts, we've rated them on the basis of price and durability. We've then given each one an overall rating out of 5. In the next section, we go in-depth on each product.
| Product | Product Name | Price | Durability | Overall | Product Link |
| --- | --- | --- | --- | --- | --- |
| | | 4.75/5 | 4.75/5 | 4.75/5 | |
| | | 4.5/5 | 4.75/5 | 4.5/5 | |
| | | 4/5 | 4.75/5 | 4.5/5 | |
| | | 4.25/5 | 4.5/5 | 4.25/5 | |
| | | 4.25/5 | 4.75/5 | 4.5/5 | |
| | | 4/5 | 4.25/5 | 4/5 | |
| | | 4.25/5 | 4.25/5 | 4/5 | |
| | | 4/5 | 4.25/5 | 4.25/5 | |
| | | 4.25/5 | 4/5 | 4.25/5 | |
| | | 4/5 | 4/5 | 4/5 | |
The Top 10 In-Depth
The Grip Power Pads lever buckle belt provides you with maximum lumbar support. The belt is 4 inches wide and 13 mm thick all the way around. This is unlike most models in the market, which are not as wide in the front. The uniform thickness of the Grip Power Pads model means that you get maximum abdominal as well as lower back support.
Each unit is handmade from premium natural leather. The result is a unique product that is a refreshing counter to the mass produced factory models that proliferate the market. This lever powerlifting belt is available in a range of sizes. It makes use of an easy to use but very reliable lever buckle system. This lever weight lifting belt comes with the logo embossed onto it.
PROS
4 inches wide all the way around
Each unit is hand crafted
Lever buckle system
The Genuine Leather Pro from Dark Iron Fitness is constructed from real, hard wearing genuine leather. It has four layers of double stitching to ensure toughness and durability. This unit is four inches across it's entire length, unlike most belts which taper down at the front. This provides you with maximum protection to your whole core as you are pushing maximum loads.
The fastening system on this belt is by way of a heavy duty double buckling system which comes with 11 sets of holes to allow for a precision fit. This belt features an adjustable non-slip fit, meaning that you will have to contend with it slipping while you're lifting. It comes with a 100% replacement warranty.
PROS
Hard wearing cow leather construction
4 layers of double stitching
Heavy duty double buckling system
CONS
Takes some time to break in
The Rogue Ohio Heavy Duty lifting belt is hand crafted to the very high standard that Rogue are famous for. This immediately sets it apart from the mass produced competition. Made from vegetable tanned leather, this model makes use of an all natural tanning method which takes far longer than the more commonly used sole tanning method.
The leather that results, however, is far more firm and durable. It is also water resistant, and has a rich, natural looking brown tone. It gives you a lifting belt that is amazingly strong, yet also soft. Unlike other belts, there is hardly any breaking in time with this belt, so it will perform for you from day one. The Rogue weightlifting belt has a single buckle design.
PROS
Vegetable tanned leather
Made in USA
Reduced break in time
CONS
Not one solid piece of leather
The Schiek weight lifting belt provides comfortable, secure back support while lifting. It is contoured to fit the shape of your body and has a unique patented angle through the rear to naturally fit the shape of the user's back. It also features patented contours in the rib and hip area to provide an even firmer, more secure fit.
Whereas many belts are not as thick in the front, this one actually widens to provide extra support for the abdominals. One way Velcro provides a secure enclosure. This velcro weight lifting belt comes with a heavy duty stainless steel slide bar buckle to keep you strapped in while you're under a load. The belt feels great to wear with no itchiness.
PROS
Patented rear angle
Rib and hip contours
Wider in front than most
CONS
Uncomfortable fit for people over 6 feet tall
The Harbinger Flexible upright foam core belt comes in four sizes, providing you with a large 5 inch wide support system for the lower back. It features a flexible, lightweight foam core to generate warmth in the lumbar muscles while still offering maximum support and guidance. The foam is surrounded by abrasion resistant nylon.
The buckling system of the Harbinger lifting belt consists of a heavy duty steel roller buckle, which is easy to operate and provides a very secure hold. This belt has a tricot lining which is very comfortable against the skin. With 5 inches at the back and 3 in the front, you will get ample back and abdominal support with this unit. It comes with a 90 day manufacturer' warranty.​
PROS
5 inch back width
Lightweight foam core
Tricot lining
CONS
Sizing runs a little on the small side
The RDX Cowhide weightlifting belt provides four inches of back support with a genuine cowhide suede interior to protect the lumbar region from the heavy pressure of squatting. The reinforced double stitching used on this model provides an effective sweat wicking system while also enhancing the durability of the product. The fastening system is by way of a double pronged roller system, which provides a secure, easy release.
The exterior of the RDX weightlifting belt is made from extremely tough wearing buffalo hide. It is four inches through the back region to provide full support to your lumbar area. As a bonus, this belt is shipped in a long box, so it won't be folded.
PROS
Reinforced double stitching
Sweat wicking properties
Tough wearing buffalo hide exterior
CONS
Not wide enough in the front
The Valeo Performance 4 inch VLP low profile belt has a 4 inch wide foam core that runs around the entire body. This provides equal support for the back and the abs. The torque ring fastening system makes use of top quality Velcro, ensuring a fast, reliable securing mechanism. The soft bound edges and tricot inner lining of this unit makes it extremely comfortable to wear.
The foam core of this unit is waterproof. Because this model is lightweight and yet very secure, it is perfect for wearing during your CrossFit WOD, where you are quickly moving from heavy Olympic weight bearing exercises to plyometric jumping and calisthenic type moves. Although not ideal for max heavy lifts, it is a great beginner belt.
PROS
4 inch width all the way around
Torque ring fastening system
Tricot inner lining
CONS
Slight tendency to slide around
The Fire Team Fit weightlifting belt is a nylon belt with an adjustable Velcro support system to allow for precision adjustment. This is unlike a leather belt, which has predetermined belt holes. This model provides you with a rigid level of back support while also allowing you to perform a full complement of CrossFit or plyo type moves. That's because it is more flexible than a leather belt.
This belt features a heavy duty roller buckling system to provide the most secure of fits. It provides a very comfortable fit and is available in a range of colors. It is offered at a very good price and comes with a 100% money back guarantee. It is the best weightlifting belt for crossfit.
PROS
Adjustable velcro support system
Flexible yet firm
Range of colors
CONS
Not wide enough in the front
Leather weightlifting belts are generally regarded as the best on the market. Check out the top on offer with our Best Leather Weightlifting Belt Review 2017 and discover the best of the best.
The FitGirl pink weight lifting belt is especially designed to provide support to female lifters. Probably the most stylish weightlifting belt ever designed, the pink and black design looks cool while being extremely functional. It provides a huge 5 inches of back support, tapering down to a 3 inch front.
Made with an extremely light foam core, this unit has a tricot inner lining that is very comfortable on the skin, while providing warmth to the muscles. The fastening system is by way of a two inch Velcro support strap. This makes for a reliable fast way to get the belt on and off. Because it is so lightweight, this belt is perfect for CrossFit training.
PROS
Especially designed for females
5 inch back support
Very stylish design
Fitgirl is far from the only weightlifting belt designed for women. Check out the full range with our Best Women's Weightlifting Belt Review 2017 - it features the best on the market.
The Ader Leather powerlifting belt is made of high quality genuine leather and has a soft suede inner lining. This makes it extremely tough while also being comfortable wearing. This model is three eighths of an inch thick and four inches wide, providing you with a high degree of support for both your lumbar region and your abdominals. The fastening system uses a double pronged chrome roller buckle and a single loop.
High quality double stitching provides extra rigidity, while also serving as a sweat wicking and moisture resistant measure. The belt is finished in a stylish black. This is a high quality belt that provides solid protection at a good price.
PROS
Soft suede inner lining
Double pronged chrome buckle
4 inch uniform width
Want to know how to wear a weightlifting belt the right way? Find out how to put on a weightlifting belt and when to use a weightlifting belt and what size weightlifting belt you should use with this comprehensive tutorial . . .
Conclusion
The best weightlifting belt for powerlifting, and weightlifting, is the Grip Power Pads lever belt, with it's 4 inches of all round natural leather protection, and solid buckling system. A close second is the Dark Iron Fitness belt, which also provides 4 inches of uniform protection, and features a patented non-slip technology. Rounding out our top 3 is the hand crafted Ohio from Rogue Fitness, which is made from highest quality vegetable tanned leather.