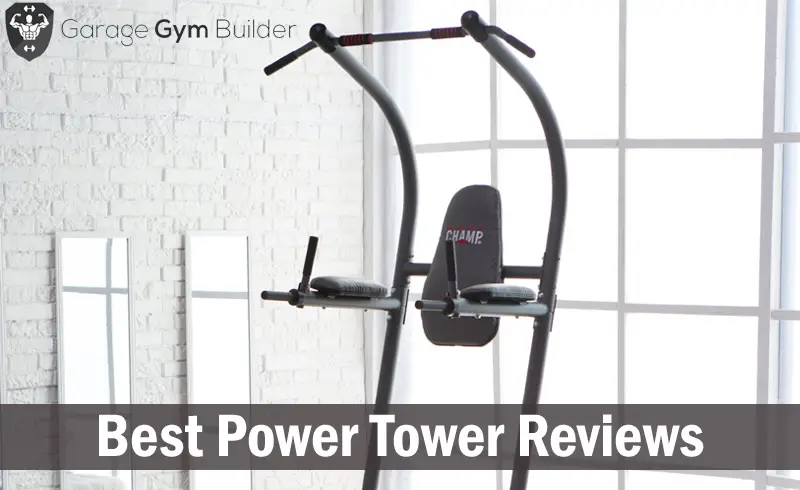 Best Power Tower Reviews 2017
The Power Tower is the ultimate home gym solution. With just one compact piece of equipment, you are able to work your entire body with a range of exercises to make your stronger, leaner and fitter. Because you are hanging from the ground, however, you need a quality tower that is sturdy, stable and rigid. In this article we will bring you in depth reviews of the best power towers on the market.
A Quick Overview of the Best Pull Up Dip Stations
The best power tower that we found was the Stamina 1690 Power Tower, which offers sturdiness, comfort and great exercise range at a fantastic price point. We also loved the Weider Power Tower which features the sturdiest construction of any of the stations we reviewed. Rounding out our top three was the X Mark 4434 Power Tower, which has the best pull up bar station we came across.
There were two other towers that really impressed us. The Gold's Gym XR 10.9 is a very solidly constructed unit that allows you to perform all of the standard power tower exercises, with some extra features thrown in. The Conquer 6-in-1 Inversion Table Power Tower is a unique tower that adds an inversion table feature to allows you to bring relief to your back muscles, as well as all the standard power moves.
Our Top 10 Power Towers at a Glance
We've found the best 10 Power Towers on the market and ranked them to make it easy for you to find the best one for your home gym. We've taken into account the price and durability and then provided an overall rating out of 5.
| Product | Product Name | Price | Durability | Overall | Product Link |
| --- | --- | --- | --- | --- | --- |
| | | 4.5/5 | 4/5 | 4.5/5 | |
| | | 4.5/5 | 4/5 | 4.25/5 | |
| | | 4/5 | 4/5 | 4/5 | |
| | | 4.25/5 | 4.25/5 | 4.25/5 | |
| | | 4/5 | 4/5 | 4.25/5 | |
| | | 4/5 | 3.75/5 | 4/5 | |
| | | 4/5 | 4.25/5 | 4.25/5 | |
| | | 4/5 | 4.25/5 | 4/5 | |
| | | 3.75/5 | 4.25/5 | 4/5 | |
| | | 4/5 | 4/5 | 4/5 | |
Power Tower In Depth Reviews
On the 1690, you can perform pull ups, sit ups, leg raises, dips , push ups and chin ups. There are foam pads on all the handles of the 1690. It is made out of sturdy tubular steel and is held together by eight heavy duty bolts. The result is a solid piece of equipment that does the job well in a home gym setting.
The 1690 is noticeably cheaper than most of the other top rated power towers online. Most free standing pull up bars are in the $200-300 range. You can get the Stamina 1690 Power Tower shipped to your home for less than half the price of the competition!
The pull up bar on the 1690 features wide grip with angles ends. This allows you to work your lats in a variety of ways as you perform your pull up and chin up exercises.
PROS
Very good value for money

Sturdy tubular steel construction

Wide grip angled pull up bar
CONS
Pull up bar distance is a little too wide
The Weider Power Tower is a sturdy addition to your home gym that features four exercise stations; pull ups, dips, push ups and vertical knee raises. The tower features high quality sewn vinyl seats which are filled with comfortable padding.
The Weider Power Tower is constructed of high gauge thick tubular steel. The addition of weight plate storage makes this a very sturdy unit. With a maximum user weight of 300 pounds, you can have absolute confidence in the rigidity and sturdiness of the machine. You will get a little bit of flexion in the unit when you do dips, but it is not enough to make you feel unsafe.
The Weider Power Tower is an extremely attractive looking piece of exercise equipment. It features a black powder coating which gives it a very professional finish. The high quality padding finishes off the look of style.
PROS
High gauge, thick tubular steel construction

Max user weight 300 pounds

Very professionally presented
CONS
Slight frame flexion when doing dips
The Conquer 6-in-1 Inversion Table merges a power tower with an inversion table to provide a very unique product that will give you six functions in one unit. It is an amazingly sturdy and rigid tower that allows you to perform exercises off the ground with total confidence. A simple twist will convert it into a high end inversion table to relax your spine.
The 6-in-1 allows you to perform inversion rest, pull ups, dips, chin ups, squats, leg raises and dips. The unit is completely adjustable to your height and the inversion can be set to multiple angles. The thick padded arm rests provide you with a comfortable exercise experience. The inversion table backrest is also thickly padded to relax your spine as you hang upside down. Foam rollers secure your lower body while you are inverted.
PROS
Multi-angle Inversion Table

Height adjustable

Thick padded arm and back rests

Sturdy and rigid
CONS
No wide grip option for pull ups and chin ups
The X Mark 4434 Power Tower is a sturdily constructed unit made from high grade square tubing steel. It features stations to allow you to perform pull ups, chin ups, hanging leg raises, dips and push ups. The wide bar also features angled ends to allow you to hit your lats from a variety of angles.
The X Mark is constructed from durable 12-gauge steel. The ergonomically designed hand grips provide ideal positioning for leg lifts and dips. The unit features five position adjustable ankle pads, double stitched, tear resistant Duraguard vinyl, and large 14 inch contoured roller pads.
The X Mark features back and arm cushioning for your vertical knee raises and also has push up handles with rubber grips. The tower comes with skid resistant feet to protect your floors and two inch high-density cushioning for extra comfort when working your abdominal muscles.
PROS
High grade square tubing construction

Wide grip pull up bar with angled ends

Double stitched tear resistant pad covers

Skid resistant feet
CONS
Rubber feet slip off easily
The Gold's Gym brand is one of the most recognizable in the fitness industry. So, when you see it on a piece of home exercise equipment you tend to sit up and take notice. The XR 10.9 is a solidly built unit that allows you to perform all of the standard power tower exercises, with some extra features thrown in.
The XR 10.9 is constructed of thick tubular steel and has firm 2.5 inch cushioning to support your back and arms when performing hanging leg raises. It provides you with the ability to do close, medium and wide grip pull ups with great non-slip padding.
The XR 10.9 has an excellent dip station. Thick padded grips are placed 24 inches apart and even feature two footrests to provide you with positioning and support. This tower has a maximum user weight of 300 pounds.
PROS
Excellent dip station

Thick tubular steel construction

2.5 inch cushioning on back and arm rests

300 pound max user weight
CONS
Pull Up station on reverse of unit so can't fit against a wall
The Body Champ Power Tower has a minimalistic design that provides a solid, basic and reliable workout. The heavy duty steel frame gives you five stations and the high quality foam grips provide comfort while reducing strain on your joints and muscles. The pull down handles allow you to get a good grip while used the VKR station and then to lower them for tricep dips.
The Body Champ features a D base design to improve rigidity. The pull up bar has foam grips and an angled wide grip to allow you to hit your lats from a variety of angles. Elevated push up bars give you the opportunity to go deep on this great chest exercise.​
The Body Champ is a compact unit that has protective feet to make sure that your floor remains unmarked. All cushions are seam stitched to provide extra durability.
PROS
Heavy duty steel frame

Elevated push up bars

Durable, seam stitched cushions
The ProGear 275 Fitness Station is constructed with powder coated tubular steel. It can take a weight capacity of 275 pounds. Extended leg stabilizer with non-slip end caps give this tower very good stability and rigidity. Multiple hands grips on the tower provide for different hand positions.
The ProGear 275 has flip up handle system that allows you to position the dip handles completely out of the way when you perform pull ups. Thick two-inch foam padding has been added to the forearm cushion pads and back-rest cushion on the main vertical bar. All the handle grips have been foam dipped for extra comfort and to prevent sweat slippage.
The main frame of the ProGear 275 is angled, so your back can rest on the cushioned back support. This will help stabilize your body from side-to-side movement. A steel brace has also been added to support the main frame post.
PROS
Angled main frame

Extra steel brace

Flip handles

Thick foam padding
CONS
Holes may not line up
Starts to wobble with users over 200 pounds
The Marcy Power Tower is made from heavy duty 14 gauge tubular steel. It is powder coated for extra strength and rigidity. The Marcy has a triangular frame base that allows it to easily fit into a corner while providing the support and stability you need when exercising off the ground.
The multi angle pull up bar allows you to do pull ups and chin ups from a variety of angles, including with a neutral grip. Generous padding ensures that your grip won't fail when you're hanging from the bar. High density foam padding on the VKR pads and back support add comfort to your ab exercises.
The dip and VKR handles flip up on the Marcy tower to allow you to perform pull up exercises without any impediment. All-in-all, the Marcy offers a reliable tower at a great price.
PROS
Triangular frame base

High density foam padding

Multi angle pull up bar
CONS
Starts to wobble when weight exceeds 200 pounds
The BowFlex Body Tower features commercial grade main frame steel construction. It is a very solid unit that will handle a body weight up to 300 pounds. A unique feature of this tower is that the horizontal handles are adjustable to a range of heights up and down the main frame. This allows a wider range of exercises than on most power towers.
The BowFlex Body Tower comes with sling straps to allow you to perform hanging leg raises and other suspended core movements. There is also a tower mounted workout placard that demonstrates eight key exercises. The angle pull up bar allows for a range of grips, including neutral.
The BowFlex Body Tower is one of the more expensive towers we reviewed. However, unique features, including adjustable hand grips, sling straps and instructional placard, make it a top of the line product that is worth the extra investment.
PROS
Fully adjustable handles

Sling straps

Instructional frame mounted placard
CONS
Wobbles slightly when doing dips
The Soozier Fitness Power Tower is a basic no-frills model power tower that will provide you with a reliable way to work your 5 key exercises - pull ups, chin ups, dips, vertical knee raises and push ups. The frame is constructed from reinforced steel. Vinyl covered reinforced padding on the arm rests and back pad add a level of comfort.
The angled support brackets at the base of the unit add to the rigidity of the unit when you are performing suspended bodyweight movements. They also feature foot pads to allow you to align yourself properly for dips. This tower has an impressive weight capacity of 330 pounds.
The Soozier Power Tower is a compact unit that is lightweight and easy to assemble.
PROS
Reinforced steel frame

Maximum user weight of 330 pounds

Compact and lightweight

Foot pads for dips

Angled support brackets
CONS
Pull up grip pads are not very thick
Best Dip Stand Reviews 2017
Dips are one of the best exercises that you can do to gain upper body muscle and strength. They are also one the of the toughest to find quality home dip stands for. Unless your dip apparatus is rigid, balanced, set at the right height and angle, you are not going to get the performance you need.
​We have tested the top 10 home gym dip stands so that you can sort out the best from the rest. Our best dip stand reviews 2017 gives you all the facts.
How To Build a Home-Made Dip Station 2017
Building your own home-made dip station has some distinct advantages; you can customise the dip station to your exact requirements, it will cost less than buying a new one, and you can add different features such as tapered or angled horizontal bars.
You don't have to be a home handyman to build your own dip station. All you need is a little guidance and some basic power tools. Our awesome feature article on how to build a home-made dip station provides you with the entire step-by-step process.​
Best Portable Dip Bar Reviews 2017
Dips are an exercise that you can perform anywhere - so long as you have a sturdy dip bar handy. Trying to do dips between two chair is bound to end unhappily. Portable dipping bars allow you to get in a great dipping workout anywhere, anytime - even when you're traveling away from home.
​We have chased down and put the top 9 portable dip bars to the test. Our article gives the in-depth results so you can find the best dip bar for your needs.
Dips are a great power tower exercise for working your chest and triceps. However, most trainers don't know how to do them properly. Check out this cool video to learn how to get it right . . .​
Conclusion
This article has found and reviewed the 10 best power tower / dip bars on the planet. We've given you the breakdown so you can make the right buying decision. Our favorite is the Stamina 1690 Power Tower, which provides strength, versatility and comfort at an unbeatable price. We also loved the Weider Power Tower, which is a powerhouse of a unit with extra thick cushioning.
Rounding out our top three power towers is the Conquer 6-in-1 Inversion Table. This unique unit combines a power tower with an inversion table to give you total body support.​
[RICH_REVIEWS_FORM]
[RICH_REVIEWS_SNIPPET]