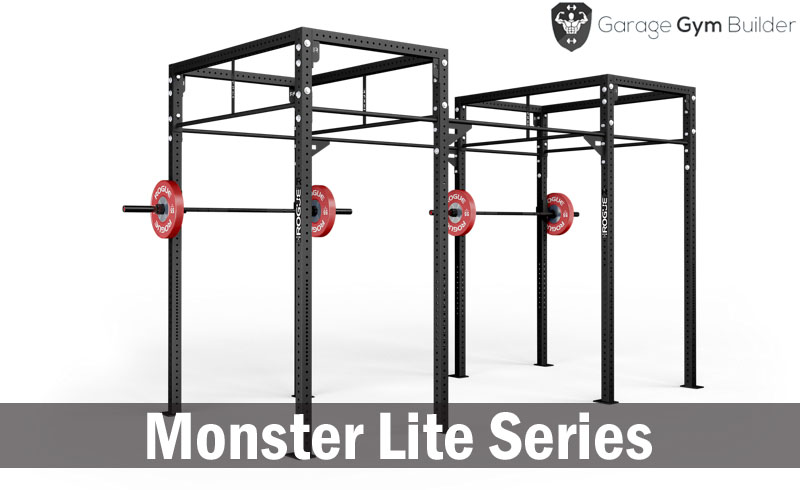 Monster Lite Series Review
The Rogue Monster Lite series of rigs are the big brother of the Infinity series. They come in four configurations, depending on the number of users that you require it to accommodate. This ultra solid rig reduces your multi user training space, enabling you to make maximum use of your training space. The rig is fully customizable, so you can tailor it to your exact requirements.
In this article we go in depth on the Monster Lite Wall Mounted rig.
The Monster Lite series provide you with a more heavy duty rig than the Infinity series. The uprights are an inch thicker, with 3 x 3 inch 11 gauge steel supports and ⅝ inch hardware. As with all Rogue rigs, the Monster Lite Wall Mount is completely expandable by adding either four foot or six foot sections. As a result, the size of your rig is only limited by your space requirements.
You get the choice of whether you want nine foot or twelve foot uprights with your Monster Lite. Both will provide you with plenty of room for doing pull ups, so space available will be the overriding consideration here.
The four configurations that the Monster Lite comes in provides you with between one and three squat / bench press stations, and between three and seven pull up stations. The rig also comes with J-Cups.
The Monster Lite comes in four configurations - (W-10, W-14, W-20, W-24). These provide you with a range of workout stations, from 2 for the ML-10 to 5 for the ML-24. The ML-24 provides you with 3 squat / bench press stations and 7 pull up stations. However, the rig is fully expandable, meaning that your options are endless. This a very solid, secure unit that bolts to your wall to give you a space efficient way to accommodate multiple trainers.​
3 x 3 inch 11-gauge steel uprights
Choice of upright heights
Fully expandable
Rogue Monster Lite Rig Alternatives
The Akonza Athletics Fitness Power Rack is a medium power home use rack that is solid and secure. The framing is made from 2 x 2 inch 11-gauge steel. This rack has a recommended max weight allowance of 700 pounds, which, though less than that offered on the Rogue Monster Lite, should be plenty for most home gym trainers. On the back end of the unit are four plate storage pegs, which add to the sturdiness of the frame when loaded.
The safety of your solo workouts are provided for with Akonza Athletics Fitness Power Rack thanks to a pair of squat safety bars, along with a pair of bar supports. Your purchase of the Akonza Athletics Fitness Power Rack is supported with a lifetime warranty.
Lat pull-down
Low cable attachment
Safety spotter bars
Max weight of only 700 pounds
The Fitness Reality 810 XLT Super Max Power Rack is a very solid home use rack, made with 2 x 2 inch steel framing. It feels amazingly solid when in use, and has a max weight recommendation of 800 pounds. This rack comes with a bench press bench, which is fully adjustable to 12 angle positions. The padded bench is stylish and comfortable nd comes with wheels for easy transport.
The Fitness Reality Power Rack gives you a functional safety support system by way of two 3 ¼ inch long chrome lock-on safety bars, along with two 23 -inch long chrome dual mounted safety bars. This single user rack is deep enough for unrestricted movement inside the rack.
2 x 2-inch square steel framing
12 position adjustable bench
Multi-position pull-up bar
The Fringe Sport Foundation Rig is on a par with the Rogue Monster Lite when it comes to power and rigidity. The framing is constructed from 3 x 3 inch, 11 gauge square steel. You get four and six foot sections that allow you to squat, bench and do pull ups. Reach section features centrally located pull up bar. The basic rig is 9 feet tall, 6 feet deep and 4 feet wide.
The Fringe Sport Foundation Rig comes with dual height cross-members, muscle-up bars and UHMW lined j-cups as standard. Your purchase come with a 12 month warranty.
As with the Rogue Infinity rig, you get a one-year warranty with the Fringe Sport Foundation Rig. The Fringe Sport rig is a budget friendly, functional and sturdy Rogue alternative that will do the job that you need it to do.​
3 x 3 inch, 11 gauge steel frame
4 and 6 foot sections
Muscle up bars
To explore more options, please read our comprehensive guide on power racks. A must read before you buy one.
Conclusion
The Rogue Monster Lite Wall Mount Rig us a beefed up version of the Infinity Rig series. It will meet the needs of the heaviest of training athletes, while also being ideal for multi user scenarios where space is limited. This is a fully customizable unit that gives you an almost limitless number of options as far as bench press, squat and pull up stations go.
If you're after a high quality, alternative to the Rogue Monster Lite rig, we recommend the Fringe Sport Foundation Rig, with its 3 x 3 inch, 11 gauge framing, 4 and 6 foot sections and muscle up bars.
My name is Jim Roose. I'm a former competitive power lifter and gym owner. I've bought millions of dollars of fitness equipment over the last 20 years. This site is my way of giving back to the fitness community that's done so much for me. Every article on here is carefully researched and written by me. Leave a comment if you have any questions.
---