Itek Fitness Tracker Reviewed – Garage Gym Builder
updated January 1, 2019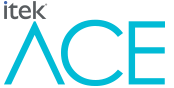 Along with the major players in the fitness/activity band market, are several smaller manufacturers who are creating niche products to meet specific audience demand. They offer the same features as the likes of Fitbit, Garmin, and VivoFit, but often at a significantly reduced price point. One such product is the Itek fitness tracker. In this article, we take an in-depth look at the Itek activity tracker reviews and find if it is as good as the big name products.

The Itek fitness tracker monitors all of your movement to let you know how active you have been. It is, in effect, a high tech pedometer. It will monitor your steps, but will also capture a whole lot of other types of movement so that you can be aware of how much real time activity you are engaged in. Not all of us have the ability or the time to walk a lot, so the ability of this fitness tracker to detect movement even when we are at our desk is a big plus.
The Itek app is Bluetooth 4.0 enabled and works with any Smartphone. It syncs back and forth between the device and your phone at just the push of a button. It will hold up to 30 day's worth of activity, allowing you to monitor and analyze your movement data carefully. This app also connects to Facebook. It will enable you to post your activity and challenge others.
The Itek fitness tracker is also an excellent sleep tracker. With a simple push of a button, you can put the device into sleep mode. It will then give you an overview of your sleep activity, letting you know how much light, moderate, deep, and REM sleep you were able to achieve throughout the night.
Even if you don't have a Smartphone, the Itek will still be a handy tool for you. That's because it's got a digital display. Not all fitness trackers come with a display, especially at the price point at which you can pick up an Itek device. The display gives you a visual of your steps, along with your activity, through the digital display. Also, this fitness tracker works as a standard watch.
This fitness tracker comes in two color options; slate grey and black. As an activity tracker, the Itek will monitor your steps taken, calories burned, distance traveled, and activity time. It does not have advanced features to allow you to track specific workouts. That means that you will not get an overly accurate record of your weight training or Crossfit sessions, as the device will still base its data on the actual steps that you have taken.
When you purchase this fitness tracker, you get a belt clip which will also allow you to wear the device as a clip onto your collar. You also get a wrist band and a charging cord. Not many manufacturers will provide you with both a belt clip and a wrist strap, so that is a bonus with the fitness tracker. When you charge this device, it will last up to a full week. That is very good in comparison to other more expensive trackers, which will typically need to be recharged after 3-4 days. The Itek does come with its proprietary charger, so if you lose it, you'll be stuck until you purchase another one.
PROS
Can be worn as a wrist band or a clip-on

7 days of battery life

Effective sleep tracker functions

Very well priced

Compatible with Android, iOS, and Tablet
CONS
Proprietary charger

Does not include any workout programs
Are you looking for a fitness/activity tracker that will accurately track your sleep as well as your daytime activity? Then you need to read our in-depth review of the best sleep trackers on the current market. Read it here.
Setting Up Your Itek Activity Tracker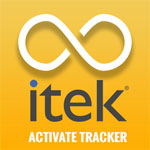 The instruction booklet that comes with the Itek fitness tracker is elementary to follow. The first thing you need to do when you unbox your device is to charge it. You should let it charge for about three hours. Then you should download the app onto your Smartphone. On an Android phone, go to the Google Play Store and search for the 'Itek Activate Tracker'. It has an infinity sign and a yellow logo. Go ahead and install the app on your phone.
You are now ready to activate the band. The app will now step you through the process of connecting to your device. When you pick up your activity tracker, you will find a little tab on the back of the device. Press this to bring a load up bar onto the screen. Wait until the load up bar is full. Once that is finished, the device will have already synced, and you push on the Smartphone app.
You can then sign up for email, Facebook, and Twitter through the app. You then input your data into the app, including height, weight, and gender. Next, you set your goal or target. You can choose from steps, calories, or distance covered. The steps goal is 10,000 per day. You will then be taken to your home screen. It will show your percentage of goal steps achieved and the number of steps you entertained throughout the day. An upper tab will allow you to take a look at the previous day's activity.
Swiping to the right of the home screen will take you to your sleep screen. To monitor your sleep activity, leave the fitness tracker on your wrist, and hold down the little button on the back. Soon a small bed icon will flash up on the screen. It indicates that the device is now in sleep mode. It will detect how much you are sleeping and how deep your sleep activity is.
When you wake up, you hold the button at the back of the device back down again. When you see a little man flashing, you know that the device is back in activity mode.
Conclusion
The Itek Fitness Activity Tracker is a basic activity tracking device that will give you the tracking information of your daily activity that you need to keep you motivated as you strive to get fitter and healthier. The package gives you the option of wearing the device as a wristwatch or as a clip-on device (you can also put it in your pocket). You won't get advanced tracking features to monitor your specific type of workout on the Itek. Nor will you get a built-in heart rate sensor (this is why you are not restricted to wearing it on your wrist).
What you do get with the fitness and activity tracker is a device that does the basics reliably at an amazingly low price. Right now, you can pick up the Itek on Amazon. That price even includes free shipping within the Continental United States. That makes the Itek less than half the price of the majority of the competition. So, if you're looking for a budget fitness tracker that will perform as good as the 'star' brands for half the outlay, then you need to look no further than the fitness and activity tracker.
If you're an avid cyclist, you need a fitness tracker that can perform the advanced tracking that you need to monitor your workout. Check out our in-depth review of the very best 2019 fitness trackers for cyclists here and here for the complete review of the best fitness trackers trending now out there.


My name is Jim Roose. I'm a former competitive powerlifter and gym owner. I've bought millions of dollars of fitness equipment over the last 20 years. This site is my way of giving back to the fitness community that's done so much for me. Every article on here is carefully researched and written by me. Leave a comment if you have any questions.