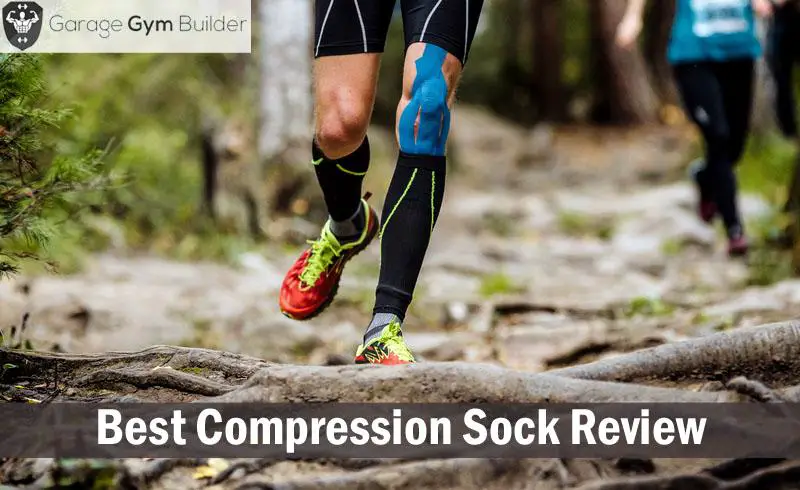 Best Compression Sock Review 2017
Compression socks provide relief to your joints, including the lower back if you are sitting or standing for a long period of time. The increased circulation and compression will help with running and workout performance. However, the major benefit is with recovery from training, because the graduated compression boosts circulation return. In this article, we review the 9 best compression socks on the 2017 market.
The Top Compression Socks at a Glance

The best compression sock on the current market is the 2XU compression sock, which features anatomically designed footbeds, is lightweight and breathable and does a great job of wicking moisture. We also really liked the Danish Endurance compression sock, offering mesh ventilation, along with extra arch and heel padding. Our third favorite is the Copper Joint compression sock, with 12% infused copper nylon and graduated compression.
To make it easy for you to compare the top compression socks, we've rated the best on the basis of price and durability, and then provided an overall rating out of 5. In the next section we review each product individually.
| Product | Product Name | Price | Durability | Overall | Product Link |
| --- | --- | --- | --- | --- | --- |
| | | 4.75/5 | 4.75/5 | 4.75/5 | |
| | | 4.5/5 | 4.75/5 | 4.5/5 | |
| | | 4.5/5 | 4.5/5 | 4.5/5 | |
| | | 4.5/5 | 4.5/5 | 4.5/5 | |
| | | 4.75/5 | 4.25/5 | 4.5/5 | |
| | | 4.25/5 | 4.25/5 | 4.25/5 | |
| | | 4.5/5 | 4/5 | 4.25/5 | |
| | | 4.25/5 | 4.25/5 | 4.25/5 | |
| | | 4.25/5 | 4.25/5 | 4.25/5 | |
The Top 9 In Depth

2XU Compression socks are uniquely designed for left and right positioning. There are newly designed footpads and arch positioning designed to give the best support while the foot is in a sedentary position. This sock is very lightweight and breathable, allowing for maximum air circulation. Yet, it is also very hardy and durable. The circular knit construction has been medically engineered to reduce muscle fatigue.
The graduated compression of the 2XU compression sock allows for blood circulation to speed up as the blood travels up the leg. Anatomically designed foot beds provide extra padding, as does a padded zone on the arch and heel. It is fitted with extreme moisture management to prevent wicking a well as antibacterial SPF 50 sun protection.
PROS
Lightweight and breathable
Anatomically designed footbeds
Extreme moisture management
Danish Endurance Compression socks are made from 65% polyamide, 20% elasthan and 15% lycra. This blend of materialsprovides a high level of durability. The compression level is graduated between 16 and 21 mmHg to enhance blood circulation. The sock is enhanced with extra padding around the arch and heels to prevent blistering and add comfort. Sweat wicking technology make sure that sweat build up is not a problem.
Danish Endurance Compression socks are designed in Denmark and produced within the European Union. Targeted mesh ventilation provides ventilation through the entire sock. These socks have been tested and proven to provide optimal graduated pressure. They are even able to prevent blood clots. This is a great basketball compression sock.
PROS
Extra arch and heel padding
Sweat wicking technology
Mesh ventilation
Copper joint compression socks feature an anti fatigue design thank to their graduated compression design. The compression moves from 15 to 20 mm Hg, providing a boost to venous return. This allows for a slight squeezing effect to improve circulation and blood flow. The copper embedded fibers do a great job of eliminating odors. The sock features 12% infusion of high quality copper nylon. Anti itch UPF50+ fabric provides thermal stabilization.
Copper fit compression socks have a moisture wicking ability to avoid sweat build up. There are also cushioned toe and sole beds that provide extra shock absorption. These copper infused compression socks are great for giving relief to swollen ankles and calves. They come with a 100% money back guarantee.
PROS
Graduated compression
12% infused copper nylon
100% money back guarantee
The Physix Gear Sport Compression Sock is a durable and stylish compression sock that is made to last. It is double stitched to provide extra strength and made with seamless technology so as not to provide irritation to the skin. These extra long socks will provide compression all the way up to your knees. However, the focus on the compression is on the heel, foot and calf.
The Physix Gear sock has moisture wicking properties, ensuring that it won't over perspire. It also able to dry very quickly and is odor resistant. These socks are very easy to slip on and are surprisingly breathable. The high end lycra fabric is very easy to wash and feels great against your skin.
PROS
Double stitched
Extra long
Odor resistant
The Copper Fit compression sock is a short sports sock that features arch compression. It incorporate a breathable mesh venting system that allows the fabric to breathe, keeping you foot aerated and cool. An anti odor system prevents odor buildup. The heel of this sock features a handy tab which prevent the heel from sliding down inside the shoe. Both the toe and heel are reinforced for extra strength and durability.
The Copper Fit sock is copper infused to provide relief to aching feet and ankles. The compression around the heel and ankle also enhances circulation to bring relief from lower body and spinal pain. They are well cushioned and very comfortable, providing support all day long.
PROS
Arch compression
Reinforced toe and heel
Copper infused
CONS
Doesn't cover the calfoesn't cover the calf
Vitalox VT1211 compression socks are made from 70% Silver Drystat, 10% Spandex, 10% Lycra and 10% Nylon. Featuring patented lightweight performance graduated compression, it provides superior performance and recovery ability. The silver drystat fabric provides high levels of wicking moisture resistance, while preventing the growth of bacteria and fungus.
A heightened degree of midfoot compression supports plantar ligaments, arch and heel. This gives a lot of support to your foot, while eliminating blood pooling in the foot. The greatest compression is between the mid-foot and the top of the ankle. This reduces swelling while increasing circulation. These socks are made in Italy and have been put to the test by some of the world's top athletes. The finish is prewashed in a chemical free softener.
PROS
Drystat fabric
Midfoot compression
Anti bacteria
Go2 compression socks are constructed from blended nylon fabric that has been infused with silver in order to prevent the build-up of odor, bacteria, fungus and moisture. This make the sock extremely comfortable. These socks are designed for both men and women. The fabric provides a smooth contact with the skin, reducing the abrasions and stress that come with many competitors.
These socks offer a graduated compression of between 20 and 30 mm Hg. This provides a very good method of speeding up workout recovery, and bringing relief from shin splints and calf injury. Go2 compression socks come in a full range of retro colors and patterns, providing you with lots of variety and choice. They come with a 100% money back guarantee.
PROS
Infused with silver
High compression
Money back guarantee
Fitness Pro Compression socks are designed to provide extra comfort and durability. Their soft fabric provides a very gentle touch to the skin. By applying a graduated pressure of between 10 and 15 mm Hg, these sleeves do a very good job of relieving muscle and joint pain in the ankle, shins and calves. This reduces the build-up of lactic acid, while improving muscular endurance.
The Fitness Pro compression sock comes in a great value 4 pack. What' more, 50% of the price you pay goes to help feed hungry families in developing countries. These socks alo come with a no questions asked money back guarantee. They are available in four sizes. This is a very effective compression sock for calf pain.
PROS
Soft fabric
Graduated pressure
Value 4 pack
The Mojo Recovery and Compression sock features special zone construction, designed to cushion and compress select areas of the foot. Compressions bands provide support to the achilles tendon. This sock has been ergonomically designed to follow the contours of the foot, to give the most comfortable fit possible. All of the seams in the sock are completely flat, so there is no irritation or risk of blisters.
The Mojo compression sock provides a graduated compression of between 20 and 30 mm Hg. This enhances circulation, delivering more oxygen to your muscle cells. When worn after exercise, this helps to eliminate lactic acid and generally speeds up workout recovery.
PROS
Special zone construction
Flat seams
20-30 mm Hg compression
CONS
Doesn't come up high enough
Conclusion
Our favorite compression sock for running, shin splints and lower body discomfort is the 2XU sock, which is lightweight, breathable and anatomically designed for performance. In second place is the Danish Endurance compression sock, which features mesh ventilation, along with enhanced heel and arch padding. Rounding out our top 3 is the Copper Joint compression sock, with its infused copper nylon, great fit and moisture wicking ability.
---