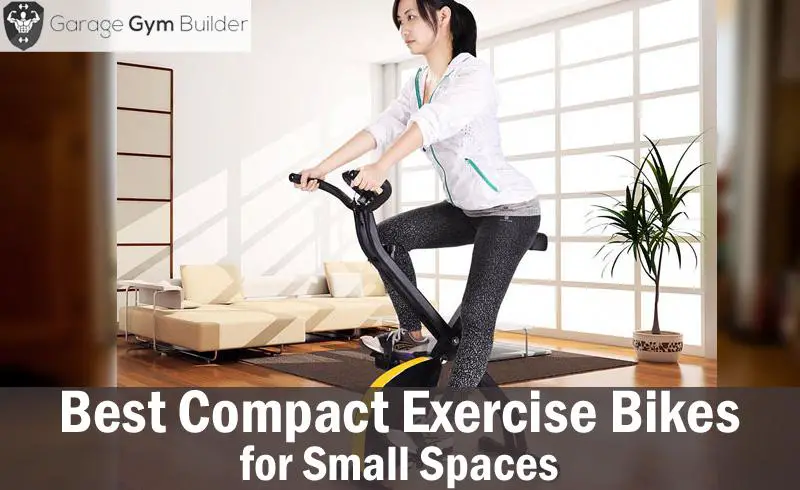 Best Compact Exercise Bikes for Small Spaces Review 2017
Finding the space to work out at home can be a real challenge for many. Apartments, basements and bedrooms often have just a few feet of space that can be used for a short time. Thankfully there are some great exercise bikes to meet this requirement. In this article, we identify the best compact exercise bikes for small spaces that provide you with a quality workout and then can be stored away inconspicuously.
A Quick Snapshot of the Best Recumbent Bikes
The best exercise bike for small spaces is the Exerpeutic Folding Magnetic Upright bike, which is a very solid, yet compact and lightweight unit that provides a smooth ride thanks to its high torque crank system. Our runner up is the Sunny SF-B2605, offering 8 levels of adjustable resistance and a comfortable, ergonomic fit.
Our bronze medal small stationary bike is the Innova XBR450, which has all the features you'd expect with the addition of a tablet holder, back rest and dual precision flywheels.
To make it easy for you to compare and contrast the best compact cycles on the market, we have rated the Top 10 on the basis of price and durability. Then we've provided and overall rating out of 5 for each product. In the following section, we provide in-depth reviews of each cycle.​
| Product | Product Name | Price | Durability | Overall | Product Link |
| --- | --- | --- | --- | --- | --- |
| | | 4.75/5 | 4.75/5 | 4.75/5 | |
| | | 4.75/5 | 4.5/5 | 4.5/5 | |
| | | 4.25/5 | 4.5/5 | 4.5/5 | |
| | | 4.25/5 | 4.25/5 | 4.25/5 | |
| | | 4.25/5 | 4.25/5 | 4.25/5 | |
| | | 4/5 | 4.25/5 | 4/5 | |
| | | 4/5 | 4/5 | 4/5 | |
| | | 4.25/5 | 4/5 | 4/5 | |
| | | 4.25/5 | 4/5 | 4/5 | |
| | | 4.5/5 | 4/5 | 4.25/5 | |
The Best Bikes In-Depth
The Exerpeutic Folding Magnetic Upright bike is a lightweight foldable stationary bike which is solidly constructed with a hardy frame that can handle up to a 300 pound user weight. Leg stabilizers ensure that the bike will sit upright, and the framing is made from robust steel tubing. You get 8 levels of adjustable resistance, along with dual pulse sensors which provide an accurate heart rate reading. This is a rare thing on a cheap folding exercycle.
A three high torque cranking system ensures that you get a very smooth cycling motion with the Exerpeutic folding. This collapsible exercise bike collapses like an ironing board, and weighs just 43 pounds. It is also very quiet to operate. The large LCD monitor allows you to track your training data.
PROS
Compact design
Noiseless operation
High torque cranking system
CONS
Pedals are too far forward
The Exerpeutic 400XL is also a great choice for comfort and convenience. It is a recumbent exercise bike, so it is much more supportive on your lower back. The pedals are also equipped with straps to ensure that your feet don't slip and minimise the pressure on your joints.

The Sunny SF-B2605 is a very simple designed, functional lightweight foldaway exercise bike. It has an oversized seat with comfortable padding. The adjustable 8 level resistance gives you a smooth transition between intensity levels. The LCD screen is large and clear, providing you with readouts of your time, speed, distance and calories burned. The maximum user weight of 220 pounds is little light, compared to the likes of the Exerpeutic folding bike.
The Sunny SF-B2605 is extremely lightweight, with an overall weight of just 37.4 pounds. It folds to a very compact size, which can be stored in a closet or under a bed. The frame construction is solid and this collapsible stationary bike is secure when set up.
PROS
Large, comfortable seat
8 levels of adjustable resistance
Very lightweight
CONS
Max user weight only 220 pounds
If you're a fan of Stamina range, why not check out this Stamina InTone Folding Recumbent Bike which is just as great but also comes at a reasonable price.

The Innova XBR450 is a quality folding compact bike which features some noteworthy extras. You get a sturdy tablet holder that allows you to safely use your technology while your cycling. The precision dual flywheels have multi crank technology to provide a smooth pedal revolution. You also get multi level magnetic resistance adjustment. A backrest provides a good level of lower back support, with the seat being adjustable in four directions.
The LCD monitor is clear, providing you with scanning readouts of you time, distance, calories and speed. Built-in hand pulse monitors provide an accurate pulse reading. The space saving design is very stable and secure. This is a solid unit with extra features that you won't find elsewhere.
PROS
Tablet holder
Precision dual flywheels
Backrest
The Marcy Foldable exercise bike is constructed from 14 gauge steel to provide you with a very sturdy yet compact and lightweight unit. The ride is quite smooth thanks to the magnetic resistance and multi level adjustable resistance. The oversized seat is ergonomically designed and allows for adjustment in both directions. The gripped pedals provide basket cages to allow you to get a secure foot hold.
The stylish monitor of the Marcy foldable provides a clear LCD display that provides you with readout of your speed, distance, time, calories burned and time of exercise. The compact design allows you to train in even the smallest of space, and then store the bike away in a closet.
PROS
14 gauge steel construction
Oversized seat
Stylish monitor
The Ivation Upright bike provides you with an oversized, thickly padded seat which is extremely comfortable. The magnetic tension system gives a relatively smooth riding experience. You get 8 levels of adjustable resistance to accommodate all exercise levels. Brackets are included which can act as a stand for your tablet. There is also a mount to house your TV remote control. The bike folds up like an ironing board to half it size.
The Ivation folding compact exercycle has a large, centrally located LCD screen which provides a scanning readout of your training time, distance, speed, calories burned and heart rate. It has an impressive maximum user weight of 300 pounds, yet weighs just 35 pounds!
PROS
Large, comfortable seat
8 levels of adjustable resistance
300 pound max user weight
CONS
A bit noisy when pedaling
The Merax Folding Adjustable Magnetic bike is a simple design with a solid tubular steel frame. You get a relatively smooth riding experience on this bike and it has an adjustable tension control to allow you to adjust the intensity at which you pedal. A large, secure tablet holder allows you to stay connected while you're working out. The pedals feature adjustable straps so that you can secure your foot positioning.
The Merax compact cycle folds up to a very tight unit that can be stored away under a bed. The centrally positioned monitor provides accurate tracking of your speed, distance, time, and calories burned. The user capacity is 220 pounds at a total product weight of 37 pounds.
PROS
Solid frame
Tablet holder
Adjustable pedal straps
CONS
Seat not very comfortable
Finding the right home exercise bike to meet your needs is a challenge. Take out the guesswork by checking our comprehensive Best Exercise Bikes 2017 - we've got full reviews of the best of the best.
The Ancheer Indoor Magnetic portable collapsible cycle comes with a large, padded back support to protect your lower back while exercising. It also features a 7 level adjustment control system, allowing you to dial in the right intensity for your level. This bike has a very strong steel frame, allowing for an impressive maximum user weight of 400 pounds. The fully adjustable oversized padded seat is fully adjustable and very comfortable.
​The Ancheer lightweight folding exercise bike has a large LCD display that tracks your training time, speed, distance and calories burned. The large pedals have adjustable straps so so you can a secure footing. This unit is very lightweight and is easily collapsible. When set up, however, it is impressively sturdy.
PROS
Padded back support
7 levels of resistance
400 pounds max user weight
CONS
Pedal motion is a little jerky
When you're looking for a top quality exercise bike, ProForm is a brand name that you can't ignore. They've built a reputation for excellence and affordability. Find out if ProForm is the right fit for you with our ProForm Exercise Bikes Review 2017 - it has a complete breakdown of the best of the Proform range.
With multi grip handle bars, a thick padded back support and a wide, comfortable seat, the Best Choice folding magnetic portable exercise bike does a good job of providing user comfort. The sturdy steel frame ensures stability and rigidity when pedaling. This bike has three different position settings to allow you to work your muscles from different angles. You get 8 levels of resistance to challenge you through different intensities.
​The Best Choice exercycle provides you with a functional LCD display which allows you to keep track of your calories burned, distance traveled, time and speed while exercising. This lightweight unit quickly folds away for compact storage. The max user weight is 220 pounds.
PROS
Back support
Multi grip handle bars
8 levels of resistance
CONS
Max user weight just 220 pounds
The Fitleader Upright Folding Gym Cycle features dual action anti skid device handle bars to provide the best positioning and grip while riding. It also has extra large pedals with adjustable foot straps to ensure a secure footing. The heavy duty steel frame provides a solid base to work from and yet is lightweight and compact, folding to half its original size. A 5.5 pound heavy duty flywheel gives a relatively smooth pedal motion.
The Fitleader cycle is very quiet when in operation. It seat is very comfortable and you have backwards and forwards pedaling motion. The monitor is quite basic, but still records your speed, distance, training time and calories burned.
PROS
Dual action anti skid handle bars
Extra large pedals
Heavy duty steel frame
CONS
May not suit taller people
Sunny Health and Fitness have quickly established themselves as a market leader in the home sports industry. Find out their exercycle range stacks up with our Sunny Health Exercise Bikes Review 2017 - you may just find your new bike there!
The BodyRider Deluxe folding exercycle is a quality portable stationary bike at a great price. For less than a hundred bucks you get a solid frame, smooth pedaling and built-in heart rate sensor. The magnetic resistance on the BodyRider Deluxe provides natural, jerk free motion which is rare on a bike at this price point. Adjustable tension control and seat height put you in control to customize your exercise session.
The BodyRider Deluxe features a large LCD monitor which provides you with readouts of all of your key training data. The bike is solid yet lightweight and folds for easy storage under your bed. This a very good choice if you're after a budget bike that performs well and can be stowed away when not in use.
PROS
Well priced
Smooth magnetic resistance
Built-in heart rate sensor
CONS
A little squeaky when pedaling
Are you looking for best mini exercise bikes review? We have those covered here.

A home exercise bike is a great piece of equipment to use for HIIT training in order to ramp up your fat burn. Check out an awesome HIIT exercycle workout here . . .
Conclusion
The best compact space saving stationary bike on the market is the Exerpeutic Folding Magnetic Upright bike, which features a high torque crank system to provide a smooth ride at a great price, and yet is surprisingly lightweight and portable. We also love the Sunny SF-B2605, with its large ultra comfortable seat and 8 levels of adjustable resistance.
Rounding out our top 3 compact exercycles is the Innova XBR450 which comes with such handy extras as a tablet holder, back rest and dual precision flywheels.​