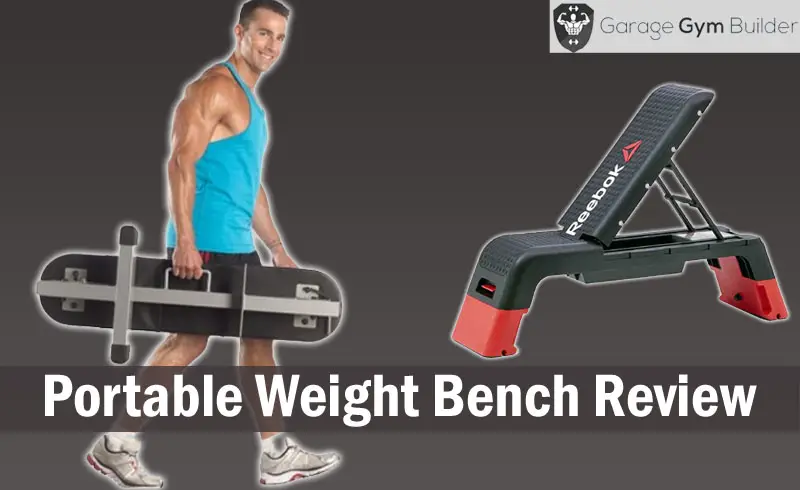 Best Portable Weight Bench Review 2018
Adjustable weight benches are a lifesaver for workout enthusiasts who aren't able to get to the gym all the time. But a lot of really incredible adjustable benches pose a fairly vexing question: Where do you put them when you're not using them?
Fortunately there are a number of great portable weight benches that fold up and can be wheeled away after use. In these foldable weight bench reviews we'll look at our 5 favorites then move on to all the top brands.
Top 5 Portable Weight Benches
No Assembly Needed
Can be adjusted to incline, flat & decline

FREE

cushion for the back
3 Adjustable Seat Positions

Price: 4.75/5

Durability: 5/5

Overall: 5/5

7 Back Pad Positions
3 Position Adjustable Ergonomic Seat
1500 lb. weight capacity
Extra thick 3" Duracraft padding

Price: 4.75/5

Durability: 4.5/5

Overall: 4.75/5

Premium-quality upholstery
Adjustable 6 position back pad
Can be easily attached to squat racks and other machines
Built-in transport wheels and handle grip

Price: 4.5/5

Durability: 4.​5/5

Overall: 4.5/5

Highly adjustable
From 17-degree decline to 90-degree incline
30 years frame warranty

Price: 4.5/5

Durability: 4.​5/5

Overall: 4.5/5

Fully Assembled
7 adjustment positions
Heavy Duty 2 x 3" oval tubing
Lifetime Warranty

Price: 4.​​5/5

Durability: 4.25/5

Overall: 4.5/5
"Best in Class" is our choice for the best collapsible weight bench, bar none. "Best Overall Value" is our choice for the portable bench that will deliver the best dollar for dollar value and our "Most Affordable" is the best portable weight bench for less than $100.
BEST IN CLASS
BEST BENCH IN THE MARKET (REGARDLESS OF COST)
Because of its many virtues this bench is already our favorite overall adjustable bench. And because it also folds up nicely and rolls away on its built-in wheels when you're done with it, it also wins our Best in Class as a portable weight bench. Just an outstanding piece of equipment no matter how you measure it.
​
Features include:
1500 lb capacity
Lifetime warranty
11-gauge 3 x 3 steel frame
BEST OVERALL VALUE
BEST BANG FOR YOUR BUCK
At 57 lbs the Sport Bench is one of the lightest folding weight benches going. The backrest is wide at the base and narrower at the top where you want room to move your arms.
You can also add a dip attachment to ramp up your entire workout. And when you're done, just fold it down and whisk it away.
A remarkable value for money option.
Features include:
Rated to 550 lbs
Fully assembled on arrival
Wide, low profile keeps things stable
MOST AFFORDABLE PORTABLE BENCH
GREAT CHOICE FOR THOSE ON A BUDGET
At first you may not believe this outstanding collapsible weight bench is actually less than most weightlifting shoes, but it is. It has the feel of weight benches many times its price. If you're on a tight budget this is the bench for you.
Features Include​:
Adjusts to all FID positions
Clean no-nonsense design
Wide sharp-looking seat back and saddle
TOP BRANDS OF WEIGHT BENCHES
COLLAPSIBLE WEIGHT BENCH: CONCLUSION
If you've been holding off building your home gym or just buying a weight bench because you thought you didn't have enough space or you'd have to disassemble it every night the time has come to think again. There are lots of great folding weight benches on the market today. You won't have to break your bank to get a foldable flat bench either. So don't wait any longer. Pick up a compact weight bench today and get to work. Are you looking for best adjustable weight bench, we have written an in depth review that you may find useful to read, also on GarageGymBuilder.com.

Top 3 Portable Weight Benches