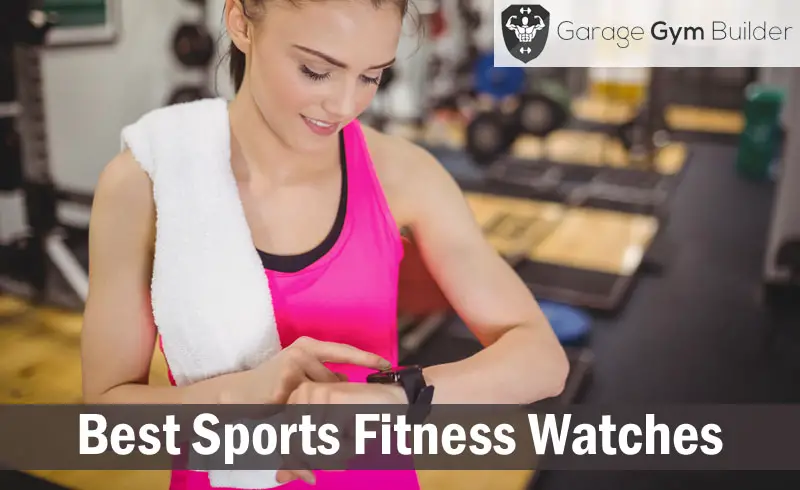 Best Sports Fitness Watches 2018
The general market for fitness trackers and watches has exploded in recent years. As a result, you can find dozens of devices that will record your steps, calories and heart rate. That's great for general fitness enthusiasts. But what is available to meet the needs of the serious athlete or sports person. In this article, we'll uncover the 5 best fitness watches for men of 2018 with our fitness watch reviews.
The best sports watch of 2018 is the Garmin Epix. This is a heavy weight device (with a matching price point) that accurately covers every metric you could wish for. Our silver medal winner was the FitBit Surge, followed by the Polar V800. Rounding out the top 5 were the Samsung GearFit and the Nike + Sports watch.
Sports Watch or Fitness Tracker?
So, what's the difference between a sports watch and a fitness tracker? You can find Fitness bands that don't have a display, but all sports watches will have a screen that shows you the time as its default setting. The Sports watch combines the features of a fitness tracker with those of a Smartwatch. As well as tracking steps, calories and distance traveled, a sports watch will usually also include a GPS, elevation recorder and be water proofed.
Sports Watch Buyers Guide
​When you're shopping for a sports watch, unless you know what to look for it's easy to be overwhelmed by the flash and glitz. Looking beyond the flash, here are the key things you need in a decent sports watch:
​Comfortable strap
​It doesn't matter how cool the features of your watch are, unless you feel comfortable wearing it, it's going to spend a lot of time sitting on your bedside table. You want it to be secure but not too tight, have a reliable locking system and to be breathable. Ideally, your watch will have a resizeable strap.
Water resistant / Water proof
For the best water protection you want a device that is water proof to at least 50 meters. If you are going to be swimming, surfing or boating, you will need this level of water protection. For those who are going to be confined to land based activities, a good level of water resistance is all you need.
You will want to know the IP rating of the sports watch that you are considering. IP stands for ingress protection. It refers to a standard set up by the International Electrotechnical Commission (IEC). Ratings such as IP67 are commonly seen on Fitness Tracker packaging.
The first digit in the IP rating addresses the ability of the device to stop dust from penetrating. Zero is the lowest category and six is the highest.The second addresses the ability of the fitness tracker to stop water from getting in. Zero is the lowest category here, with 9 being the highest.​
Heart Rate Monitor
​An accurate heart rate monitor is an indispensable addition to any decent sports watch. The reliability of optical wrist sensors on fitness monitors is notoriously bad. If you've got a sports watch that pairs with a chest strap you will get a far more accurate reading.
​Display
​You'll want a display that is easy to read and that takes into account the sunlight over the course of the day. Watches with an ambient light sensor will allow you to be able to clearly see the display at all times. A complex watch face might look impressive, but when you're working out, simplicity is the key.
​Stopwatch
​An accurate, easy to use stopwatch is an invaluable addition to a sports watch. Make sure that it can be set up with just one or two touches and that it won't fade out while you're performing. It should also have a clear beeping signal function.
​Thermometer
​A sports fitness watch with a built in thermometer will allow you to regulate your temperature when training under hot and humid conditions. This is also a handy feature to have on your sports watch if you are a regular camper.
GPS
A Global Positioning System will allow you to know exactly where you are and to track your training route. But not all GPS systems are equal. Here's what you need to know about the GPS options out there . . .
Simple Training Watches:

The GPS in a simple training watch is used to track your training position. It will display your speed and distance and other training parameters. It does not have navigation features. If you are running on trails, this type of GPS will be suitable for you.

​Watches for Navigation:

If you are running off trail or off road, you will need a sports watch with built-in navigational GPS. It may have a track-back feature. More advanced GPS sports watches will have a pre-trip route planning feature. You can map out your route from home and then follow through on your watch when running.
Best Fitness Watches 2018
The top of the line FitBit, the Surge, is the only device in the FitBit range that offers GPS. It is the best activity tracker watch in the FitBit range. It will also track your heart rate, and give you all the performance monitoring that you'd expect from a fitness tracker.
In terms of design, the Surge looks nothing like what you see in most sports watches. It is quite big, but does look stylish. It comes in black, green or tangerine. The band is made from a soft, silicone material that makes for a comfortable fit.
There is an optical heart rate sensor on the bottom of the device that measures your heart rate. This sensor is accurate for running, cycling, hiking and day-to-day use. It' not that accurate for cross-training, weight lifting or dynamic workouts.
The FitBit Surge does not provide you with the option of pairing with an external heart rate sensor such as a chest strap. The heart rate monitor runs 24/7.
The Touch Screen display works well. The Surge claims to be able to provide 7 days of battery life. In reality, most users are finding that it runs out after 5 days. It comes with a proprietary charging cable, so if you lose it, you will not have to buy another one. It is water resistant, meaning that it will withstand sweat and splashing. However, you cannot take it in the water.
​The Surge has Bluetooth built in for syncing.
​You can create your own sports programs with the FitBit Surge. With GPS, you can track your running and cycling. A recent upgrade also allows the device to automatically detect which activity you are doing. With FitBit, you can also set up multiple devices on one account.
GPS

Options of 3 sizes

Touchscreen
CONS
Short battery life

A bit bulky
The Polar V800 GPS Sports Watch is Polar's top of the line sports device. It has a very rugged design. You'll need a decent sized wrist to wear it. It is water resistant to 30 meters.
The Polar V800 features advanced onboard software that will meet your every activity need. The companion app is also impressive, though it does leave out a few things.
It will monitor all of your daily movement activities and it will record the key data from your workouts and multi-sport activities. It will track your steps, calories burned, distance travelled, sleep (though it provides minimal analysis) and give you a daily goal. It will also provide you with inactivity reminders, and silent and audible alarms.
The Polar V800 connects with several external energy sensors. This includes heart rate monitors, and foot speed sensors. It also has inbuilt GPS.
On the web app, it also provides you with a wide selection of workout options. This provides a huge selection of exercises to cover most things that you would do during your workout.
The Polar V800 is very strong when it comes to the multi-sport aspect of the watch. It will collect your swimming, running and cycling metrics including distance, pace, speed, speed zone, cadence (requires a stride sensor), heart rate and heart rate zone and route. However it does not provide running dynamics such as vertical oscillation or ground contact time.
Accurate heart rate and GPS monitoring

Lots of advanced fitness analysis capabilities
The Samsung GearFit is Samsung's first attempt at a hybrid between a fitness tracker and a sports watch. It borrows heavily from the company's line of Gear Smart watches. It is a very attractive wearable, with a handsome design and slim profile.
The GearFit is made of rubber and plastic, so it is not premium quality. Still, it does the job required of it nicely.
The Samsung GearFit features a very cool curved touchscreen display. It is bright, vibrant and has incredible viewing angles. It is also very easy to read outdoors.
The rubbery band of the GearFit is comfortable to wear and the clasp is easy to close. However, the horizontal layout of the display is pretty hard to use, with it's horizontal default. The touch screen is not always responsive.
The GearFit will do all of the things you'd expect of a fitness tracker. However, you need to manually turn on the pedometer. A built-in fitness coach provides challenges to help you meet your goals throughout the day.
The GearFit needs recharging every couple of days. Battery charging is by way of a USB charger that comes with the device.​
Waterproof

Built in GPS

Built in Heart Rate monitor
CONS
Not compatible with IOS devices

Short battery life
The Nike GPS SportsWatch is powered by TomTom satellites. It gives you a statistical breakdown of your runs, along with a route map. The watch comes in four different colors.
With the device comes a Nike + sensor, which you place inside your Nike shoe in order to track your gait and movement.
The watch shows the time, date, and current battery status on the home screen. You can also view a day-by-day history of your completed runs. This shows the time, distance, average pace, calories and lap times for each workout. The records screen will show you total miles, fastest mile, fastest 5K, 10K and your longest run. There is also a stopwatch function which is capable of recording individual laps.
The Nike + is water resistant up to 50 meters.
The watch handles 8 hours of GPS tracking before it needs to be recharged.
The Nike + is one of the most affordable watches you'll find that comes with GPS. You can use the watch with a chest heart rate monitor to give you a more accurate pulse reading. It is the best GPS watch for runners.​
CONS
Software features are run-centric
The Garmin Epix is a heavy duty watch for the extreme outdoor sports person. It comes with a standard worldwide map, but there are plenty of topographical maps you can download separately. It has 8 gigabytes of internal storage, allowing you to download lots of information.
Garmin Epix is the most advanced wrist based outdoor watch on the planet. It has navigation, altimeter, barometer, and compass. It has a very rugged design and comes with a whole portfolio of sports and health features. These include:
Activity and sleep tracker

Alarm and move reminders

Sport profiles

Triathlon / Smartwatch features

Phone notifications

Access to Connect IQ

Connect Mobile App
Despite being big and bulky, the Garmin Epix is surprisingly lightweight and comfortable. It is water resistant down to 50 meters. You'll get 50 hours of battery life (24 hours in GPS mode).
​The full color touch screen display makes looking at maps a joy. You get both GPS and GLONAS for a double insurance on your navigation tracking.
For most people, the Epix will be overkill. However, for triathletes, hikers and mountain men this is the ideal selection.​
GPS and GLONAS

Lightweight

Feature packed

8 gigs of internal storage

Full color touch screen

50 hours of battery life
Conclusion
If you're a serious outdoor athlete you need to look beyond the popular general fitness devices and seek out a specialized training watch that is up to the task. Our overview of the best workout watches of 2018 will provide you with a great headstart. We recommend checking out the Garmin Epix first, which we consider to be the best sports watch of 2018. If that device is a bit of overkill for you, then you can't do any better than the FitBit Surge.
Consider to check out more on this article about best fitness tracker review and this article about Garmin fitness trackers to find the best Garmin watch that may suit your need.