1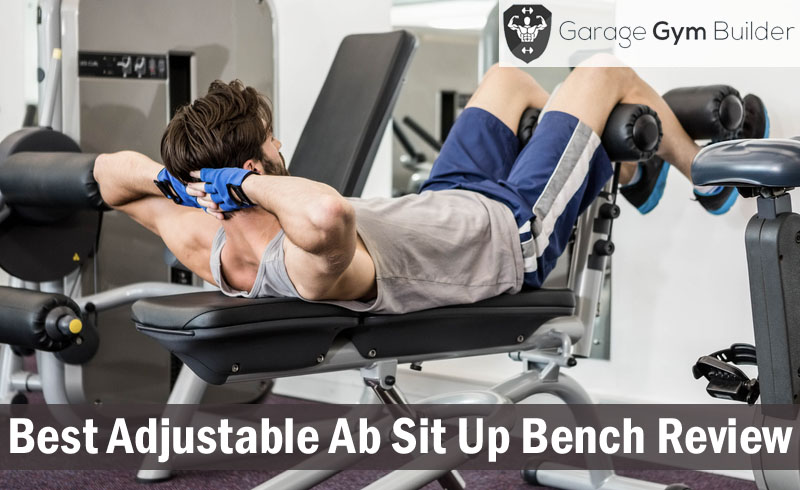 Best Adjustable Ab Sit Up Bench Review
Abs need to be aggressively worked in order to achieve and maintain that coveted 6 pack profile. With abs it's all about resistance which is why decline benches are the preferred instrument for achieving rock solid abdominal muscles. Though an adjustable abdominal bench is, to some degree, only as effective as you are dedicated, the right ab bench can make a quantifiable difference in the quality of your workout.
In these ab bench reviews we'll take a look at our three favorite decline benches and see if we can select the best ab bench from the group.
Our Best Sit Up Bench Review: The Top Three
Our top three decline benches are all first rate pieces of workout kit that will empower you toward your fitness goals. We're going to highlight their (many) strong points individually before selecting an overall best.
The DF-1 is considered by many to be the best adjustable ab bench out there and there's plenty of good reasons for that. The bench is stable and comfortable with the contoured shin supports an especially welcome touch. 11 gauge steel construction ensures this puppy won't flinch under pressure and the 12 decline positions means there's not a muscle in your core that's going to escape serious work.
Key features include:
Dual layer contour padding
600 lb total carrying capacity for serious lifters
Built in wheels for easy portability and storage
Contoured high-density shin pads
---
Apex J.D. - 1.2 Slant Board
The Apex J.D. - 1.2 Slant Board is a very solidly heavy duty 14-gauge tubed framed angled slant board that features high density, deluxe boxed upholstery, along with a durable powder coated finish. It features an extra long slant board to provide more upper body training versatility along with dual foam pads to secure your legs and ankles. This bench measures 52 x 12.5 x 22 inches. The max user weight on this bench is 250 pounds. This bench is manufactured and marketed by the Marcy fitness company.
Key features include:
Heavy duty 14-gauge tube steel framing
Comfortable knee and leg rollers for added comfort
Easy to use, very portable
Attractive price point
---
Here's a board that surprises a lot of people. XMark has not invested heavily in turning their adjustable sit up bench into a design icon. At first glance you might even think you've set up the ironing board by mistake. But once you mount the bench any doubt of its functionality, stability or build quality will go out the window and even if you're particularly heavy or tall this mild-mannered looking piece of equipment will handle you no problem. A simple, affordable piece of purpose-built kit the XMark 12 Position Adjustable Decline Ab Bench delivers the goods with no frills and no problems.
Key features include:
12 angle adjustment settings
Support handle to aid in mounting and dismounting
14-gauge powder coated steel frame
Duraguard, tear resistant vinyl upholstery
Our Choice for Best Value Adjustable Sit Up Bench
XMark 12 Position Adjustable Decline Ab Bench
Since there are only so many ways you can angle an adjustable decline bench to promote a great ab workout we had to fall back on other things to select our best sit up bench.
The XMark was just more comfortable for us in every position and a small touch like the assist handle turned dismounting from a somewhat clumsy affair into a smooth, trouble free motion. Throw in the compact profile of the XMark, its ultra solid yet lightweight construction and its easy adjustability and you have our choice for best overall value in a decline/Ab bench.
If you're looking for an adjustable sit up bench that's going to knock your socks off from a design perspective like some FID or full service utility benches will you're likely to be disappointed. These benches have one thing on their mind: abs, and that focus is expressed in the simplicity of their design and the effectiveness of the workout you'll get.
Our choice for best decline bench will only set you back about as much as a top of the line weightlifting shoe and should last you a lot longer. To see the XMark 12 Position Adjustable Decline Ab Bench in action check out this video.