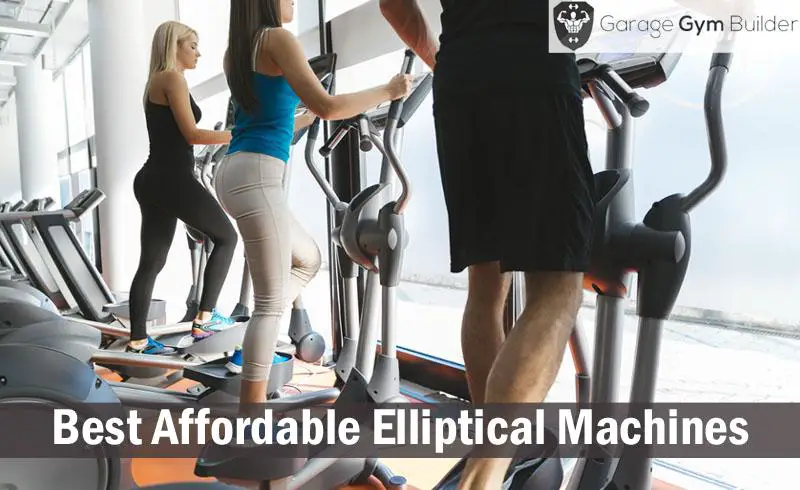 Best Affordable Elliptical Machines Review 2017
Having an elliptical trainer in your home enables you to get a great cardio workout without stepping out your back door. Many ellipticals, however, run into the thousands of dollars and are out of reach for most people. Of course, there are budget ellipticals on the market, but many of them are lacking in quality. In this article, we discover the top 10 cheap elliptical trainers that deliver premium quality along with their brilliant price.
A Quick Look at the Top 10
The best affordable elliptical trainer on the 2017 market is the Sunny SF-E905, which provides you with a quality stride experience, a compact footprint and double handle monitors. We also loved the Gold's Gym Stride Trainer, with it's fluid stride motion, 12 levels of resistance and iFit Bluetooth capacity.
Our third favorite affordable elliptical is the Body Champ 2-in-1, which provides 17 resistance levels, low impact stride and also doubles as an exercycle.
To make it easier for you to compare the best budget cross trainers we've rated each on the basis of price and durability. We've then provided an overall rating out of 5 for each product. In the following section, we go in depth on each trainer.​
| Product | Product Name | Price | Durability | Overall | Product Link |
| --- | --- | --- | --- | --- | --- |
| | | 5/5 | 4.75/5 | 4.75/5 | |
| | | 4.75/5 | 4.75/5 | 4.75/5 | |
| | | 4.75/5 | 4.75/5 | 4.75/5 | |
| | | 4.5/5 | 4.75/5 | 4.5/5 | |
| | | 4.5/5 | 4.5/5 | 4.5/5 | |
| | | 4.5/5 | 4.75/5 | 4.5/5 | |
| | | 4.5/5 | 4.25/5 | 4.25/5 | |
| | | 4.5/5 | 4.25/5 | 4.25/5 | |
| | | 4.25/5 | 4.5/5 | 4.25/5 | |
| | | 4.25/5 | 4.25/5 | 4.25/5 | |
The Top 10 Up Close
Sunny SF-E905 - Best Elliptical Under $200
The Sunny SF-E905 is a solidly performing cross trainer that comes in at a great price. It features a micro tension controller to make sure that your settings are exact, along with oversized anti-slip foot platform and moveable arms. With a weight capacity of 220 pounds, this compact budget unit will be suitable for most people.
The Sunny SF-E905 provides two sets of handles, giving you the choice as to whether or not to engage your upper body in the workout. The LCD monitor provides a clear readout of your calories, time, scan, speed, total distance and pulse rate. With a weight of just 38 pounds and a compact footprint, the Sunny cross trainer will fit into even the tiniest of spaces.
PROS
Micro tension controller
Two sets of handles
Compact footprint
The Gold's Gym Stride Trainer is a solid cross trainer that provides a very smooth rotating action due to it's sturdy inertia weighted flywheel. You get a full range of stride motion in a very fluid action. The Stride Trainer comes with a quality LCD console that displays your heart rate, speed, time, distance and calories burned. 12 levels of variable resistance are provided, making this workout device suitable for all members of the family.
The Gold' Gym cross trainer is iFit BlueTooth Smart enabled, providing you with the ability to access a huge range of workout programs and auto stat tracking functionality. It even has a sturdy and secure platform for your tablet to sit upon.
PROS
iFit Bluetooth Smart enabled
Fluid stride motion
12 resistance levels
The Body Champ 2-in-1 personal is both an elliptical trainer and an exercise bike. It's patented elliptical motion design technology ensures that you get an ideal arc of movement with arm as well as leg mobility. The programmable magnetic resistance system allows you get a low impact workout that won't harm your knees or lower back. With a 250 pound max user weight, this machine is sturdy and robust.
The Body Champ 2-in-1 cross trainer provides you with 17 pre-set workout programs that offer a full range of training types. You also get variable resistance settings and a full function LCD display to monitor your vital training statistics. It's compact footprint and knee price makes it an ideal home gym investment.
PROS
17 workout programs
Elliptical + cycle
Low impact
The Gazelle Freestyle step machine is a free motion strider that allows you to get a maximum range of motion. This provides an effective workout for all the muscles of the lower body, including the glutes. The motion is smooth with no jerkiness or sudden stops. The Gazelle feature a unique dual motion split suspension.
The Gazelle Freestyle step machine gives you a very low impact workout that protects your ankles and your knees. Your upper body also gets an effective workout through the movement of the arms. This unit comes with an onboard computer display to provide a readout of your vital training data. The unit is well constructed, being able to support a max weight of 300 pounds.
PROS
Very smooth motion
Dual motion split suspension
300 pound max weight
The Stamina In Motion mini elliptical trainer is a foot trainer that can be placed under your desk, in front of the couch or under the dining room table. It is extremely compact, lightweight and portable, allowing you to train anywhere, anytime. It is also unobtrusive, making it great for use in the office. Non slip pedals prevent your feet from slipping off the pedals and the feet are designed to adhere to the floor.
The Stamina In Motion has a centrally located LCD monitor that provides tracking of your key workout data. This unit is ergonomically designed for the lowest impact possible. It has a strong, sturdy frame that will provide you with durability and functionality.
PROS
Compact and lightweight
Non slip pedals
Sturdy failure
Schwinn 470 - Best Home Elliptical Under $1000
The Schwinn 470 has a perimeter weighted flywheel to provide a smooth, fluent stride movement. A fast and efficient electromagnetic resistance system adds to the natural fluid movement of this compact unit. Oversized stabilizers and levelers are built into the design on the machine to provide an extremely solid workout platform. Biomechanically designed linkages minimize stress on knees and ankles and facilitate a natural foot motion.
The Schwinn 470 has ergonomically designed handle-bars for comfort. It has a very compact footprint that allows it to fit into any environment. You get 25 resistance levels that provide intensity at your level. The large, clear LCD screen gives you tracking of your calories, heart rate, speed, RPM, time, and distance.
PROS
Oversized stabilizers and levellers
Biomechanically designed linkages
25 resistance levels
The NordicTrack C7.5 provides a 3 piece crank and inertia enhanced weighted 20 pound flywheel. As a result, you get a very smooth and fluid stride motion. Your adjustable stride range is 20 inches, and you get a very low impact movement. 22 levels of magnetic tension provides a full range of variable resistance and are adjusted from the easy use central console.
The NordicTrack C7.5 is iFit enabled, so that you are able to access Google maps training routes. It has a 5-inch backlit display that allows you to record your goals and monitor your progress. You get 26 workout programs across a range of challenge levels. SMR silent magnetic resistance makes sure that the operation is quiet and smooth.
PROS
3 piece crank
22 levels of magnetic resistance
iFit enabled
The ProForm Smart Strider 735 has an easy step through frame that is both lightweight and compact. It has a 300 pound maximum user weight limit.You get 22 workout apps and 20 digital resistance levels. A smooth flywheel provides you with a natural, jerk free striding motion. The tech enhanced monitor is compatible with iFit, and Bluetooth Smart. The LCS display gives you a clear readout of your training data, including calories.
The ProForm 735 has EKG grip monitoring to provide you with a very accurate pulse calculation. You can also plug in your iPod to enable you to play your favorite music while you're training. This is a compact, stylish unit that looks great and delivers a great cardio workout time after time.
PROS
300 pound user weight
Tech enhanced monitor
iPod compatible
The Fitness Reality E-5500XL operates on a double transmission system. That means that you get two flywheels and a two-belt design system to give you a smoother, momentum free ride. You also get 18 inches of range of motion. This trainer has been ergonomically designed to provide you with the very best body positioning possible. A sleek, slim-lined design gives a compact, attractive profile.
The Fitness Reality trainer gives you 24 levels of magnetic resistance, along with 21 pre-set workout programs. This gives you a lot of training options and makes this elliptical trainer ideal for all members of the family. The backlit LCD display provides readouts of all of your essential training data. You get a 12 month warranty with this trainer.
PROS
24 magnetic resistance levels
21 pre-set workouts
Double transmission system
The Universal E40 heavy duty elliptical boasts a perimeter-weighted flywheel that provides a natural, fluid striding motion. The steel frame is very sturdy and compact. The handles are foam padded to provide comfort when gripping the handles. You get a 17 inch stride with the Universal E40. Only 7 workout programs are provided, but they give you a good range of ability levels. The LCD console gives you clear, large readout of your workout stats.
There are also 8 resistance levels on the E40. The weight capacity of this machine is 275 pounds. An eddy brake resistance system provides a very smooth stop / start to your workout. There is a 3 year warranty on the frame and mechanical parts, with 1 year on the electronics.
PROS
8 resistance levels
Sturdy steel frame
3 year frame and mechanics warranty
Conclusion
The best budget elliptical cross trainer is the Sunny SF-E905, with its smooth, natural feeling stride movement, high spec monitor and double handles. The second best low priced elliptical is the Gold's Gym Stride Trainer, which gives you a very smooth, gliding motion, iFit compatibility and 12 resistance levels.
Rounding out our top 3 low cost elliptical machines is the Body Champ 2-in-1, which doubles as an exercycle, while providing a very robust cross trainer with 17 levels of resistance.