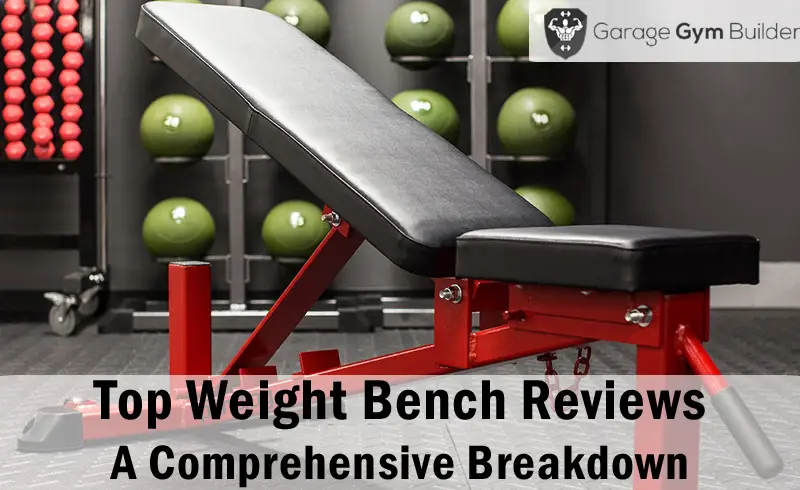 Best Weight Bench Review 2017
Today's best weight benches are compact marvels of engineering. They push the limits of materials and form while maintaining a visual appeal that makes you want to test yourself on them.
In this weight bench review we'll look at what we feel are the best benches available today starting with our three absolute favorites and then expanding outward from there into best benches reviews for all the top brands. For each brand we'll choose a favorite as well.
Our Favorite Weight Benches
We've chosen 3 categories for our favorite benches. "Best in Class" is our choice for best weight bench. Period. "Best Overall Value" is the bench that gives you the most bang for your buck and "Most Affordable" is the bench we'd buy if we had a $100 budget to work with.
BEST OVERALL VALUE
BEST BANG FOR YOUR BUCK
Powerblock Adjustable Weight Bench
The Powerblock Adjustable Bench is a classic FID bench that's compact in size, thoughtful in design (especially the seat back which doesn't cramp arm motion like some benches can), easy to move about due to its built in wheels and comes with a 10 year warranty.
Overall, it's a pleasure to use, very comfortable, easily adjustable, stable, solid and attractive. If you get the urge to splurge and want to accessorize later on, no problem.
BEST IN CLASS
BEST BENCH IN THE MARKET (REGARDLESS OF COST)
The XMark XM-7630 is perhaps the best weight bench for a home gym and our hands down winner for Best in Class. The XM-7630 looks like it was designed by crane engineers and forged in a steel mill and its 1500 lb carrying capacity means that you will never be able to push the bench's limits. The firm, comfortable saddle provides 21 possible lifting positions.
Toss in a lifetime warranty on the frame and built-in wheels for easy portability and you see why this top rated weight bench is our Best in Class.
MOST AFFORDABLE
GREAT CHOICE FOR THOSE ON A BUDGET
Marcy Adjustable Utility Bench
The Marcy Adjustable Utility Bench will take any workout novice where they want to go and also makes a nice addition to the garage gym of any dedicated lifting vet due to the fact that it's easy to set up, comfortable, well built and fully FID adjustable. The seat back is nice and wide for larger folks but you don't sacrifice any stability in the process as the feet are broad and hungry for floor. The fact that they've managed to pack all this into a really affordable bench makes it the best budget weight bench out there and our choice as "most affordable."
TOP BRANDS
---
XMark
XMark's the spot where function and form coalesce. No time or attention is given to superfluous touches that don't serve the larger purpose of creating a bench that exceeds your expectations by several degrees of magnitude. XMark benches are here to work.
---
Take a seat on the firm Duracraft upholstery and settle in for an experience. Start with a vertical military press and work your way down to the most extreme decline position. Throw in some ab work for good measure and keep things going with quick and easy adjustment. The 7630 will accept whatever you can throw at it without skipping a beat. Features include:
11-gauge steel frame
1500 lb total carrying capacity
7 position adjustable seat back and 3 way adjustable saddle
If you'd like to learn more, check out out XMark Weight Bench review where we go over every aspect of it.
---
POWERBLOCK
Powerblock was founded almost 25 years ago and began as a maker of innovative dumbbells. Since then they've branched out and today make some of the best adjustable weight benches available.
---
The Powerblock Adjustable Bench is easy to assemble and easy to use. For those reasons it's one of the best weight benches for home a gym.
It's thoughtfully engineered from the shape of the seat back to the adjusting mechanism and the way it hugs the ground. Features include:
Arrives fully assembled
14 gauge steel construction
550 lb total carrying capacity
We've put together a comprehensive Powerblock Bench review where we touch on all aspects of this fantastic bench, we highly recommend you take a look.
---
MARCY
Marcy has been around a long time. Back when lifting was considered an odd thing to do Marcy was there doing the research, improving the product. Today Marcy is well known for their affordable, high quality benches as well as their line of fitness gear.
---
The REP adjustable workout bench is a durable exercise bench with a max user weight of 1000 pounds. It provides you with 7 levels of angle adjustment on a secure interchange. This allows you to work on incline, flat and decline work. Angle adjustments are between 20-degree and 85 degrees. You also get four different adjustment options for the seat. The bench is generously padded with vinyl, providing a comfortable level of support for your back.
The REP adjustable workout bench provides you with roller pads to lock your legs into place when you are performing decline bench and dumbbell work. Your purchase comes with a 10-year warranty on the frame, with 30-days on the padding. This is an ideal, heavy duty bench for home gym use.
PROS
Flat, incline and decline positioning

10-year frame warranty

7 levels of angle adjustment

---
CAP BARBELL
While CAP Barbell hasn't been around as long as Marcy they're not exactly wet behind the ears. With 25 years experience making and selling free weights, benches and more they've learned to do a lot of things right.
While CAP Barbell hasn't been around as long as Marcy they're not exactly wet behind the ears. With 25 years experience making and selling free weights, benches and more they've learned to do a lot of things right.
---
The CAP Barbell Deluxe Utility Bench is a best value weight bench for lifters on a budget. 7 seat back positions and 3 saddle positions mean every one of your previously ignored muscle groups is going to get a workout.
It's hard to believe the bench weighs only 42 lbs because it's as stable as many much heavier benches. Features include:
12-gauge steel construction
Durable, box-stitched vinyl upholstery
Powder coated finish resists wear and tear
We have made it easier for you to choose a suitable CAP weight bench. You can read and compare various benches available by CAP.
---
HAMMER
Hammer is not for the budget lifter, however, as their benches often run well above $1000. Still, if you have the capital you won't be disappointed.
---
The Hammer Adjustable Strength Bench can be partnered with all manner of Hammer strength racks and cages to create the ultimate garage gym.
It's an excellent commercial adjustable weight bench that never wobbles under pressure and will still be providing you with worry free service when your kids are old enough to use it. Features include:
Simple, easy to handle adjustability
Computer Aided Design mean close tolerances
Pro version can be screwed directly to the floor
Get to know more reasons why you should buy this Hammer Strength Adjustable Bench through our detailed analysis. We suggest you to have a look!
---
IRONMASTER
Ironmaster makes 1 weight bench: the Super bench. They seem fine with that and the quality of the Super Bench speaks to the notion that maybe they're on to something with this single bench focus.
---
The Super Bench is versatile, built of 12-gauge steel and comes ready to perform right out of the box.
If you're looking for the best bench for a home gym you have to seriously consider the Ironmaster Super Bench. Not least because it can be easily tripped out as well. Features include:
1000 lb total carrying capacity
Adjustable to 11 different angles
Total weight of 64 lbs makes for ease of portability
To know more details about this great super bench, we recommend to read our Ironmaster Super Bench review. Know more about its capabilities.
---
YORK BARBELL
Like Marcy, York Barbell has been there from the beginning of the fitness movement. Today there is virtually nothing related to strength training that York doesn't manufacture, including some of the best affordable benches on the market.
---
The York Utility Bench is a great piece of garage gym kit that more lifters are turning to for its price and performance.
It won't set the world on fire with its design but you'll feel the burn once you get to work on one. Features include:
Folds up tightly for easy storage
Easily adjusts to 10 different settings
Available leg restraint system for ab work
Compare the well built yet affordable York Barbell Adjustable Fitness benches and know which one is best for your fitness regime.
---
LEGEND
Legend fitness equipment has been made in the USA since 1977 and today manufactures a full line of fitness equipment from their base in Tennessee.
The Legend weight bench is considered a best gym bench because of its customizability and ease of integration with the company's other products.
---
The 3 Way Utility Bench is tough as nails, adjusts to 21 different positions and is always easy to spot due to its customizable look.
Beyond aesthetics though the bench is overbuilt and, as a result, incredibly stable. All that redundant strength means it also clocks in at the top end of the price spectrum. Features include.
Fully customizable look
11-gauge 3x3 steel framework
Full integration with other Legend products
What's so special about this bench. Read our Legend 3 Way Utility Adjustable Weight Bench review to know more about its features.
---
LIFE FITNESS
The Life Fitness Signature series is the stuff of (good) science fiction. Compelling, beautifully engineered and unapologetically forward-looking.
---
With the Multi-Adjustable bench design, materials, profile and attitude all work together to create a piece of fitness equipment that embraces what's best about today.
Versatile, attractive and extremely well built the Multi Adjustable Bench is mechanical craftsmanship at its best. You're going to pay more for it but Ferrari's aren't cheap. Features include:
Rubber 'feet' for optimal grip
Voracious stability
10 year warranty
Why this amazing bench is known as "Ferrari of Workout Benches. Read our Life Fitness Adjustable Bench review to have a closer look at this Multi Adjustable Bench.
---
POWERTEC
The Powertec brand comes out of the vibrant body building culture of Southern California. They've been around almost 20 years now and their equipment has reached a certain level of maturity in that it looks great and there's plenty to appreciate under the surface.
---
The Reebok Professional Deck Workout Bench is an adjustable workout bench that doubles as a stepper. It will provide you with a sturdy high, low or incline step to allow you to get in an effective cardio workout. The adjustable height positions are 8 inches and 14 inches high. It can then quickly be adjusted to a solid bench with incline options.
The Reebok Professional Deck Workout Bench also has four resistance band attachment points to add even further to your workout options. Under the deck storage allows you to keep all of your training gear together in one space. The incline / flat / decline bench allows you to train at three different angles.
PROS
Doubles as a stepper

Under deck storage

3 angle adjustment

---
NAUTILUS
Nautilus as a company needs no introduction. But many may not be aware that the company has branched out over the years, acquiring other fitness-related companies and diversifying their own portfolio.
---
The NT 1020 has a nice clean look that pretty much expresses the personality of this bench. It has a generous footprint we wish more of the best weight bench brands would incorporate and 11" wide, double-stitched upholstery that's comfortable and durable. Features include:
Full FID capability
Wide footprint provides excellent grip
Generously proportioned saddle for extra comfort
What makes it the classic Flat/Incline/Decline. Read in our Nautilus Adjustable Weight Bench review to get insights about this performance-oriented bench.
---
FITNESS GEAR
Fitness gear benches are probably best known as entry level gear for novice lifters, but there's plenty here to appease die-hards as well. Fitness Gear benches are built to last and to leave a few bucks in your wallet.
---
The Fitness Gear Pro Utility Bench is a fully functional FID bench that will allow you to ramp up your workout routine and handle any weight with confidence. Stable, effective fitness tech for all levels of enthusiast. Features include:
Adjustable to 8 different positions
Integrates fully with Fitness Gear racks and cages
600 lb total carrying capacity
Know more about these high quality - low price through our Fitness Gear Pro Utility Bench review, comparing three of the best benches from Fitness Gear.
---
ROGUE FITNESS
Rogue's flat benches are purpose built for maximum stability, comfort and utility during your dumbbell routines. They may seem like they're missing something, until you put them to work.
---
With a frame forged from 3x3 inch 11-gauge commercial grade steel the Monster is ready to serve you for the duration.
Powder coated steel framing
Lightweight yet incredibly sturdy
Interchangeable bench pads
Read into details about the best flat bench in our Rogue Utility Weight Bench review. A detailed side by side comparison of the Rogue fitness benches.
---
PRECOR
Precor is one of those fitness tech companies that's not very well known by name but is well represented in fitness clubs everywhere. They make everything from highly-sophisticated high-tech treadmills to the simple Multi-Angle bench featured here.
---
The Multi Angle Bench is a solid FID bench made to integrate with other components but which works just fine as a standalone. It provides the full range of FID motions and presents a spare profile.
That's because the designers know that bells and whistles do not make a great bench. Features include:
Full range of FID positioning
High-grade structural steel
Ultra light weight: 55 lbs
This makes you think why every other bench is so overbuilt. Read our Precor Adjustable Bench review to know why this is the best possible bench from the least possible material.
---
BODY SOLID
Body Solid weight benches are innovative in their design, convenient in the way they fold for storage, easy on the eye and come ready to go. Oh yeah. They're also affordable and can carry insane loads.
---
The Body Solid GFID225 is a breeze to set up and a pleasure to work out. Rated to 1000 lbs the GFID225 has what it takes to satisfy even the most experienced lifter.
A serious bench that's easy to work with from the moment you slide it out from under the bed. Features Including:
Lifetime in-home warranty
Low, rock-steady profile
Double-stitched upholstery
A detailed one on one analysis in our Body Solid Adjustable Weight Bench review will help you which weight bench suits your fitness regime best.
---
BOWFLEX
Bowflex burst on the scene some 30 years ago with their resistance training equipment. They still make and sell lots of those machines but they've also branched out into more traditional methods of strength training i.e. free weights and free weight benches.
---
The 5.1 has a handsome articulated seat back and a clean, no-nonsense overall appearance. The 5.1 demonstrates the Bowflex designers are hard at work making their benches not only functional but easy on the eye too. Features include:
Frame carries 30 year warranty
Adjustable to 6 incline/decline positions
Leg restraints for ab work and decline presses
Confused which one of the 3.1, 4.1 or 5.1 bench from Bowflex is best for you? Read our side by side comparison of the Bowflex Weight Benches review and know the utilities of each on of these.
---
WEIDER
Possibly the most recognizable name in strength training Weider benches have a lot to live up to and for the most part do an admirable job. A Weider bench is maybe the best weight lifting bench for novices due to their combination of affordability and consistent performance.
---
The Adidas Performance Flat Training bench is a very sturdy, solid bench that is well padded. The oversized pad is 2.5 inches thick and made of high density foam. This provides you with a good amount if cushioning to the lower back. The low profile design keeps you close to the floor for enhanced stability when doing heavy lifts.
The bench has been tested to 1000 pounds max weight capacity, but the suggested max weight is 600 pounds.The Adidas Performance Flat Training bench is constructed rom large diameter steel tubing and powder coated in a stylish gray. The box upholstered construction design makes for a very rugged workout bench, suitable for the toughest of workout sessions.
PROS
2.5-inch thick padding

600-pound max user weight

Upholstered box construction

---
UNIVERSAL
Universal is another manufacturer known for creating high quality, entry level equipment for novices and part timers. Universal is also a Nautilus product so you can be reasonably sure it'll live up to that company's high quality standards.
---
The Five Point Weight Bench checks in at a very frugal price which, considering the build quality and durability, makes it one of the best home weight bench in terms of value for money.
When utilized properly this FID bench will let you push your limits with its 430 lb max carrying capacity. Features include:
Removable leg restraints
Extremely stable regardless of routine
Contoured Duraguard vinyl upholstery
Click here for the best Universal Five Position Weight Bench review. Read our in depth article to find out which universal five position weight bench is right for you.
WHAT TYPE OF BENCH ARE YOU LOOKING FOR?
Benefits of the FID Bench
An FID (flat/incline/decline) is the best weight bench to target the largest number of muscle groups possible in order to achieve a balanced look to your new, sculpted body. Whether you're going for big and bulky or trim and cut a great FID bench will get you where you want to go. Many FID benches also incorporate a leg restraint system that allows you to bring your abs directly into the workout. The FID experience is different than that of the classic Olympic lifting routine and is more focused on creating all around strength rather than brute force. Click here for more.
Best Adjustable Ab Bench
Once you've got your incline/decline routine up and running you'll likely want to add exercises that will help give your new body a more well rounded aspect. Ab routines are a great place to start. As mentioned many FID benches come with a foot restraint feature for ab work but there are other benches that bring far more concentrated focus to the abdominals. Click here to read our thoughts on the three best ab decline benches.
ADDITIONAL INFO / BUYING GUIDE
Adjustable benches are not about expressions of brute force like Olympic lifting. You get an adjustable bench because you want to sculpt your body into something both fit and attractive. By the same token you're not going to be doing 400 lb Olympic deadlifts in your bedroom but there's no reason you can't set up your folding adjustable FID bench there and get in some dumbbell work while you watch the game on TV. With that in mind here are a few things to look for in an adjustable bench:
Size - Space is a primary consideration for most people when it comes to having exercise equipment in their home. Take careful measurements of the space where you plan to set up your equipment and then make sure your bench (and accessories) will fit.
Portability - Is your home gym going to be a permanent fixture or something that comes and goes when you need it? If you plan on setting up/breaking down on a regular basis make sure you get a bench that folds down and stores away easily.
Price - You can pay as much as $1000 or more for the top adjustable benches. But do you really need to? While there's no doubt those benches are great kit, it's also true that you can get some tremendous equipment for a fraction of the cost of the most expensive benches. Check out our page on the best affordable FID benches.
You can also read more on our reviews for the best and most affordable portable benches.

PROS
Adjustable resistance

Heavy duty steel construction

LCD computer

Skid resistant foot pads

Band resistance

Twist function