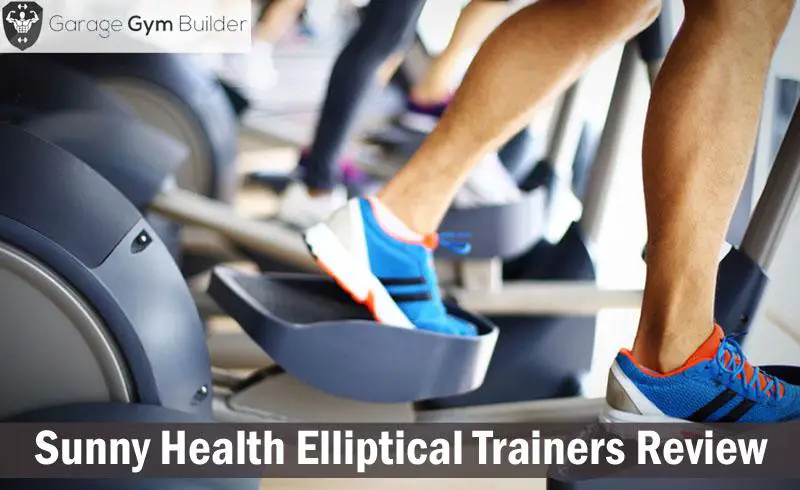 Sunny Health Elliptical Trainers Review 2017
Updated on 4th April,2017
Sunny Health and Fitness are premiere distributors and importers of leading home fitness equipment that is manufactured in China and Taiwan. Sunny are able to source directly through their huge network of manufacturers, meaning that they can bring the best prices to market. The quality of their products is second to none. In this article we review the best of the Sunny Elliptical range. Then we take a look at three quality Sunny alternatives.
The Best Sunny Ellipticals
There are 16 machines in the elliptical range, including cross trainers, under desk ellipticals, magnetic and flywheel models. We've selected their three most popular models to review.
The Sunny Air Walker is a bodyweight driven elliptical machine that provides you with full range of motion. This allows you to fully activate the glutes, hamstrings and butt. Because you are elevated in space, there is absolutely zero impact when you train on this machine. A comfy ab support pad ensures that your body is in the correct anatomical position, while also protecting your core and lower back.
The Sunny Air Walker provides you with a very smooth, jerk free and quiet operation. The built-in monitor allows you to get an accurate readout of your time, count, total distance, and calories. The unit, which has a total weight capacity of 220 pounds, can be folded away for easy storage.
PROS
Zero impact
Ab support pad
Smooth, jerk free motion
CONS
Ab support limits range of motion
The Sunny Health and Fitness Twist Stepper is a minimalistic twister with no upright central unit or handles. However, it does provide you with a pair of resistance bands and a smooth twisting action to provide you with a unique motion. This motion will effectively work your thighs, glutes, hamstrings and intercostals. It does all of this without placing any stress on your joints.
The Sunny Health and Fitness Twist Stepper provides you with an adjustable level of resistance so you can adjust your progression. It is constructed from heavy duty steel to provide you with a sturdy frame to work from. The footplates are large and is slip resistant, assuring the you always have a firm footing from which to work.
PROS
Unique twisting motion
No joint stress
Heavy duty steel construction
The Sunny SF-E36-09 is a more solid, sturdy and rigid version of the pink magnetic trainer. It features a variable resistance magnetic system that is quiet and operates very smoothly. As with the other two models we've considered, you get 8 levels of adjustable resistance. The LCD monitor displays the time, distance, calories, pulse and odometer. Hand pulse sensors give you an accurate readout of your training heart rate without letting go of the grips.
The Sunny SF-E36-09 has a maximum user weight of 265 pounds and weighs in at just 71 pounds, making it easy to position and move around the room. The dual action handles allow you to get the ideal upper body positioning, so you can effectively work your arms and torso.
PROS
Solid frame
Max user weight 265 pounds
8 levels of resistance
Sunny Alternatives
The Sunny range offer you what may be the best value offering when it comes to budget entry crosstrainers. The Gazelle Freestyle stepper provides a very full range of motion, dual motion split suspension and a 300 pound max user weight. The ProForm Smart Strider 735 also allows for 300 pounds user weight, has a tech enhanced monitor and provides 22 workout apps. The Fitness Reality E-5500XL has 24 levels of magnetic resistance, 21 pre-set workouts and a double transmission system.
The Gazelle Freestyle step machine is a body propelled free strider that allows you to get a greater range of motion than the majority of ellipticals. You get a very smooth, natural motion that will engage every muscle in your lower body. This unit features a unique dual motion split suspension. Because you are suspended in mid air, you also get an extremely impact friendly workout when you train on the Gazelle Freestyle stepper.
The Gazelle Freestyle stepper is a simple machine that gives an effective workout to your entire body. The onboard computer gives you a readout of your esential training data, including speed, distance, time, and calories. The maximum user weight of this trainer is an impressive 300 pounds.
PROS
Very smooth motion
Dual motion split suspension
300 pound max weight
The ProForm Smart Strider 735 is a higher spec alternative to the Sunny range. It provides you with a 300 pound max user weight, which is 35 pounds more than the most rigid Sunny model. You also get two and a half times the number of resistance levels and 22 workout apps. Your heart rate is monitored by way of EKG pulse rate tracking.
The elliptical motion of the ProForm Smart Strider 735 is smooth and fluid, allowing you to get a very natural workout motion. The monitor is fitted with iFit technology, along with Bluetooth Smart, vastly increasing your workout options. This is a mid priced machine that gives you a very good workout and will withstand the test of time.
PROS
300 pound user weight
Tech enhanced monitor
iPod compatible
The Fitness Reality E-5500XL provides you with double flywheels, along with a double-belt design system. This delivers a superior elliptical motion that feels extremely natural and allows you to engage all of the muscles of your upper and lower bodies. This unit has a compact, slim-lined design that saves space and makes it easy to move the unit around your home. You get 24 levels of magnetic resistance and 21 pre-set workout apps.
The Fitness Reality trainer gives you a backlit LCD display to make it easier to view readouts of your calories, distance, speed, time and pulse. You also get a 12 month manufacturer's warranty. The extended user weight capacity is 270 pounds. Transportation wheels are also included.
PROS
24 magnetic resistance levels
21 pre-set workouts
Double transmission system
Conclusion
The Sunny Elliptical range offer some of the best price entry level machines on the market.
The Sunny Air Walker delivers 8 resistance levels, is compact and inexpensive. The Sunny Health and Fitness Twist Stepper is a statement making hot pink, has large anti-slip floor platforms and is very lightweight. The Sunny SF-E36-09 offers a very solid frame, provides a 265 pound max user weight and provides 8 levels of resistance.​
As alternatives to the Sunny range, the Gazelle Freestyle stepper delivers 300 pounds max user weight, an extreme range of motion and a dual split suspension. The ProForm Smart Strider 735 has 22 workout apps, iFit technology and 300 pounds of user weight. The Fitness Reality E- 5500XL provides you with 24 levels of magnetic resistance, a double transmission system and 21 workout programs.
---