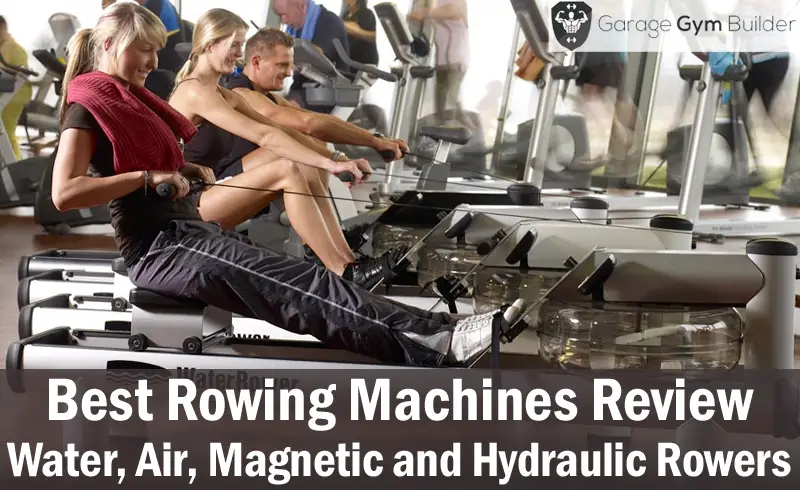 Best Rowing Machines Review 2017
Upadated on March 28th ,2017
Want an all-in-one exercise device that will give you a fantastic cardio workout, burn a ton of calories and provide a great back, shoulder and leg workout? You need to add a quality rowing machine to your home gym. Using a rowing machine will improve your cardio fitness, increase your overall strength and endurance, it is low impact and is always accessible. In this article, we discover the best rowing machines on the 2017 market.
A Snapshot of the Top 10 Rowing Machines
Our top rated rower is the Concept 2 Model D, which provides an ultra smooth, realistic rowing motion, rugged body construction and a very comfortable, ergonomically positioned user experience. We were also impressed by the Lifespan R1000, with it's sturdy steel frame, 14-inch injected foam seat and ultra smooth operation.
The best priced quality rower we encountered was the Sunny Fitness SF-RW5515, which features 8 levels of adjustable resistance, a smooth operation and comfortable padded seat and handles.
We've graded the 10 top rated rowing machines on the market in terms of their price, durability and then given an overall rating out of 5. This makes it easy for you to compare each product. In the following section, we go into detailed review on the best rated rowing machines.
| Product | Product Name | Price | Durability | Overall | Product Link |
| --- | --- | --- | --- | --- | --- |
| | | 4.5/5 | 4.75/5 | 4.75/5 | |
| | | 4.5/5 | 4.5/5 | 4.5/5 | |
| | | 4.75/5 | 4/5 | 4.75/5 | |
| | | 4.5/5 | 4.25/5 | 4.25/5 | |
| | | 4/5 | 4.5/5 | 4.25/5 | |
| | | 4.5/5 | 4/5 | 4.25/5 | |
| | | 4.5/5 | 4/5 | 4.25/5 | |
| | | 4.5/5 | 4.25/5 | 4.25/5 | |
| | | 4/5 | 4.25/5 | 4.25/5 | |
| | | 4.25/5 | 3.75/5 | 4/5 | |
The 10 In Depth
The Concept 2 Model D is the top selling indoor rower in the world for good reason; it is efficiently engineered to deliver the performance and rigidity to handle the toughest workout year after year. The flywheel and damper respond to every stroke and the spiral damper allows you to control the airflow to the flywheel. This means that you can change the feel of the stroke to suit your preference.
The Performance 5 on the Concept 2 erg rowing machine monitor is the most advanced display you'll ever come across. You get accurate data on every stroke and you can also wirelessly adjust your heart rate. There are adjustable footrests and ergonomic handles. You also get a 5 time limited warranty on this product.
PROS
Extremely rigid
Advanced display unit
Ergonomic handle and foot rests
Wireless heart rate monitoring
The Lifespan R1000 rowing machine provides you with a very smooth rowing experience, due to its smooth and quiet eddy system, along with the 16.5 pound flywheel. The frame is extremely sturdy, yet folds to a very compact 34 x 19 x 64 inches. This ergometer rowing machine has a 300 pound maximum user weight. The console features 3 LCDS, displaying distance, calories, time, strokes, and strokes per minute.
The Lifespan R1000 crossfit rowing machine is amazingly quiet and comfortable to operate. The eddy current drive system provides smooth operation and a slack free retrieval. Padded hand grips and a 14-inch injected foam seat provide max comfort while you're training. The Lifespan rower folds quickly for ease of storage.
PROS
Very smooth rowing experience

Extremely sturdy frame

14-inch injected foam seat
The Sunny Health and Fitness SF-RW5515 magnetic rowing machine makes use of a magnetic tension system to provide 8 levels of adjustable resistance. A simple yet functional LCD monitor displays all of your needed workout diagnostics, featuring a set, mode and reset button. The large, rigid pedals on this unit have adjustable safety straps and provide a secure non slip surface to work from.
The seat is cushioned with extra padding to allow you to train longer in comfort. This unit features a grip pulse rate sensor to reveal your training heart rate. Then magnetic resistance system provides a smooth, jar free movement and is very quiet. The heavy duty steel frame makes this a reliable, sturdy rower at a great price.
PROS
8 levels of adjustable resistance

Smooth, jar free movement

Well priced
CONS
Rower will move around if not secured to the floor
The Sunny RW5606 Rowing Machine features an elastic cord resistance and four levels of adjustable resistance. This machine is manufactured from high grade steel. Large anti-slip pedals are fitted with straps to keep you securely in place, while the centrally located LCD monitor provides you with details of your time, calories, count, counts per minute and has a scan function. The frame base gives you a full range of rowing motion.
The Sunny RW5606 Rowing Machine has an anatomically shaped padded seat for extra comfort and body positioning. Non slip padded handles enhance your gripping power. Maximum user weight is 220 pounds and the rower can be folded away for ease of storage when not in use. The dimensions of the rower are 32L x 16W x 42H.
PROS
4 levels of adjustable tension


Large anti-slip pedals

Non-slip padded handles
CONS
Rower moves around when being used

The Lifecore R100 is a commercial grade rower that comes with 16 levels of resistance. This foldable machine offers you 15 pre-set programs, and an additional 4 heart rate control programs. The unit works with any Polar heart rate monitor. The body of this machine is very sturdy, as shown by the max user weight of 600 pounds. Foot rests are angled and provide pivoting heel supports.
The Lifecore R100 provides a very natural, comfortable ride. The seat and handles provide quality padding and are ergonomically designed for back support. This rower uses a combination of air and electronic brake system technology for a very smooth operation. The drive system is extremely quiet and an adjustable cooling vent is included.
PROS
16 levels of resistance

15 pre-set programs

Max weight of 600 pounds
CONS
Heart rate monitor innacurate
The Velocity Fitness magnetic rower is a cost effective alternative to the more costly air or hydraulic machines. The magnetic resistance is not as strong as what you get with an air rower but it is smooth and fluid. The Velocity low row machine uses a drum magnetic control system along with electronic tension control. The saddle is especially comfortable, being molded from PU foam. The main beam is made from sturdy anodized aluminum.
The monitor on the Velocity Fitness magnetic rowing machine is large and easy to read, providing instant readouts of time, calories, count, stroke, distance and pulse. This machine provides 12 workout programs, six of which are pre-set. There are also built-in wheels for ease of transport.
PROS
Cost effective

Extremely comfortable saddle

12 workout programs
The Stamina is a very compact foldable air rower that comes with a sturdy steel frame. It features an inertia enhanced flywheel to provide a very smooth operation that feels just like rowing on the lake. The maximum user weight is 250 pounds.This machine features a very easy to use foldable design that allows you to fold and wheel it away in one move.
The Stamina features very comfortable saddle and hand grip ergonomics. The foot pedals are angled to provide the ideal leg positioning for your rowing movement. The pedals also pivot and have adjustable straps. This machine comes with a 3 year frame warranty and a 90-day warranty on parts and labor.
PROS
5 levels of adjustable resistance

Compact foldable design

Pivoting pedals
The Stamina Body Trac Glider 1050 rowing machine is a compact gas shock resistance home rower. The hydraulic movement provides a natural simulation of the rowing action and is relatively smooth with none of the jerkiness that is common with these type of machines. The arms have two segments with an elbow joint connecting them to provide a full upper body workout. Comfortable padded seat runs on a full glide track to ensure the fullest range of movement.
The Stamina Body Trac Glider is a very compact unit. The footprint is just 23.5 x 46 inches and it folds for even more compact storage. The solid aluminum frame is sturdy and durable. A large monitor displays your time, stroke count and calories burned.
PROS
Very compact

Smooth hydraulic motion

Double segmented rowing arms

Rowing successfully is all about technique. Unless you know how to use a rowing machine, you are likely to waste a lot of time - and hurt your lower back. Get the lowdown on how to do it right and learn about its benefits with this cool instructional video . . .
The Stamina In Motion Rower is a budget rower that provides you with a functional workout at a great price. The 27-pound aluminum fame is sturdy and easy to transport. The maximum user weight is 250 pounds. Five levels of resistance allow you to get a progressive resistance workout. A large, bright monitor provides you with a readout of your key training data, including distance, time, strokes per minute and calories burned.
The Stamina In Motion Rower has pivoting foot plates allow you to get an enhanced range of motion and have straps to keep you securely in place. A padded upholstered seat keeps you comfy while you sweat. When you're done you can store this unit in an upright position.
PROS
5 levels of resistance

Pivoting foot plates

Upright storage

CONS
Tension adjuster unreliable
The Soozier Magnetic folding machine is a cheap rower that still provides the performance that you need for a quality workout. It is shock resistant to provide you with a smooth, jerk free rowing experience. You get 8 levels of adjustable resistance on this machine to progressively challenge you as you get fitter.
The Soozier magnetic folding rower features a comfortable oversized seat with a generous amount of padding, NBR handle grips for a secure hold and angled foot stirrups, large foot plates and adjustable straps. An angled seat rail provides for a very natural return. The ABS monitor is large and clear, providing mode, set and reset buttons. When not is use, the Soozier is stored in an upright position.
PROS
8 levels of adjustable resistance

Large, clear ABS monitor

Angled seat rail
Concept 2 Rowers
The Concept 2 Rowing machine has long stood as the gold standard of rowing machines for in the home. Concept 2 put out a whole range of top quality machines that continue to impress.
How do you choose between the various Concept 2's for home use? Check out our in depth reviews of the best Concept 2 rowing machines of 2017 to discover which Concept 2 belongs in your home gym.​
Water Based Rowing Machines
Water rowing machines provide a unique and challenging form of cardio exercise that also maximally stimulates your quads and lats. They offer the most realistic rowing experience because you are actually using water as your resistance.
The quality of water rower exercise machines for home use varies greatly. Discover the best waterrower rowing machines that are on the 2017 market with our comprehensive guide - it's an eye opener!​
Stamina Rowing Machines
Stamina Rowing machines are among the most respected on the market. Stamina provide a range of top quality rowers that give you every rowing option that you need.
Check out the best that's out there with our Stamina rowing machines review 2017 - it will give you the knowledge you need to make smart buying decision.​
Affordable Rowing Machines
​Rowing machines are great form of cardio that also hits your back and legs. Having one in your home gym is a great idea. The problem is that they can become extremely expensive. However, there are cheap rowing machines for the home that are also very high quality.
Discover the best 11 affordable rowing machines that won't break the bank - you'll save money and get a great piece of home cardio equipment.​
Compact Rowing Machines
​You want a rowing machine for your home gym, but you just don't have the space. Portable, fold up rowing machines are available but a lot of them are so low quality that they're unsafe. However, top quality, portable rowing machines do exist.
Discover the 9 best compact and portable rowing machines for small spaces with our in depth review.​
Conclusion
The best home rowing machine we found is the Concept 2 Model D, which features an extremely smooth, natural riding experience, a superior level of comfort and ergonomics and a very reasonable price. We were also very impressed with the Lifespan R1000, with it's rugged yet extremely compact foldable design, extra comfy seat and high res display.
The best budget rower that we came across was the Sunny Health and Fitness SF-RW5515 magnetic rowing machine, which provides 8 levels of magnetic resistance, a very comfortable seat and a sturdy body.​