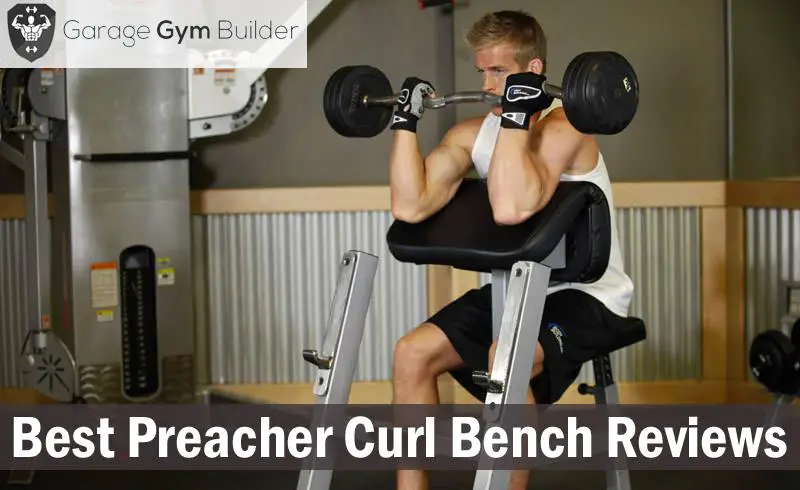 Best Preacher Curl Bench Reviews 2016
Everyone wants huge biceps. The key to outstanding upper arm development is the peak on the biceps muscle. An outstanding exercise to develop it is the preacher bench curl. Home gym preacher curl benefits are that it will allow you to blast your guns in total isolation, so that you can force growth from the most stubborn fibers. In this article, we review the Top 10 preacher curl benches of 2016.
A Quick Overview of the Best on the Market
Our favorite preacher arm curl bench is the York ST, which is strong enough for light commercial use, being made from heavy gauge steel tubing, has chrome bar saddles and a steep angle to maintain constant biceps tension. Our runner up is the Zeny commercial bench, with its 440 pound weight capacity, adjustable bar saddle and sturdy uprights. The third best bench we came across is the Deltech Pro, featuring 14 gauge steel framing, adjustable pad and seat and high density foam padding.
We've given of our Top 10 preacher benches a rating in terms of price and durability, and then an overall rating out of 5. This makes it easy for you to compare and contrast them at a glance. In the following section, we provide an in depth review of each bench so you can find the perfect machine to do preacher curls at home.
| Product | Product Name | Price | Durability | Overall | Product Link |
| --- | --- | --- | --- | --- | --- |
| | | 4.5/5 | 4.75/5 | 4.75/5 | |
| | | 4.5/5 | 4.5/5 | 4.5/5 | |
| | | 4.5/5 | 4.5/5 | 4.5/5 | |
| | | 4.25/5 | 4.5/5 | 4.25/5 | |
| | | 4.25/5 | 4.5/5 | 4.25/5 | |
| | | 4.25/5 | 4.25/5 | 4.25/5 | |
| | | 4.25/5 | 4/5 | 4/5 | |
| | | 4.25/5 | 4.25/5 | 4.25/5 | |
| | | 4.25/5 | 4/5 | 4/5 | |
| | | 4.5/5 | 4/5 | 4.25/5 | |
The Best Preacher Curl Benches Up Close
The York ST Preacher Curl bench is designed for light commercial use, being made from two by three inch heavy gauge steel tubing. It is finished in a stylish baked on powder coating in your choice of either silver or white. The slightly steeper than normal curl pad angle is designed to keep constant biceps tension throughout a full range of motion. Two inch thick padding ensures that you're comfortable while you're working out on the Pork preacher curl bench.
The seat height of this bicep preacher curl machine is completely adjustable so you get in the ideal position. Two polished chrome bar saddles provide a solid bar housing while adding style to the bench. York provide a 5 year warranty on this product.
PROS
Heavy gauge steel tubing
Adjustable seat height
Polished chrome bar saddles
CONS
Steep angle makes it hard to target biceps peak
The Zeny Commercial biceps machine preacher curl is a solid stand alone unit, that has a maximum weight capacity of 440 pounds. A two inch pad offers comfort with firmness and is covered in moisture and tear resistant vinyl. The bar rest can be adjusted between 18 and 22 inches from the floor, while the curl pad has five adjustment positions, from 31 to 35 inches from the floor.
Two sturdy uprights provide a very solid bar saddle on this preacher bench. Easy adjust pull pins allow for quick set-up. The rounded top edge of the preacher curl pad contours to the armpits as you lean over it. The tapered, high density seat is dual layered for maximum comfort.
PROS
Max weight of 440 pounds
Adjustable bar saddle
Sturdy uprights
CONS
Curling pad is a little narrow
The Deltech Pro preacher curl is one of the most solid home units we've seen, being made from 14 gauge steel tubing. Two solid uprights provide a very secure mount for the curling bar. The arm pad is set at 45 degrees, which is an ideal angle for biceps isolation. The high density foam padding is covered in high grade, tear and sweat resistant vinyl. Both the curling pad and the seat are completely adjustable.
The Deltech Pro preacher is a stylish zinc plated unit that is compact and durable. The color options are white or black with black padding. The overall quality is very close to commercial grade. It comes in at a very good price point.
PROS
Made from 14 gauge steel tubing
High density foam padding
Adjustable seat and curling pad
The Body Solid GPCA1 is a preacher bench attachment that is compatible with most Body Solid benches. It is a solid unit that fits snugy and securely. Unlike many preacher attachments, it includes a bar saddle to allow for easy placement of the bar after your set is done. The Durafirm padding is extra thick, especially under the armpit area.
The curling area of this Body Solid preacher curl attachment is larger than you'll find with many competitors, allowing you to vary your hand spacing. The angle of the preacher pad has been ergonomically designed to provide maximum isolation and stimulation of your biceps and forearms.
You also have the room to perform one arm dumbbell preacher curls. Body Solid offer a lifetime guarantee on this product.​
PROS
Thick padding
Large curling surface
Saddle Bar
CONS
Saddle bar does not balance EZ curl bars
The Valor Fitness CB-6 adjustable preacher bench is a solidly constructed stand alone arm exercise machine. It is made from thee inch by two inch, twelve gauge steel and has thick vinyl covered padding. The curling pad has a rounded top edge to provide ideal body positioning. Quick adjust lock pins allow for adjustment of the pad up and down. This bench can handle up to 250 pounds of curling weight.
The Valor preacher curl bench is easy to assemble and has a compact footprint. Rubber base caps on the ends of the feet protect your floor from scratches. The bench has a solid bar saddle that accommodates both straight and EZ curl bars. The seat is also adjustable up and down.
PROS
Solid 12 gauge steel frame
Round edge curling pad
Solid bar saddle
CONS
Seat not very comfortable
The Topeakmart EN957 seated preacher curl bench is made from heavy gauge square steel tubing. It has a solid base and a secure bar saddle that can handle all shapes of lifting bar. The rounded edge on the top of the curling pad allows for an easy upper body fit to get the arms totally down on the pad. The pad thickness of two inches at the top is slightly tapered to enhance the biceps isolation.
The bar saddle is by way of two completely adjustable uprights, allowing you to customize your curling position. The curling pad is also adjustable to six positions, though the seat cannot be adjusted. Easy adjust pull ins make it quick and easy to set the machine up.
PROS
Heavy gauge square steel tubing
Tapered curling pad
Bar saddle adjustable
The Yaheetech commercial preacher bench is a very solid, square tube framing bench that is compact and sturdy. The bar saddle is in the form of two uprights that provide a very solid housing for the lifting bar. These uprights are fully adjustable to provide you with total customization. A maximum loading of 440 pounds ensures that this bench will handle anything you throw at it.
The 45 degree curl pad is generously sized and covered in two inch foam. A dual layer vinyl covering provides moisture resistance. All adjustments are made by way of easy change pull pins and knobs and rubber base caps provide protection for your floor.
PROS
Solid square tube framing
Large curling pad
Two inch foam padding
CONS
Back may lift when going heavy
The XMark seated curl bench is a sleek, compact unit that is ergonomically designed to provide ideal arm positioning when curling. It has built-in transport wheels that make it easy to move the bench. The 14 gauge steel mainframe provides a very secure base from which to work. You are able to adjust the curling pad to ten height positions so you can get just the right positioning.
The XMark is finished in a scratch resistant powder coating. The padding is extra thick at 2.5 inches, providing maximum comfort for the user. The top edges of the curl pad are rounded in order allow for the best contouring of the body. Double stitched tear resistant vinyl covers the pad.
PROS
14 gage steel mainframe
10 height adjustment curling pad
2.5 inch thick curl pad
CONS
Not suitable for tall people
Want a quick tip that allows you to get more out of your preacher curl training. Then don't miss this video . . .
The Pure Fitness bench has a heavy duty steel construction that makes it capable of handling up to 350 pounds of weight. The lifting bar saddle is constructed of two sturdy uprights to provide a solid support. The distinctive blue and black curl padding is 2 inches thick. The quality vinyl covering ensures that you won't have any problems with pinching or chafing through the triceps.
This preacher machine is ideal for compact spaces with it's minimalistic design and tilt and roll transport wheels. The curling pad is multi adjustable to allow you to get a precise arm position. The rounded top edge of the pad fits snugy under your armpits.
PROS
350 pound weight capacity
Compact
Transport wheels
CONS
Mya tip slightly when going heavy
The Gold's Gym XRS20 olympic workout bench is a full function bench with a preacher curl attached. A unique aspect of this preacher curl is that it has built in curling arms. It has a plate loading pin that you stack your lifting weight onto. This makes this preacher curl an excellent way to isolate and target your biceps. An olympic weight adaptor allows you to curl with either standard or olympic weights.
The Gold's Gym XRS20 has a 300 pound user capacity. A two inch spring clip allows you to secure the plates in position. The curl pad is angled at 30 degrees, not quite as steep as most models on the market. This allows you to target the meaty belly of the biceps.
PROS
Built in curling arms
30 degree pad angle
Olympic weight adaptor
CONS
Angle not steep enough for biceps peak targeting
Conclusion
The best home preacher curl machine of 2016 is the York ST, which features heavy grade steel framing, solid chrome bar stands and has a steep curling angle to target the entire biceps muscle. We were also impressed with the Zeny commercial bench, with its sturdy, stable base, fully adjustable settings and 440 pound weight allowance. Rounding out our top three is the Deltech Pro, a solid, compact unit which features 14 gauge main-framing and fully adjustable seat and curling pad.