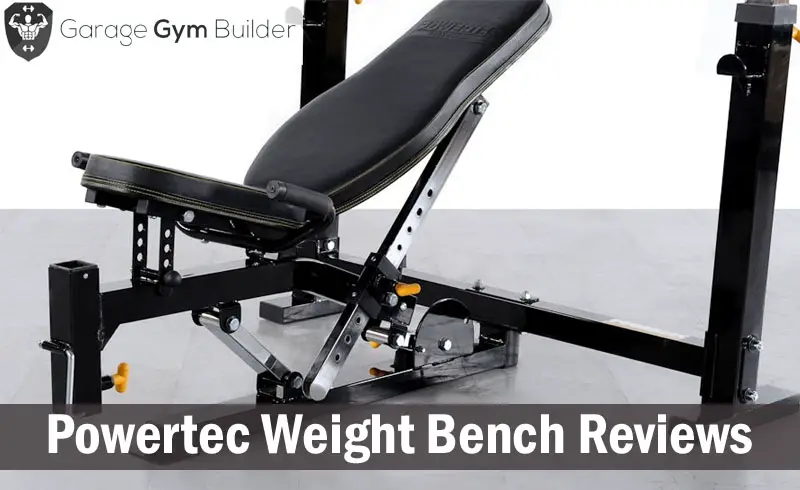 Powertec Weight Bench Reviews 2017
Updated on 3rd April, 2017
Powertec makes serious lifting equipment. Their company mission is to make fitness-club quality equipment available for the home fitness market. Both the Utility Bench and the Adjustable Bench by Powertec reflect this in that both will handle greater than average loads while at the same time being priced to appeal to the non-commercial market. In this Powertec weight bench review we'll start with the Powertec Utility Bench review and compare both benches to see which is the better overall value.
Powertec Weight Bench Review
The Powertec Fitness Workbench Multi Press Bench is an adjustable bench pad machine that has attached isolated arms for pressing work. The adjustable isolation arms each have plate holders so that you can load Olympic weight plates onto them. The bench features a Powertec linkage mechanism that allows you to instantly change the positioning of the bench so that you can quickly move from flat to seated exercises.
The Powertec Fitness Workbench Multi Press Bench is fitted with commercial grade hand grips so that you get a better hold on the bar, while also reducing sweat slippage. This machine allows you to work each side of your body separately. The unloaded weight of each arm is 20 pounds.
PROS
Isolated pressing arms

Fast bench change

Commercial grade hand grips

---
The Adjustable Bench is built for serious lifters who need regular access to professional grade equipment. The bench is engineered to handle maximum weight without buckling, bending or breaking under pressure.
The Adjustable Bench shifts effortlessly between positions and, like all Powertec benches, incorporates the Powertec linkage system so that the bench can pivot from front to back quickly and smoothly.
Key features include:
Powder coat finish for durability and scratch resistance
Industrial grade components for smooth operation
12-gauge MIG welded steel frame
Lifetime warranty on frame
Powertec Adjustable Bench vs. Powertec Utility Bench Review: Side by Side
Best Value -

The Powertec Utility bench offers full FID capability plus the option of wheeling it into any compatible rack system. Like its cousin, the Adjustable Bench the Utility bench is made of 12-gauge steel and slightly overbuilt to accommodate extreme lifters. While the Adjustable Bench may have it over the Utility in some of the details of its construction the advantage is small enough not to overcome the extra you'll pay out for it.

Winner: Utility Bench

Build Quality -

The high tensile strength steel used in Adjustable Bench components, along with the 2-4" rectangular tubing and chrome weight horns make the build quality of the Adjustable bench second to none in the home fitness market. Yet the Utility Bench shares most of the materials and construction methods used in the Adjustable bench and so neither exhibits a clear advantage in the area of build quality. They're both top of the line.

Winner: Draw

Performance -

Both of these benches are designed to accept the pressures and stresses of extreme lifting routines in stride. Both are engineered to integrate effortlessly into compatible rack systems and both can be swiftly and easily adjusted on the fly. The Adjustable bench begins to find separation from the Utility bench in the number of exercises you can do with it right out of the box.

Winner: Adjustable Bench
Our Choice for Best Powertec Weight Bench
The Utility Bench by Powertec
While the Adjustable Bench arrives with a few more bells and whistles the Utility Bench comes with everything you'd need for comprehensive dumbbell and ab routines.
If you decide you want more than that later you can pick and choose from a wide range of accessories including:
Workbench leg accessory
Workbench curl machine accessory
Lat tower accessory
Pec Fly accessory
Dip machine accessory and more
If you decide accessories are not for you you'll still be getting one of the best benches on the market for under $1,000 and an outstanding value proposition no matter how you measure it.
Powertec Bench Review: Final Thoughts
Picking a "best of" is a mostly subjective process which relies almost as heavily on personal preferences as on objective fact. While we believe the Powertec Utility bench to be a superior overall value to the Powertec Adjustable bench that doesn't mean it's a better bench. Just that the result of this Powertec workbench review is that you're likely, in our opinion, to get a bit more for your buck with the Utility Bench.
To learn more about our winner, the Powertec Utility bench, click here.
If you are into the look, the Life Fitness Multi Adjustable Bench is worth considering as it is called "the Ferrari of workout benches". If you want a cheaper weight bench with simple assembly, check out the Powerline weight bench here. Click here for a massive guide about different kinds of weight benches that is just informative to read.