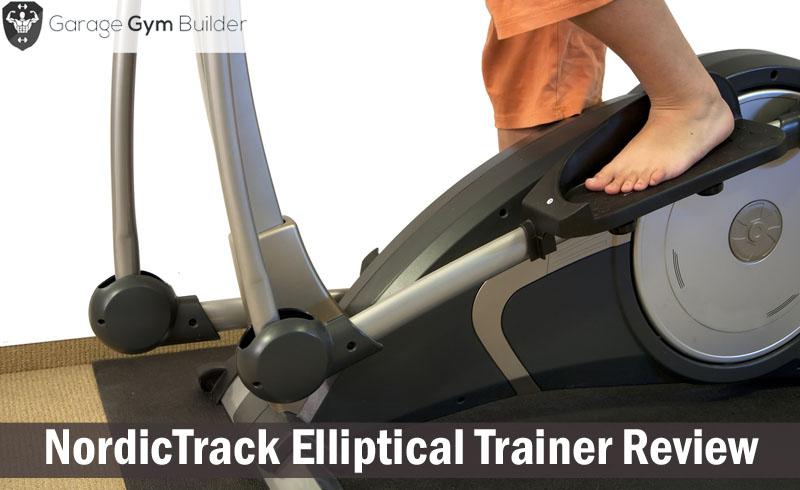 NordicTrack Elliptical Trainer Review 2017
NordicTrack inspired the indoor skiing craze 25 years ago. The NordicTrack flair for design and innovation has been applied to the home fitness market, providing top quality, compact training gear at affordable prices. The NordicTrack elliptical range is ergonomically designed for a workout that makes you feel like you're walking on air. In this article we review the best NordicTrack elliptical and then compare the best Nordictrack alternatives.
The Best NordicTrack Elliptical

The NordicTrack Elliptical range covers four categories:
Freestride trainers, such as the Freestride Trainer FS5i, the Nordictrack Freestride Trainer FS9i.
Front Drives Series ellipticals such as the NordicTrack C7.5, the NordicTrack E 7 elliptical and the NordicTrack E 8.7.
Rear Drive Ellipticals such as the NordicTrack Spacesaver Elliptical, the NordicTrack SE9i and the SpaceSaver SE71.
Mid-Mech Commercial machines such as the NordicTrack ACT Commercial 10, the NordicTrack 990 Autostrider and the A.C.T Commercial 10.
The Top 10 In Depth

The NordicTrack C 7.5 is a customizable front drive elliptical. At the touch of a button, you're able to adjust your stride length, incline and resistance. The C 7.5 has a vibrant iFit enabled display which allows you to connect your tablet to your machine, virtually opening up the world in your living room. You can use Google maps to choose any training location on the planet.
The tablet holder attached to the display module allows you to safely watch your favorite show as you're working out. Dual 2 inch speakers also allow you to pump out your favorite sounds. Plush foot pedal cushioning lowers the impact of your workout. A 0-20 degrees adjustable ramp allows you to tailor the workout to your intensity needs. The stride length of 20 inches gives you a full range of motion.
The C 7.5 features 26 professionally designed workout apps to meet all of your exercise needs. A sturdy 20 pound flywheel gives stability to your stride, ensuring a smooth fluid range of motion. The durable frame supports up to 325 pounds. You're able to get ultra precise heart rate information with the wireless chest strap, as well as the EKG sensor grips which are built into the handles.
Your purchase of the NordicTrack C 7.5 is protected with a 2 year parts and one year labor warranty.​
PROS
Instant customizable adjustment
Foot pedal cushioning
0-20 degree adjustable ramp
NordicTrack Alternatives
NordicTrack ellipticals provide you with some very durable, performance enhanced training machines. However, we've found 3 alternative models that provide you with more app offerings (Nautilus E616), a larger flywheel (LiveStrong LS 13.0E 2) and a greater stride range (Exerpeutic 21 Inch Heavy Duty). In this section we compare them with the best of NordicTrack.
The Nautilus E616 comes in at a comparable price point to the NordicTrack Front Drive series. It delivers a similar range of workout apps, with 29 programs that include 12 profiles, 9 heart rate control programs, 4 customizable apps, 2 fitness tests and 1 recovery test. With 25 resistance programs, it has the largest selection of any elliptical in its price range. A perimeter weighted flywheel provides you with a very smooth, natural motion.
The Nautilus E616 provides you with a 0-11% incline adjustment, which is not as much as you get with the NordicTrack C 7.5. You get a dual track LCD screen to allow you to multi-task. Acoustic speakers provide an excellent sound quality.
PROS
29 workout apps
25 resistance levels
Dual track LCD screen
The LiveStrong LS 13.0E 2 is built on Livestrong's patented Six Star frame platform. It boasts power incline, the innovative MaxTone arch pedal, and a super impressive 30 pound flywheel. This enhanced flywheel weight is more than you get with NordicTrack models in this price range, providing you with a smoother, glide like exercise motion.
NordicTrack's Six Star certification encompasses the six key elements of ultimate elliptical performance. It has a low step on height, and the handle bars are ideally placed so you can maintain proper body posture. When in motion the pedals overlap, allowing for more natural body motion. You get a 20 inch stride length with this machine. The optimal gear pulley ratio delivers a smooth efficient motion.
PROS
Power Incline
30 pound flywheel
Low step on height
CONS
A little noisy during operation
The Sunny SF-E3609 elliptical trainer provides you with 8 levels of magnetic resistance so you can train at a variety of intensity levels. The range of motion of this exerciser allows for full activation of all of you leg muscles, including the glutes. Smooth, jerk free movement is assured with the high speed perimeter weighted flywheel. Large foot pedals and straps give you a secure hold. This is a durable exercise machine with a max user weight of 265 pounds.
The Sunny SF-E3609 provides you with constant feedback on your training performance. The large LCD monitor tells your speed, distance, time, heart rate and calories burned. There is also an odometer function. The contoured hand grips make for comfort while also positioning your body ideally and have built in pulse sensors. This is a compact unit that has transport wheels for ease of movement.
PROS
Great Price
8 levels of adjustable resistance
Hand pulse monitors
CONS
Max user weight limited to 265 pounds
Conclusion
NordicTrack offer a full range of home training ellipticals across all price points. Their most popular home gym model is the NordicTrack C 7.5 front drive, which features 0-20 degree ramp adjustment, foot pedal cushioning and instant setting adjustment elliptical.
As alternatives to the Nautilus range, we suggest checking out the Nautilus E616, which provides 29 workout apps, 25 levels of resistance and dual screen tracking. The LiveStrong LS 13.0E 2 provides a 30 pound flywheel, which is more than anything that NordicTrack offers in this price range. The Exerpeutic 21 inch heavy duty elliptical provides you with a greater stride range, handles more user weight and has your dual action arms to work both upper and lower body.