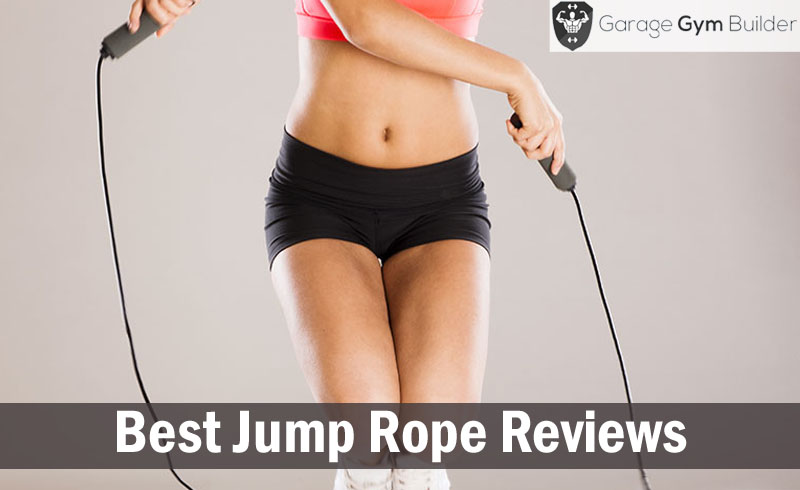 Best Jump Rope Reviews 2017
Updated on March 24, 2017
For getting in shape fast, nothing beats rope jumping. Jumping rope to lose weight, burn calories and improve your cardiovascular fitness will get you to your goals faster than any exercise type. Rope jumping is the most convenient and cheapest of exercise options. All you need is a quality rope a couple of square feet of space and you're good to go. In this article we review the Top 10 jump ropes of 2017.
A Quick Overview of the Best Jump Ropes
The best fitness jump rope that we encountered is the RX black handled rope. It provides a completely friction free rotation, and great swivel action to give you the best training tempo possible. We also loved the Rogue Bearing Speed rope, with its tapered extra long handles, and patent pending swivel attachment.
The best priced budget rope that we found is the King Athletic Jump Rope, which provides you with a maximum 10 feet of plastic cable, swivel bearings and comfortable, foam covered handles.
To make it easy for you to compare and contrast the best ropes, we've rated the Top 10 in terms of price and durability. Then we've provided each one with an overall score out of 5. In the following section, we will give in-depth reviews of each of these products.​
| Product | Product Name | Price | Durability | Overall | Product Link |
| --- | --- | --- | --- | --- | --- |
| | | 4.5/5 | 4.75/5 | 4.75/5 | |
| | | 4.25/5 | 4.75/5 | 4.75/5 | |
| | | 5/5 | 4.25/5 | 4.75/5 | |
| | | 4.25/5 | 4.5/5 | 4.5/5 | |
| | | 4.5/5 | 4.5/5 | 4.5/5 | |
| | | 4.25/5 | 4.25/5 | 4.25/5 | |
| | | 4.5/5 | 4.25/5 | 4.25/5 | |
| | | 4.25/5 | 4.5/5 | 4.25/5 | |
| | | 4.5/5 | 4.25/5 | 4.25/5 | |
| | | 4.25/5 | 4.25/5 | 4.25/5 | |
The Top 10 In-Depth
RX Jump ropes are a heavy duty rope that is constructed with industrial strength multi-directional swivel axel bearing system. This results in a very friction free rotation that is instantly noticeable. It features a patent pending swivel attachment that allows you to perfectly control the speed of the cable's rotation.
The RX is available in two cable weights. The Buff is 3.4 and the Ultra is 1.8 ounces. The Buff is perfect for beginners and intermediate jumpers. The Ultra is the ideal choice for advanced jumpers. With this rope you will be able to use a great variety of tempos, from slow to super fast. This unit is known as a hybrid speed cable. This is a seriously high quality jump rope.
PROS
Multi direction swivel axel bearing system
Friction free rotation
Excellent for controlling the tempo
CONS
The rope is a little heavy
The Rogue SR-1 Bearing speed rope provides a tapered six inch swivel ball bearing handle. This provides you with an extremely comfortable, solid and sweat free grip. The 3/32 inch red coated speed cable provides you with maximum speed while being extremely durable. The fixed swaged handle ends allow for quick and easy adjustment to the length of the cable. The handles are made from glass filled nylon resin, making them incredibly hard-wearing.
The Rogue speed cable is a great rope to transition your skill level from beginner / intermediate to advanced, as it allows you to safely perform such advanced moves as double unders and triples. The longer than usual handle allows you to concentrate on the wrist rather than bicep when rotating.
PROS
Tapered six inch handle

Solid, sweat free grip
Fixed swage handle ends
CONS
Not suitable for abrasive surfaces
The King Athletic Jump Rope is an incredibly endurable, lightweight rope that allows you to burn up to 1300 calories in an hour. It is made from top quality leather, PVC and cable. This provides you with a very fast, natural action. Ball bearings in the handles ensure faster revolutions. The handles of this rope have been ergonomically designed for comfort, meaning that your hands won't get exhausted.
The King Athletic Jump Rope has a length that extends to 9' 4", making it suitable for people who are up to 6'10" in height. This jump rope is ideal for taking with you when traveling. It is a heavy duty model, made to last for years. King Athletic offer a better than money back guarantee – they will also give you a new rope!
PROS
Heavy duty

Leather
Suitable for tall people
The RPM Speedrope 3 is a ramped up version of the RPM Speedrope 2. It is a fast, lightweight rope. It has top quality bearings allowing for a superior swivel action. The RPM is actually constructed from rubber encased stranded wire. You can tighten the cable with a fully adjustable nut at the end of the handles.
The cabling is very strong and lightweight, allowing you to go really fast. The cable doesn't crimp, unlike many other units on the market. A nice thing about the RPM long jump rope is that it doesn't get out of shape or bent if it has been looped for storage. This allows you to get straight to work rather than having to uncrink it.
PROS
Very fast and lightweight

Non crimp cable
Easily adjustable
CONS
Some people may find that the cable is a little too light
The Buddy Lee adjustable Jump Rope is a 9 foot long rope that has been made with a unique swivel bearing action. This is designed to enhance performance by eliminating friction and drag. It will also prevent the cable from tangling. In addition, it produces an effortless, smooth wrist action. The handles of the Buddy Lee are each nine inches long. They are ideal for both children and adult users, are very comfortable and sweat resistant.
The Buddy Lee has a unique built-in system that allows you very quickly shorten or lengthen the cable. The cord is made from high end PVC and is aerodynamically designed for maximum speed. Along with the ball bearing in the handles, the cord is completely replaceable.
PROS
Unique swivel bearing action

Tangle free

9 inch long handles
CONS
Cable prone to expand, especially if it gets wet.
The Fitness Master athletic jump rope is a 9 foot rope that you can easily adjust to suit your height. The ball bearing system has a smooth handle bearing arrangement which provides a friction free, fast spinning action. This is a tangle free unit that is very light weight. You get a free carry case and a comprehensive instructional training manual with this product.
The Fitness Master is portable and small, making it the ideal choice for taking on the road with you. The wire cable has a thermoplastic black urethane coating to provide ultimate protection when the cable whacks the floor. The cable length is easily adjustable.
PROS
Smooth handling bearing system

Tangle free rope

Free carry case

Instruction manual
The Rage Fitness R2 training rope is probably the fastest jump rope that you are likely to come across. The long, tapered handles are ergonomically designed to reduce friction and increase the speed of your wrist action. The speed ball bearing inside the handle allow for the quickest revolution action and the lightweight rope kicks in to produce a lightning speed movement.
There is absolutely no friction to slow you down when you train with the Rage Fitness R2. It features an easily adjustable cord to allow you to quickly and efficiently change the length to suit the user. The cord comes with a vinyl coating that protects as well as enhancing speed of movement. This is the best jump rope for double unders.
PROS
Long, tapered handles

Speed ball bearing system

Easily adjustable cord
CONS
Some may find this rope to be too light
The WODFitters Jump Rope is made from sturdy PVC, which makes it for use on any surfaces, including abrasive ones. Unlike wire ropes, this one will not hurt you when is slaps against your leg. This rope is suitable for both beginners and more advanced users. It can also be used by both children and adults. The custom moulded ergonomic handle grips ensure that your hands won't fatigue as you are skipping.
Easy adjustment on the WODFitters Jump Rope makes it suitable for all body shapes. Pro grade ball bearings in the handle unit make for a very fast rotation. Your purchase comes with a convenient carry case and a lifetime warranty.
PROS
PVC construction

Suitable for children and adults

Pro grade ball bearings

CONS
Not suitable for taller people
The Survival and Cross wire Jump Rope is among the best jump ropes for crossfit and MMA style workouts. It is extremely lightweight and is guaranteed not to tangle. The tapered handles are designed to enhance your natural wrist action, working in harmony with the swivel ball bearing system to produce a super fast rotation action. A simple screw adjustment system allows for easy length adjustment.
This is a right angle cable unit, making it the perfect design to enhance speed. There is no kinking or binding in the cable, meaning that you can safely perform such advanced moves as double unders and triples. It is also a very good value unit. Plus, it comes with a lifetime guarantee!
PROS
Tangle free

Easy length adjustment

Lifetime guarantee
The ZIYUE Jump Rope is constructed from high quality 3M PVC, making it extremely heavy duty while also being forgiving if it strikes against your legs. This is a long rope which can be adjusted for the use of tall people as well as children. This rope allows for high speed jumping while maintaining a high degree of stability. The ergonomic handle grips, coupled with premium ball bearings make for a very comfortable, stress reducing grip.
The ZIYUE Jump Rope is a great choice for CrossFit, allowing you to bring down your WOD times. This a one size fits all rope that can be adjusted to customize the length in just a few minutes.
PROS
One size fits all

Ergonomic handle grips

Premium ball bearings

Here is a Jump Rope HIIT Fat Burning Workout for you...
Conclusion
Our top rated jump rope is the RX smart gear jump rope. This black handled model has an advanced swivel action for friction free movement and speed of rotation. The Rogue SR 1 jump rope is our second favorite, with it's high spec materials, and quality rotational movement.
For a great low cost unit, you can't go past the King Athletic Jump Rope, which provides you with a quality workout experience for well under ten bucks.